Football
Jalen Hurts First Sooners Quarterback To Go To Super Bowl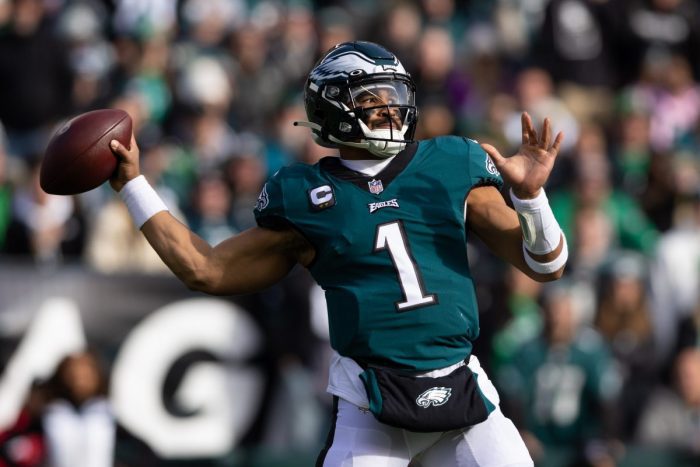 Philadelphia Eagles quarterback Jalen Hurts will be the first Oklahoma Sooners quarterback that finished his career with OU to play in the Super Bowl after the Eagles beat San Francisco on Sunday.
The Eagles defeated the 49ers, 31-7, in the NFC Championship Game, which was supposed to be a matchup of former Big 12 quarterbacks, as Iowa State's Brock Purdy was San Francisco's starter. But, an early injury limited Purdy's action in the game.
Meanwhile, Hurts – a finalist for the Associated Press NFL Most Valuable Player Award — led the Eagles to their fourth Super Bowl appearance.
Hurts threw for 121 yards in the game, while rushing for another 39 yards and a touchdown. The Eagles ran the ball for 149 yards, with Miles Sanders scoring twice and Boston Scott scoring once.
The Sooners have had a number of players in the Super Bowl over the years, but per SoonerSports.com, the school's official athletic web site, Hurts will be the first quarterback who finished his career at OU to play in the game.
Troy Aikman, who was at Oklahoma for two seasons and played a handful of games for the Sooners before transferring to UCLA, played in three Super Bowls for the Dallas Cowboys.
Hurts threw for 3,701 yards in the regular season, with 22 touchdown passes and six interceptions while leading the Eagles to the No. 1 seed in the NFC.
Hurts played just one season for the Sooners, transferring there from Alabama before the 2019 season. With the Sooners, Hurts threw for 3,851 yards with 32 touchdowns and eight interceptions. He also rushed for a career-high 1,298 yards.
He led the Sooners to the Big 12 title, a College Football Playoff berth and was second in Heisman Trophy voting to LSU's Joe Burrow. Hurts was also the Big 12 Offensive Newcomer of the Year that season.
The Eagles drafted Hurts in the second round in 2020.
With Alabama, Hurts played three seasons (2016-18) and helped the Crimson Tide reach the College Football Playoff all three seasons, winning a national championship ring with the 2017 team. Hurts started that 2017 title game, but was benched for Tua Tagovailoa, who led the Crimson Tide to an overtime win.
In 2018, Hurts chose to stay at Alabama and was Tagovailoa's backup but returned to the field when Tagovailoa was hurt in the SEC Championship game and led the Crimson Tide to a come-from-behind win over Georgia.
Note: This story has been updated to reflect that Hurts is the first QB to finish his career at OU to play in the Super Bowl and to add the additional information on Aikman.
You can find Matthew Postins on Twitter @PostinsPostcard