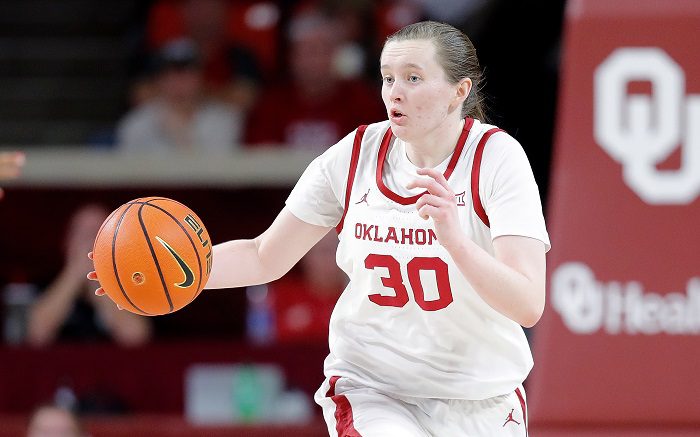 Oklahoma guard Taylor Robertson met the player she considers her idol, Golden State's Steph Curry, before Monday's game with the Oklahoma City Thunder.
Curry was one of several people to congratulate Robertson on passing Ohio State's Kelsey Mitchell for the all-time lead in made 3-pointers in Division I basketball. Robertson did that on Saturday against Iowa State, a game in which hit five 3-pointers. The record was 497 3-pointers.
The Sooners apparently lured Robertson to the team facility on Sunday under the guise of doing a reaction video for her record, and instead was greeted with a video from Curry extending his congratulations.
In the video Oklahoma shared, Curry congratulated Robertson on claiming the top spot. As an added bonus, Golden State would just happen to be in Oklahoma City for a game and he invited Robertson to come meet her.
Later in the video, Robertson's teammates, Ana Llanusa and Madi Williams — like Robertson fifth-year players — came in to celebrate with her.
On Monday afternoon, Oklahoma wonder what Robertson might wear to such an occasion.
A Warriors Twitter account posted video of Robertson taking in Curry's pre-game routine from the baseline.
Later, the Golden State Warriors posted a video of Robertson tossing a ball to another Warriors player, who then tossed it to Curry for a 3-pointer during pregame warmups.
Finally, Robertson and Curry got to chat for a couple of minutes.
Plus, more angles, as the Oklahoma social media team followed Robertson's and Curry's every move.
Last season Robertson became the all-time career leader for both Oklahoma and for the Big 12. She took over the OU record with her 377th 3-pointer on Dec. 21, 2021. She then took over the Big 12 lead on Jan. 12, 2022, with her 393rd career 3-pointer. Robertson's career mark is more than any men's or women's Big 12 player.
You can find Matthew Postins on Twitter @PostinsPostcard