Big 12 News
Bill Self Criticizes Big 12 Basketball Scheduling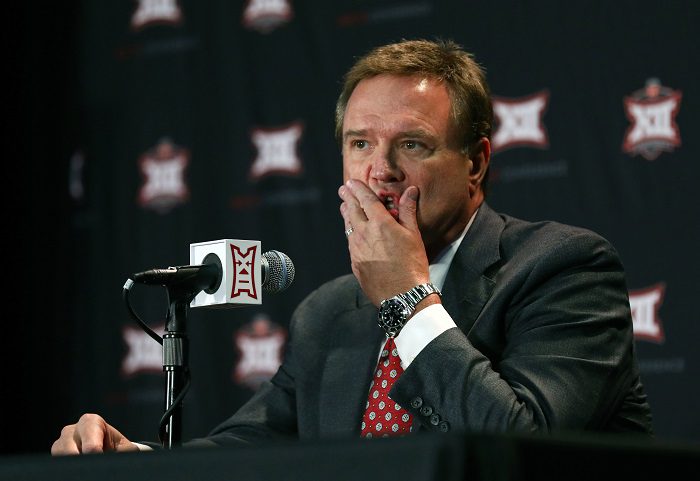 The Big 12 basketball schedule is something that people have been questioning all season with the latest criticism coming from Kansas Jayhawks head coach, Bill Self.
Self spoke to the media on Tuesday morning and was asked his thoughts on playing K-State and Iowa State so soon in the Big 12 schedule. Self mentioned that he doesn't understand why they are playing each team twice before even playing Texas once.
You can hear the full soundbite below.
Self started by saying, "I don't understand why the league does it, to be real honest with you. We're playing two teams twice before we play Texas once. I know other teams in the league do the same thing so I don't understand that."
He then brought up the idea that television could play a part in the decision to order the schedule the way it is and continued his critique by saying, " It's obviously what we have and we're fine with it because that's the way it is, but it just seems like to me in a perfect world, you would try to space those games out a little bit more."
Self-finished up by saying he was unsure if other coaches feel the same way or not but it is strange to play a team twice in a two-week period. It's hard not to agree with Self as both Iowa State and Kansas State have performed incredibly to start the season off, and with a game date set for later on in February, it would big more anticipation for the matchups, and ensure that both teams are playing their best basketball at the time of their matchup.
K-State took down the Jayhawks at home on January 17th, 83-82 in an overtime game that saw Keyontae Johnson score the go-ahead bucket on an alley-oop pass from Markquis Nowell over Jalen Wilson. Kansas narrowly defeated the Iowa State Cyclones 62-60 on January 14th which highlighted some key struggles for the Jayhawks.
The battle of the Kansas teams tips off Tuesday night at 7:00 PM CST at Allen Fieldhouse, and following the K-State game, Kansas takes on Iowa State in Ames on Saturday, February 4th.