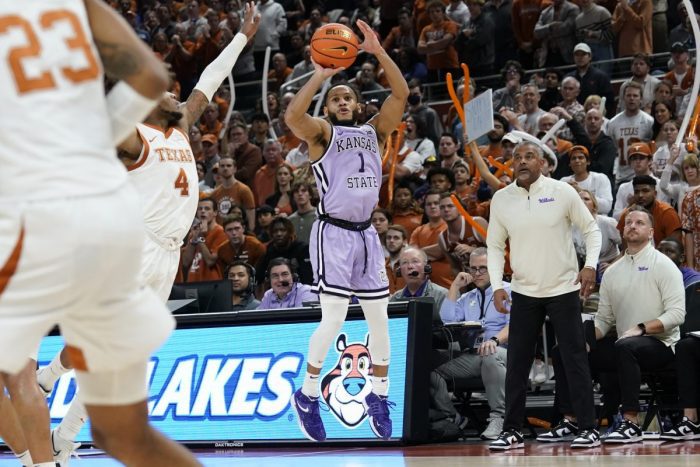 The Kansas–Kansas State game is in the Draft Kings Daily Fantasy Sports pool for men's college basketball as Big 12 play continues on Tuesday.
This season, when Big 12 games are part of the pool at Draft Kings, I'll provide my recommendations based on the lineup I'm playing that day.
In this case, since it's a specific game for just Kansas and Kansas State, the recommendations are for a six-player team, with one selected player — the captain — getting 1.5 times the fantasy points. The salary cap is $50,000.
The goal is to fill out a complete Big 12 lineup. With two teams and six slots, we can do just that.
Here is Tuesday's lineup/recommendations:
Captain
F Keyontae Johnson, Kansas State ($13,800)
When these two teams played the first time Kansas State guard Markquis Nowell was the most expensive player. He was coming off that huge stretch to start Big 12 play. I took Wilson, who was $2,000 cheaper. Now, Kansas forward Jalen Wilson has the highest cap figure.
I'm going to use the same strategy I used last time. Johnson is about $2,000 cheaper in cap space. Also, he has great momentum coming into this one. It's not that Wilson doesn't. But you're trying to maximize the bonus, and along with Johnson's consistent scoring he's had at least 10 rebounds in each of his last three games.
Everyone in the last meeting benefited from an overtime period. I don't think that Tuesday's game will go to overtime. But I think Johnson will thrive in the road environment and put together one of his best games of the season.
Hey, it worked when I took Wilson a few weeks ago.
With Johnson off the board, I'll take two more Wildcats and three Jayhawks.
The Remaining Five
Kansas: G Gradey Dick ($8,000), F KJ Adams ($6,600), G DaJuan Harris Jr. ($6,400)
Kansas State: G Markquis Nowell ($10,000), F David N'Guessan ($4,400)
It's important to note that once you make your captain selection, the salary cap number changes for each player. So Wilson's cap number dropped, but I still couldn't make it work. So I loaded up on three players that should be good options on Tuesday.
Dick had his struggles in the first meeting but still ended up with nearly 38 fantasy points. I think he's more comfortable at home and could have a similar game.
Adams has nearly 25 fantasy points against Kansas State, but then had a couple of off games before 27.5 fantasy points against Kentucky. As with most of Kansas' players, he's experiencing a bit of an upswing.
Harris won't score a lot of points, so the key is can he give you everything else — especially assists and steals. You want a game like he had against Kentucky — 21.25 fantasy points.
Nowell didn't have a great game against Kansas the first time around and he still scored 26 fantasy points. He only had four points in that game. But, in his last three games he's cleared at least 38 fantasy points and he should have a much better game against Kansas this time around.
N'Guessan is back and after getting a few minutes off the bench against Texas Tech on Jan. 21, he played a full game and started against Florida on Saturday, scoring 14.25 fantasy points. He averages 16.5 fantasy points, but he can get you 20-25 under the right circumstances.
–
Scoring system: Point: +1 Pt; Made 3pt Shot: +0.5 Pts; Rebound: +1.25 Pts; Assist: +1.5 Pts; Steal: +2 Pts; Block: +2 Pts; Turnover: -0.5 Pts; Double-Double (Max 1 Per Player: Points, Rebounds, Assists, Blocks, Steals) +1.5 Pts; Triple-Double: Max 1 Per Player (Points, Rebounds, Assists, Blocks, Steals): +3 Pts
You can find Matthew Postins on Twitter @PostinsPostcard