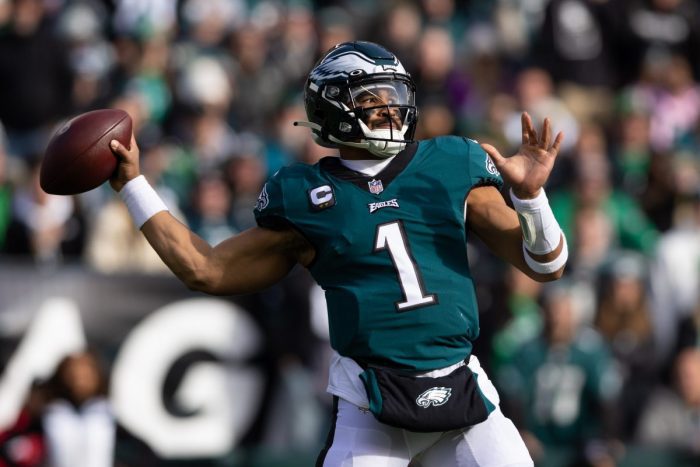 Former Oklahoma and Alabama quarterback, Jalen Hurts, is really good at football. The Philadelphia Eagles quarterback led his team to the best record in the NFC and is now two weeks away from a matchup with Patrick Mahomes and the Chiefs in the Super Bowl.
With Hurts' superstardom and elevation this year, arguments between the Alabama Crimson Tide fanbase and the Oklahoma Sooners fanbase have been running wild begging the question of: who gets to claim Jalen Hurts?
College football analyst and fellow former Alabama QB Greg McElroy voiced his opinion on the debate of Hurts' college fanbase in a recent podcast episode of Always College Football.
McElroy believes that, "They can both claim him because he started and was a Heisman finalist at Oklahoma, and was at Alabama for three years and started in a national championship game, two national championship games that he started in."
In Jalen Hurts' time with Alabama, he was active in three national championship games under Nick Saban and showed his maturity coming in for Tua Tagoviola in the SEC Championship game in a comeback win against Georgia which completed a perfect 13-0 regular season, and secured the Crimson Tide a playoff spot.
Hurts also made a CFB Playoff appearance at OU, which they lost to LSU, plus he was a Heisman Trophy finalist and a legitimate candidate for the best quarterback in the country. Hurts had his best statistical season in Norman which set him up for a stellar NFL career. Hurts threw for 3,851 passing yards with 32 passing touchdowns and eight interceptions. The incredible thing about Hurts' time in Norman was his remarkable 52 total touchdowns (32 passing, 20 rushing).
Whether you're an Alabama fan or an Oklahoma fan, it looks like an even split in my eyes as Hurts' foundation came with Saban and the Crimson Tide, but what turned Hurts into a legitimate NFL prospect was his time in Norman. Both fan bases can take equal shares of Hurts as both were needed to become who he is today.