Basketball
Iowa State Tops Big 12 Women's Basketball Power Rankings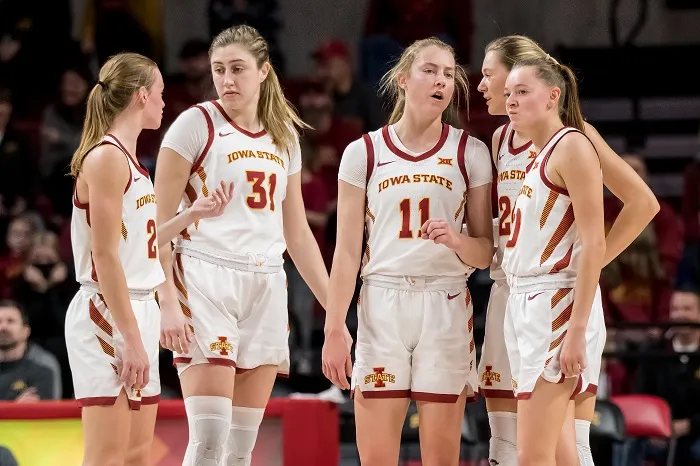 The Iowa State Cyclones are No. 1 in the Heartland College Sports Big 12 women's basketball power rankings after the fourth full week of Big 12 Conference action. Our Power Rankings appear every Tuesday.
Check out Heartland College Sports for men's and women's basketball coverage every day, including our thoughts on big games, the previous week's action, our weekly schedules, and daily fantasy lineups as we march toward, well, March.
1. IOWA STATE (15-4, 7-2: Last Week — 2)
The Cyclones seem to have recalibrated a bit since the injury to center Stephanie Soares. The Cyclones have now won four straight games and forward Ashley Joens had two incredible games last week, including a 32-point game against Oklahoma on Saturday. I'm not sure about this team's NCAA Tournament hopes, in terms of how far it can go. But the Cyclones are well positioned to win the Big 12 regular-season title outright.
2. TEXAS (16-6, 7-2: Last Week — 3)
The Longhorns have won three straight, and they were quality wins, too. Texas beat Baylor, Oklahoma, and Oklahoma State in those three games. The problem for Texas, as least so far, is being away from home. At the Moody Center the Longhorns are undefeated in league action and, frankly, haven't been challenged. On the road, Texas seems to struggle. And this week? Texas is on the road at West Virginia and Kansas. So let's see what happens.
3. OKLAHOMA (16-4, 6-3: Last Week — 1)
Oklahoma squandered an opportunity to put some distance between itself and the rest of the conference with losses to Texas and Iowa State last week. It reflects just how close the top four teams in this conference are right now. Taylor Robertson got her record and I don't think that was distracting the Sooners, but now that it's in the rearview mirror they can focus on the back half of the schedule and trying to win the Big 12 regular season title.
4. WEST VIRGINIA (14-5, 5-3: Last Week — 4)
The Mountaineers have won their last two games and five of their last six games. WVU struggled a bit with TCU on Saturday, and they did so without guard Madisen Smith. Assuming Smith returns, the Mountaineers have a big week ahead, hosting Texas and going to Oklahoma. Could the Mountaineers steal one from either of these teams this week? If so, coach Dawn Plitzuweit can help position her team for the NCAA Tournament.
5. BAYLOR (14-6, 5-3: Last Week — 6)
The Bears are a hard team to figure out right now. They've lost three of their last five. They've had it taken to them at home twice. Their leading rebounder is freshman Darianna Littlepage-Buggs. Sarah Andrews has grown into their leading scorer and top perimeter threat. But is this team merely good or can it be something more? It's clear that the two transfers they took in this season — Aijha Blackwell and Dre'una Edwards — won't make the impact the Bears were hoping for.
6. OKLAHOMA STATE (14-7, 4-5: Last Week — 5)
The Cowgirls split for the week, and that was what they needed to do — beating Kansas State at home and then losing to Texas on the road. I think the Cowgirls are an NCAA Tournament team. To do it, I think they have to go at least 2-1 in their next three games, all against teams with which the Cowgirls should be evenly matched — Texas Tech, at TCU, and West Virginia. Win all three, and I think the Cowgirls can get to 20 wins before Kansas City.
7. KANSAS (14-5, 4-4: Last Week — 8)
The Jayhawks got a much-needed win on Sunday over Kansas State after a week off. Kansas is starting to rebound a little bit, having won two of its last three after a three-game losing streak. This upcoming week is pivotal if Kansas wants to be in the top half of the Big 12 standings by season's end. The Jayhawks travel to Baylor and host Texas. Taiyanna Jackson continues to be one of the best centers in the Big 12. She has 13 double-doubles this season.
8. TEXAS TECH (15-6, 3-5: Last Week — 7)
After the high of beating Texas at home, the Lady Raiders have come back down to earth a bit, with losses to West Virginia and Baylor. Texas Tech is still capable of making a run at the NCAA tournament, but its upcoming two games are pivotal to that end. Texas Tech travels to Oklahoma State, a team with the same goal in mind, followed by a home game against reeling Kansas State. The latter is a game the lady Raiders cannot afford to lose.
9. KANSAS STATE (13-9, 2-7: Last Week — 9)
Kansas State lost both games last week and has now lost six of its last seven games entering a showdown with ranked Iowa State this week. At this point, the Wildcats are hoping to win enough games so they can qualify for the Women's NIT in March. The NCAA Tournament seems unattainable at this point.
10. TCU (6-14, 0-9: Last Week — 10)
The Horned Frogs have now lost 23 straight Big 12 regular season and tournament games. Their luck isn't likely to turn around anytime soon, and the longer the streak continues, the less chance there is of head coach Raegan Pebley returning next season.
You can find Matthew Postins on Twitter @PostinsPostcard