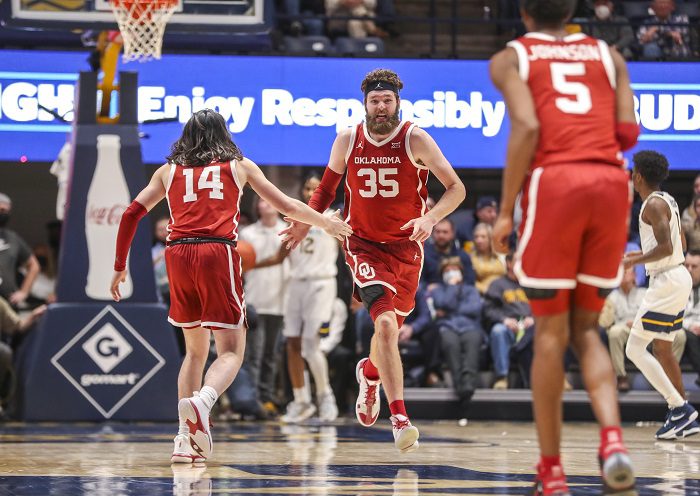 There is one Big 12 game in the Draft Kings Daily Fantasy Sports pool for men's college basketball as Big 12 play continues on Wednesday.
That game is Oklahoma State at Oklahoma.
This season, when Big 12 games are part of the pool at Draft Kings, I'll provide my recommendations based on the lineup I'm playing that day. In this case, the recommendations are for a Classic game, which features eight players — three guards, three forwards, and two guards/forwards (utility). The lineup must contain players from at least two different games. The salary cap is $50,000.
The goal is to fill out a complete Big 12 lineup. With just one game, I'll take two players from Oklahoma State and Oklahoma. Then I will fill the lineup with four other players from the other 12 games in the pool. But the emphasis will be on the Big 12.
Here is Wednesday's lineup/recommendations:
Guards
Grant Sherfield, Oklahoma ($7,100), Avery Anderson III, Oklahoma State ($6,500), Paul Mulcahy, Rutgers ($6,800)
Sherfield had 24 fantasy points in the first meeting against OSU. He's coming off a massive game against Alabama, where he scored nearly 60 fantasy points. I'll take that, but I'm not expecting that kind of production. If he can get me close to 30 I'd be happy. But that OSU defense is one of the best in the country.
After a bit of a valley to start Big 12 play, Anderson has settled into a groove where he can get you anywhere from 22 to 30 fantasy points per game. Against OU in the first meeting, he scored nearly 28 fantasy points. He hasn't slowed down since.
Mulcahy's scoring has gotten better the past few games, but he can really help you with assists and steals, and he's capable of a points-assists double-double.
Forwards
Tanner Groves, Okahoma ($6,900), Kalib Boone, Oklahoma State ($6,500), Brandon Slater, Villanova ($6,000)
Everyone's numbers are a bit skewed after that Alabama win. But I'll take Groves, whose been a bit more consistent and did a little bit better against Oklahoma State the first time than Jalen Hill, who was the other Sooner I was considering.
Boone's numbers have remained consistent, even with the return of Moussa Cisse. The latter just hasn't gotten his legs back under him since the injury. So Boone is the right play here.
Slater is the least expensive option that averages 20 fantasy points per game in this game.
Utility
F KC Ndefo, Seton Hall ($6,400), F Baba Miller, Florida State ($3,600)
Cheap points here. Hoping at least one of them can get me at least 20 fantasy points.
–
Scoring system: Point: +1 Pt; Made 3pt Shot: +0.5 Pts; Rebound: +1.25 Pts; Assist: +1.5 Pts; Steal: +2 Pts; Block: +2 Pts; Turnover: -0.5 Pts; Double-Double (Max 1 Per Player: Points, Rebounds, Assists, Blocks, Steals) +1.5 Pts; Triple-Double: Max 1 Per Player (Points, Rebounds, Assists, Blocks, Steals): +3 Pts
You can find Matthew Postins on Twitter @PostinsPostcard