Baylor Bears
Ranking Each 2023 Big 12 Schedule From Easiest to Hardest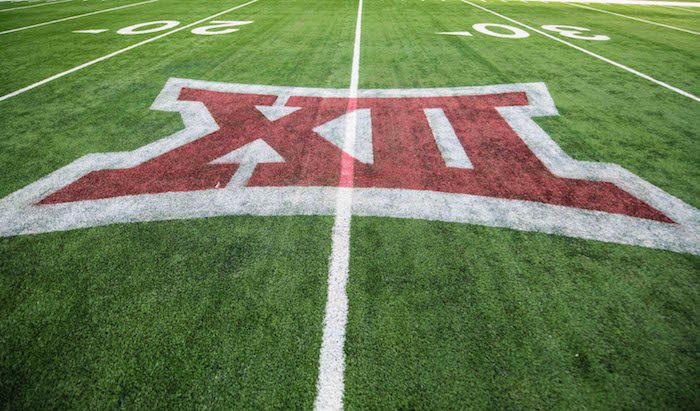 After months of waiting, the big day finally arrived on Tuesday as the 2023 Big 12 football schedules were released. Initially, they were supposed to come out in late 2022 but then they got pushed back to late January.
There is plenty of excitement around the Big 12 as the 2023 football season will mark the first year with 14 teams as the four new schools make their way into the conference. Obviously, with the number of teams in the conference, not everyone will get to play everyone which makes things interesting. I thought it would be fun to rank the schedules in the Big 12. Who has the toughest path to Arlington? Well, you can find out right here as I rank them from easiest to toughest.
#14 Oklahoma
Instead of giving the Sooners the toughest schedule in the Big 12, I felt like they were handed a going-away package gift of a schedule. They have four Big 12 road games and one of them is in Dallas against the Longhorns. They avoided Kansas State, Texas Tech, and Baylor on their schedule. Their toughest road game will be against Oklahoma State on November 4th.
#13 Oklahoma State
Staying in the state of Oklahoma, the Cowboys' schedule is just flat-out strange. The only school they play from the state of Texas is Houston and their two biggest games against Kansas State and Oklahoma will be in Stillwater.
#12 Cincinnati
We welcome the Bearcats with a favorable schedule. While they will play some of the heavy hitters, they do have some great home matchups against Oklahoma and Baylor. Meanwhile, they avoided Texas, Texas Tech, and Kansas State for their 2023 schedule.
#11 Texas Tech
Outside of a trip to Austin at the end of the season, they don't really have a tough road slate. However, they do host Oregon in week two and Kansas State in the month of October. Overall, I really don't mind their schedule at all.
#10 Houston
The Cougars have a favorable non-conference schedule, but they do have some interesting conference road games. They have a three game stretch where they will have to play Texas, Kansas State, and Baylor. Two of those games are on the road and before their bye week they must travel to Lubbock.
#9 Baylor
I may be guilty of not putting them further on this list because the more I look at this schedule, the tougher it is. Three out of their first six games are against Utah, Texas, and Texas Tech. Luckily they do get those three at home but they do have to take on Kansas State on the road in November.
#8 Kansas State
The good news is that I really like Kansas State's early schedule. The bad news is that their bye week comes in September which means they will have to play eight straight conference games. I don't care who you are because that is tough to do in the Big 12. When I look at their schedule, the month of November sticks out because they will play Texas, Baylor, Kansas, and Iowa State in the final month of the regular season.
#7 BYU
Outside of their trip to Arkansas, I don't find BYU's schedule too tough to begin the season. However, things will pick up later in the season as they will face Texas, Oklahoma, Oklahoma State, and Texas Tech.
#6 West Virginia
Neal Brown is on thin ice at West Virginia, and it doesn't seem like the schedule did him any favors. The Mountaineers have to play Penn State and Pitt in the first three weeks of the season. Then their first Big 12 game is against Texas Tech. Ouch. I wouldn't be shocked to see this team with three losses before the month of September ends. And I didn't even mention them having to play UCF, Oklahoma, and Baylor on the road.
#5 Iowa State
After a disappointing 2022 season, the Cyclones have a tough road ahead in 2023. While I do like the first half of their schedule (outside of Oklahoma), the back half is scary. After their bye week on October 21st Iowa State has a five game stretch against Baylor, Kansas, BYU, Texas, and Kansas State. Ouch.
#4 Kansas
Call me crazy but Kansas has a great shot going 3-0 to start the year. But the Big 12 schedule did not do them any favors in 2023. They start conference play against BYU before going to Austin. If that wasn't enough, their schedule includes Oklahoma State, Texas Tech, Texas, Kansas State, and Oklahoma along with trips to Iowa State and Cincinnati.
#3 UCF
Despite being one of the four new schools, UCF got the short end of the stick when it comes to schedules. They have some tough road games against Oklahoma, Kansas State, Boise State, and Texas Tech. On top of that, they have to play Baylor and Oklahoma State as well. However, the most interesting thing is that when I look at their schedule, they are the only team not to host Texas or Oklahoma. That doesn't seem very fair to me at all.
#2 Texas
While I am expecting a better year in 2023 for this team, they certainly have their work cut out for them. It starts right away with a big game against Alabama on the road and then two weeks later they will be in Waco taking on Baylor before playing Kansas and Oklahoma. The back half of their schedule doesn't let up either with games against Kansas State, BYU, and Texas Tech while traveling to Houston and Ames.
#1 TCU
It always seems like the top Big 12 teams always get the toughest schedule the following year. When I look at this schedule, September isn't bad but from October until the end of November seems like something from a nightmare. The Horned Frogs final seven games are absolutely brutal as they will face Iowa State, Kansas State, Texas Tech, and Oklahoma on the road as well as hosting BYU. In between their road trips to Lubbock and Norman, they will host Texas and Baylor. To me, this is by far the toughest schedule in the Big 12 going into 2023.