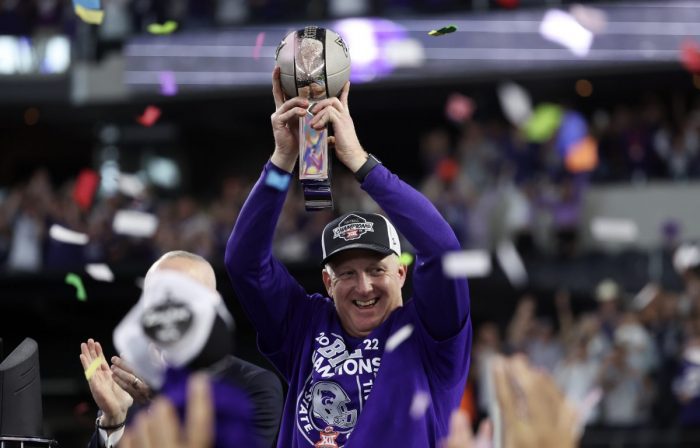 The 2023 Big 12 football schedule was (finally) released yesterday! In general, I like how it lays out for K-State. Some are concerned with the early bye week, but I am not very worried about that. I like opening the conference schedule at home against UCF and ending the season at home against Iowa State. Every game on the road schedule is winnable, with the most difficult game being at Texas.
Here is a breakdown of the schedule, along with my initial thoughts on the games.
Southeast Missouri (Sept. 2)
Southeast Missouri won the Ohio Valley Conference (FCS) in 2022 with a 9-3 record and lost in the first round of the FCS playoffs. The game will not be a cakewalk for K-State, but Iowa State handled Southeast Missouri 42 to 10 last year.
Troy (Sept. 9)
Troy won the Sun Belt Conference in 2022, finishing with a 12-2 record, a victory in the Cure Bowl against UTSA, and a number 19 ranking in the final AP football poll. It will be another difficult game for K-State.
at Missouri (Sept. 16)
The non-conference portion of the schedule does not get any easier with the Wildcats traveling to Missouri. Missouri was a bowl team in 2022, and going on the road to Columbia will be a challenge.
UCF (Sept. 23)
UCF finished the 2022 season tied for second in the AAC with a 6-2 conference record and a 9-5 overall record. I like that this game is in Manhattan.
at Oklahoma State (Oct. 6)
It is never easy going and winning in Stillwater, and Oklahoma State will be looking for revenge after K-State beat them 48-0 in Manhattan in 2022.
at Texas Tech (Oct. 14)
This is the only two-game road stretch of the season, which is another perk of this schedule. Tech will also seek revenge after K-State beat them 37-28 in Manhattan in 2022.
TCU (Oct. 21)
TCU is probably the best home game on the schedule, a rematch of the 2022 Big 12 championship game.
Houston (Oct. 28)
Houston finished tied for third place in the AAC in 2022 with a 5-3 conference record and an 8-5 overall record. K-State gets two of the new Big 12 members, UCF and Houston, at home. I like that.
at Texas (Nov. 4)
This is probably the second most difficult game on the schedule and may be the most difficult.
Baylor (Nov. 11)
K-State won in Waco 31-3 in 2022.
at Kansas (Nov. 18)
Chris Klieman has yet to lose to Kansas. KU is getting better, so this one will not be easy.
Iowa State (Nov. 25)
K-State won a close one, 10-9, in Ames in 2022. I like closing out the season at home. Who knows, another Big 12 title may be on the line.
Do I have a "way too early" prediction for the 2023 K-State Wildcats? Not really. I think every game on the schedule is winnable, but there are a lot of difficult games, too, especially early on. The only thing I am confident in right now is that K-State should go bowling once again in 2023, and they may have a shot to repeat as conference champions. I have not done a deep dive on all the opponents yet but will do that before my official prediction before the 2023 season. It is a fun schedule, and I cannot wait to see how the Wildcats can navigate through it.