featured
Texas, Oklahoma Won't Leave Big 12 Until 2025 After Failed Negotiations: Report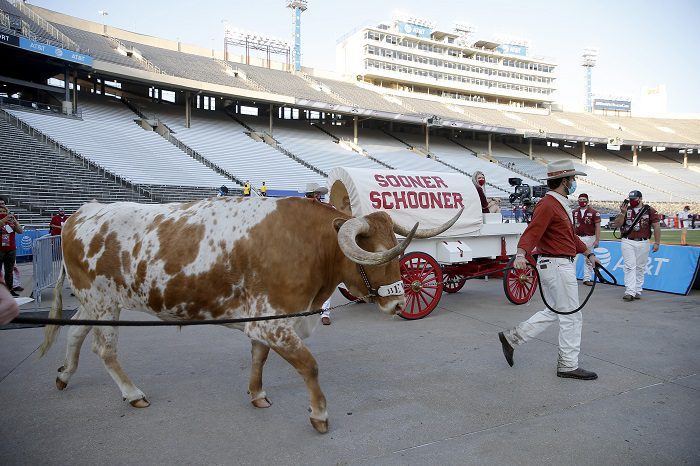 It appears that Texas and Oklahoma will officially, officially, be members of the Big 12 conference through the end of the 2024 season.
According to a tweet from ESPN's Pete Thamel, the Longhorns and Sooners could not come to an agreement with the Big 12 "amid complex negotiations" between the two schools, the Big 12, and its television networks (ESPN and FOX).
The cash cows of the Big 12 will now be forced to remain in their current conference until the expiration of the current Big 12 Grant of Rights, which is set to expire on July 1, 2025.
This report is congruent with Dennis Dodd's report on Thursday that the Big 12 had rejected a bid from the two schools that would allow them to leave the conference prior to the 2024 season.
The main issue that held the schools from leaving before the reported date was the significant loss of inventory for the Big 12's television partners, namely FOX.
"Fox and ESPN hold the linear broadcast rights to the Big 12 through 2024-25," Dodd writes. "ESPN owns 63% of the value from the new $2.3 billion deal that begins in 2025. As such, it gets top picks with the four best football games each season, six of the top eight, eight of the top 12 and 12 of the top 20, according to SportsBusiness Journal. Fox, which owns the remaining 37% of the deal, receives 26 games per season. It is not clear whether Fox would get access to some of those ESPN picks if a deal was struck."
This report also backs the idea that Oklahoma and Texas' handling of the 2023 Big 12 schedule release was significant, meaning that they likely weren't happy with how things were handled in this situation, a situation that they themselves brought to pass.
It's not a coincidence that OU and UT were the only schools to simply retweet the Big 12's announcement rather than release a graphic and video of the schools' schedules for 2023.
With them being a part of the conference for a year longer than they'd hoped, the Red River Rivals will need to find a way to be cordial for a bit longer with their longtime partners, and replacements, in the new-look Big 12.