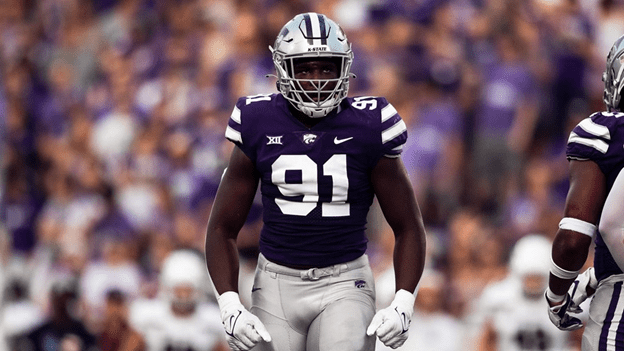 With the 2023 NFL Draft only two months away, many fans are keeping their eyes glued to mock drafts from different sports personalities to get a feel for where their favorite players may end up, and who their favorite team could select.
For many prospects, the NFL Draft is a chance to see lifelong dreams come to fruition, and for the select few talents drafted in the first round, they can make or break a fanbase just by hearing their name called by NFL commissioner Roger Goodell.
While the majority of mock drafts are just sports personalities slotting which college players would be the best fits for a team, some former NFL scouts like Daniel Kelly, add their own insight and evaluation to each player, and that is the case with Kansas State DE Felix Anudike-Uzomah.
Anudike-Uzomah is the reigning defensive player of the year in the Big 12 Conference, and in his time with the Wildcats, Anudike-Uzomah logged 19.5 sacks, and 86 total pressures.
He is currently ranked as the third-best edge rusher in the 2023 draft class according to CBS Sports, however, that could not be further from the truth according to Daniel Kelly.
"One word is going through my mind after watching Kansas State's Felix Anudike-Uzomah on his 2021 and 2022 game film: WOW. He's everything Alabama's edge rusher Will Anderson isn't on game film," Kelly said in his evaluation of Anudike-Uzomah.
Kelly continued his praise for Uzomah by saying, "This guy is like a machine. I literally ran out of room in my notes Anudike-Uzomah had so many great pass rushes, who I have affectionately have nicknamed, "The Tasmanian Devil." Offensive tackles better pack their lunch in the NFL because he's a threat to get to the quarterback on every snap. There's no quit in this guy. He's got an engine that doesn't shut off."
Felix is currently projected as a mid-to-late first-round draft pick but can be seen rising up draft boards for teams in need of a game-breaker. Kelly spoke about Anudike-Uzomah's ability to take over a game saying that he is extremely, "quarterback minded," which is a phrase Kelly uses to describe pass rushers who are obsessed with blowing up the pocket.
The 2023 NFL Draft takes place on Thursday, April 27th, and whether the Kansas City native Anudike-Uzomah hears his name called in his hometown at the tail-end of the first round or not, King Felix is another great representative for the next generation of pass-rushers in the NFL coming from the Big 12 conference.