Oklahoma Sooners
Postscripts: Oklahoma, Texas Exit Negotiations End, Dream Big 12 Schedule, Pac-12 Flails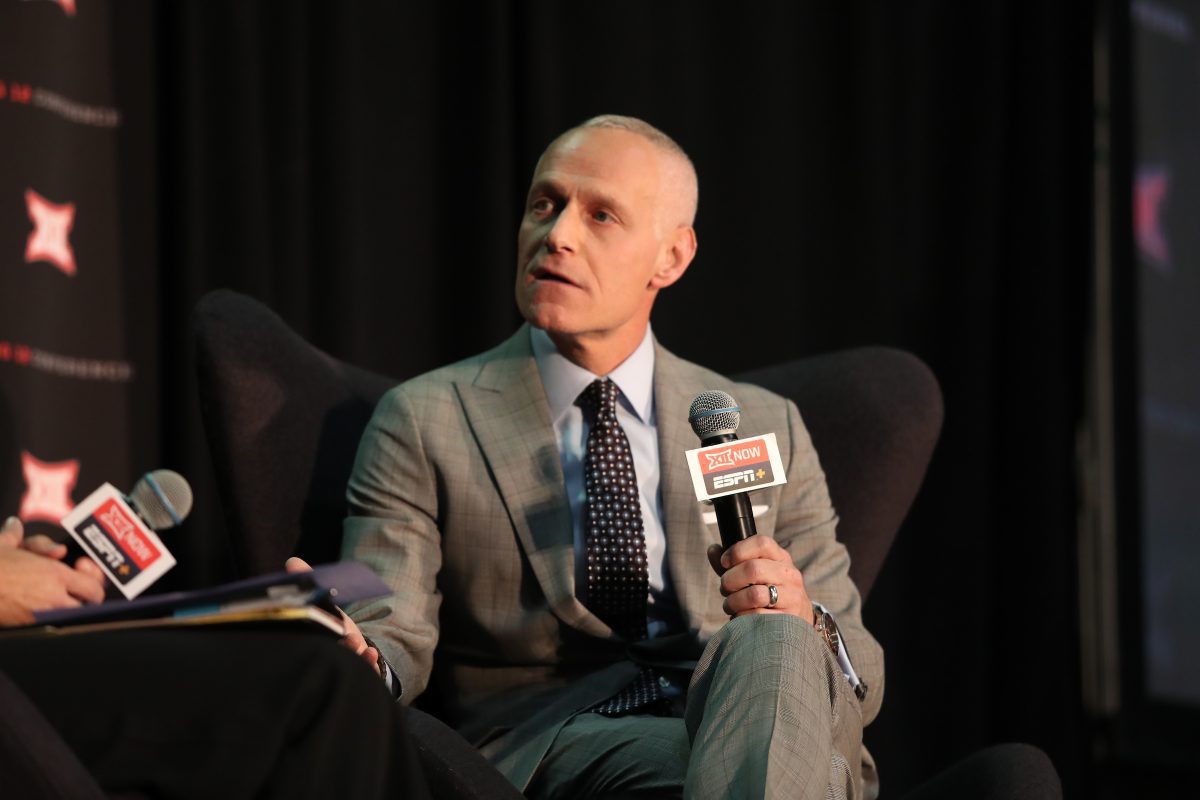 What's going on in the Big 12 and beyond? I expand and explain every Sunday in Postscripts at Heartland College Sports, your home for independent Big 12 coverage.
This week, it's the Texas-OU get-out holdup, my 2023 'dream' football schedule, more Pac-12 news and what's eating Dana Holgorsen?
It's Just a Few Football Games, Right?
That's what an early exit from the Big 12 is basically down to, right? Just a few football games?
Friday brought reports that the talks between Oklahoma, Texas, the Big 12, ESPN and FOX to get the Sooners and Longhorns out a year early basically broke down. The issue was television inventory. FOX believe it would lose too much in the process. ESPN gets top picks of the four best football games each season, six of the top eight, eight of the top 12 and 12 of the top 20.
With that a deal is, most likely, dead. Sure, anything could happen between now and whenever. But if the TV partners are unwilling to budge, that matters just as much as if the other partners weren't willing to budge.
This means two more years of Oklahoma and Texas in the conference. It's mostly their own fault of course. The two schools are the ones that are leaving for the SEC. The pair also had a hand in the league by-laws and the grant of rights that binds all of this together and is, thus, keeping them from leaving.
But it also means two years of passive-aggressive behavior such as the pair not unveiling the Big 12 football schedule with the same joie de vivre as the rest of the league did earlier this week.
Just for the record, I checked on Saturday. The two schools still hadn't posted their 2023 football schedules, even though we obviously know what they are.
The Big 12 should stick to its guns here. The league holds the cards. If a deal can be reached, fine. But it should cost Oklahoma and Texas as much as possible. Exact the pound of flesh now because, once they're gone, they're not scheduling you again.
My Big 12 'Dream' Travel Schedule
If I had all the money and all the time, this is where I would head next football season for Big 12 football.
Thursday, Aug. 31: Kent State at UCF. Been to the Bounce House before. But let's check out their first non-con as a Big 12 member.
Saturday, Sept. 2: Colorado at TCU. Back in Texas in enough time to catch Coach Prime's debut against the Horned Frogs.
Saturday, Sept. 9: Iowa at Iowa State. I've never done Cy-Hawk and I'd rather do it in Ames.
Saturday, Sept. 16: Pitt at West Virginia. Backyard Brawl? Yes, please.
Saturday, Sept. 23: Oklahoma at Cincinnati. Bearcats make their bow in Big 12 league action by hosting the Sooners. I'm sure OU is thrilled.
Friday, Sept. 29: Cincinnati at BYU.Let's check out Provo and the first matchup between two of the new Big 12 teams.
Saturday, Sept. 30: Kansas at Texas. Gas up the HCS private jet and let's get to Austin because we all know happened the last time Kansas visited Texas.
Friday, Oct. 6: Kansas State at Oklahoma State. Fun on a Friday night and then let's hit Eskimo Joe's.
Saturday, Oct. 7: UCF at Kansas. It's a short drive to the Booth from Stillwater. Let's do it.
Thursday, Oct. 12: West Virginia at Houston. Dana Holgorsen against his old team. Fun.
Saturday, Oct. 14: BYU at TCU. I'd like to sleep in my own bed that night. This will help.
Saturday, Oct. 21: TCU at Kansas State. Rematch of two of the best games of last season.
Saturday, Oct. 28: Iowa State at Baylor. Whenever these two play strange things seem to happen.
Thursday, Nov. 2: TCU at Texas Tech. My niece goes to Tech. As good a time as any to visit.
Saturday, Nov. 4: Oklahoma at Oklahoma State. Bedlam, naturally.
Saturday, Nov. 11: Texas at TCU. The Longhorns' last visit to Amon Carter.
Saturday, Nov. 18: Oklahoma at BYU. Let's check out Provo again, only this time let's splash some snow on those mountains?
Friday, Nov. 24: Texas Tech at Texas. Closer for me after spending Thanksgiving with family.
Saturday, Nov. 25: West Virginia at Baylor. Will I be watching Neal Brown's last game at WVU?
This Week in 'As The Pac-12 Turns'
This week our Pete Mundo filed a piece on how the Big 12 has surpassed the Pac-12 for conference hierarchy in the past six months. The well-sourced report shines a light on how the Big 12 has approached things since commissioner Brett Yormark took over and how the Pac-12 and its commissioner, George Kliavkoff, have approached things.
It's not hard to cut through the noise. Yormark has a history as a deal-maker, even if it's not in college sports. He helped negotiate NASCAR's deal with Nextel a couple of decades ago, the largest naming-rights deal in sports at the time. He calculated that getting a TV deal done with ESPN and FOX in October would leave the conference well-positioned and he appears to have been right.
Sure, he could have waited for the exclusive negotiating window to trigger later this year, and perhaps make a little more money. But there was no guarantee. And it definitely undercut the Pac-12.
So while the Big 12's biggest concerns right now are working through adding Gonzaga as a basketball member and negotiating an early exit for Texas and OU — which it doesn't have to do — the Pac-12 is still searching for a new TV deal and won't touch expansion until after that.
There is at least one potential Pac-12 member that is impatient with the whole thing.
Where's that Houston money?
Less than six months from joining the Big 12 and at least one new member's head football coach isn't totally happy about the overall commitment to new facilities.
"We all know that there's a football ops building that's on the horizon," Houston head coach Dana Holgorsen said. "There's a lot we've got to do when it comes to that. Regardless of who the head football coach is here, okay, that has to happen. What we're dealing with now on a day-to-day basis is going to be dead last in the Big 12. That's just facts."
Holgs knows the Big 12 all too well. Remember when Yormark went on his listening tour in September and said publicly that West Virginia — Holgorsen's former employer — had the best facilities he had ever seen?
Wonder how much Holgorsen misses Country Roads now?
You can find Matthew Postins on Twitter @PostinsPostcard