Baylor Bears
Baylor's Sarah Andrews, Darianna Littlepage-Buggs Sweep Big 12 Women's Weekly Honors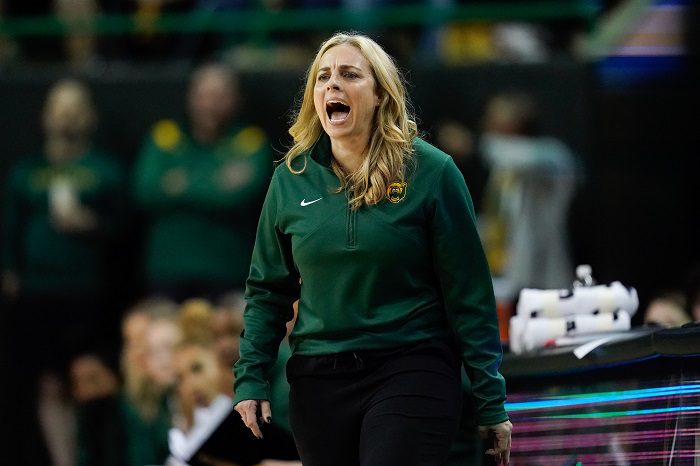 For the second time this season, Baylor's Sarah Andrews and Darianna Littlepage-Buggs have swept the Big 12 women's basketball weekly honors, winning both player and freshman of the week, respectively.
Around a month ago, on January 9, the pair swept the same weekly awards. This week, Andrews and Littlepage-Buggs helped lead the Bears to victories over Kansas and Iowa State in Big 12 Conference play.
Here is what the Big 12 press release had to say about the outstanding duo.
Andrews averaged 22.0 points, 6.0 assists and 3.0 steals in Baylor wins over Kansas and at then-No. 12 Iowa State. Against Kansas, she became just the second Division I player since at least 1999-00 to have 23 points, eight assists, three steals and three blocks in a single game, leading the Bears to a 77-73 victory. The Irving, Texas native followed up that effort with another 20-point game at Iowa State, scoring 21 points with four rebounds, four assists and three steals. She played all but three minutes over the course of the week to capture her second Player of the Week nod of the season.
 
Littlepage-Buggs earned Freshman of the Week for the fourth time in the past five weeks, averaging 12.5 points and 11.0 rebounds, while notching a double-double in each game. She scored 12 points with 10 rebounds in the game against Kansas, adding two assists and two blocks while going 6-of-11 (54.5%) from the field. The Edmond, Oklahoma native scored 13 points on an identical 6-of-11 shooting line in Ames, as the Bears picked up their fourth AP Top 25 win of the season. It is Littlepage-Buggs' fifth Freshman of the Week selection of the season.
Big 12 Women's Basketball Players of the Week
Player:
Nov. 14: Gabby Gregory, Kansas State
Nov. 21: Ashley Joens, Iowa State
Nov. 28: Stephanie Soares, Iowa State
Dec. 5: Taylen Collins, Oklahoma State
Dec. 12: DeYona Gaston, Texas
Dec. 19: Zakiyah Franklin, Kansas
Dec. 23: Madi Williams, Oklahoma
Jan. 3: Rori Harmon, Texas and Taiyanna Jackson, Kansas
Jan. 9: Sarah Andrews, Baylor
Jan. 16: Naomie Alnatas, Oklahoma State and Bre'Amber Scott, Texas Tech
Jan. 23: Madi Williams, Oklahoma
Jan. 30: Ashley Joens, Iowa State
Feb. 6: Sarah Andrews, Baylor
Freshman:
Nov. 14: Bella Fontleroy, Baylor
Nov. 21: Bailey Maupin, Texas Tech
Nov. 28: Jasmine Shavers, Texas Tech
Dec. 5: Bella Fontleroy, Baylor
Dec. 12: Darianna Littlepage-Buggs, Baylor
Dec. 19: Denae Fritz, Iowa State
Dec. 23: Bailey Maupin, Texas Tech
Jan. 3: Jasmine Shavers, Texas Tech
Jan. 9: Darianna Littlepage-Buggs, Baylor
Jan. 16: Jasmine Shavers, Texas Tech
Jan. 23: Darianna Littlepage-Buggs, Baylor
Jan. 30: Darianna Littlepage-Buggs, Baylor
Feb. 6: Darianna Littlepage-Buggs, Baylor