Baylor Bears
Big 12 Men's Basketball Power Rankings: Texas' Rapid Rise, K-State Falling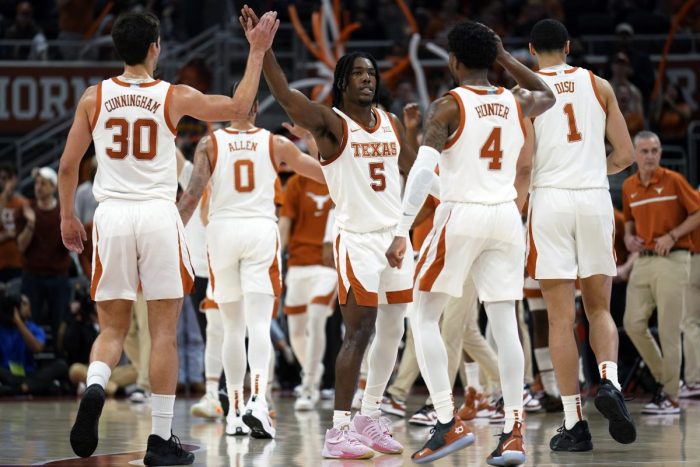 The Texas Longhorns are No. 1 in the Heartland College Sports Big 12 men's basketball power rankings after the fifth full week of Big 12 Conference action. Our Power Rankings appear every Monday.
Check out Heartland College Sports for men's and women's basketball coverage every day, including our thoughts on big games, the previous week's action, our weekly schedules and daily fantasy lineups as we march toward, well, March.
1. TEXAS (19-4, 8-2: Last Week — 4)
Texas doesn't just have the lead in the Big 12 standings with eight games to play. The Longhorns also beat two ranked teams last week — home against Baylor and on the road at Kansas State. Texas won both impressively, with the latter victory seeing Texas fall behind by as many as 14 points before coming back. I told our Pete Mundo last week that the top team in the Big 12 could change every week. And with Kansas facing Texas on Monday, this is not the time for the Longhorns to get comfortable.
2. IOWA STATE (16-6, 7-3: Last Week — 1)
From here? I have no clue. That's what is so great about this league. The top six — really the top eight teams at this point — are all NCAA Tournament worthy. Honestly, they all are, but someone's going to end up with an overall losing record by March. It won't be Iowa State. The Cyclones fall only a spot after soundly beating Kansas at home, a game after blowing that 23-point lead against Texas Tech. The return of Aljaz Kunc is a big deal for this team.
3. BAYLOR (17-6, 6-4: Last Week — 5)
Baylor moves up despite a split week. Why? Well, they did lose to Texas on the road, but the Bears were in it until the end. Then they handled Texas Tech at home with relative ease by Big 12 standards. The Bears got a big boost this week with the return to Jonathan Tchamwa Tchatchoua at forward. Baylor needed his energy.
4. KANSAS (18-5, 6-4: Last Week — 6)
So, Kansas gets back home and soundly beats Kansas State. All seems normal again, right? Then Jalen Wilson and company go to Iowa State and get … soundly beaten. The Jayhawks look feast-or-famine right now. When they're all on and clicking, it's gonna be great to watch. When they're not, it's gonna be sloppy. The injury to Zach Clemence doesn't help their depth.
5. KANSAS STATE (18-5, 6-4: Last Week — 2)
Well, here we go. Can Kansas State sustain this incredible success for the next four weeks? That was Iowa State's issue a year ago under a new head coach. The Cyclones finished with an under-.500 record in Big 12 play, though we overlook that due to their Sweet 16 run. ISU went 7-11, and this is the point in the season in which they had issues — a four-game losing streak to start February. K-State has now lost its last three Big 12 games. Teams are figuring out how to defend Markquis Nowell and Keyontae Johnson. So who will step up and help?
6. OKLAHOMA STATE (14-9, 5-5: Last Week — 8)
I admit — I gave up Oklahoma State for dead a couple of weeks ago. But coach Mike Boynton has resurrected the Cowboys, with help from Kalib Boone, Woody Newton, Caleb Asberry and the return of Moussa Cisse. At least two of those players were not on my 'Oklahoma State Goes the NCAA Tournament Because of these Guys' bingo card. Yet, here we are. OSU is this close to getting off the bubble. The Cowboys have won three straight and five of their last six.
7. TCU (17-6, 6-4: Last Week — 3)
We may need to get used to these kinds of wild up-and-down movements the rest of the way. My justification is that we found out just how much these Horned Frogs need both Eddie Lampkin Jr. and Mike Miles Jr. in the lineup. If they had been fully healthy last week, I think TCU beats West Virginia soundly and overcomes Oklahoma State on the road. Without them? They still have talent, but they also lose some valuable depth.
8. WEST VIRGINIA (14-9, 3-7: Last Week — 7)
Erik Stevenson said the Mountaineers need to win 18 games to reach the NCAA Tournament. Can WVU win four of its next eight? It's possible. The loss to TCU was not as close as the final score would lead you to believe. Neither would the score of WVU's win over Oklahoma. Geez. Play like that every night and WVU could have 18 wins before March.
9. TEXAS TECH (12-11, 1-9: Last Week — 10)
Texas Tech rallied from 23 down to beat Iowa State at home to extend its winning streak to two games before falling hard to Baylor on the road. I'm not sure what more you can expect from Texas Tech until Fardaws Aimaq and Richard 'Pop' Isaacs return consistently. If you're a Tech fan, your only path to the NCAAs is to win it all in Kansas City. At the least you need a winning record at season's end so you can get NIT consideration.
10. OKLAHOMA (12-11, 2-8: Last Week — 9)
Yeah, the Sooners to have one more win in Big 12 play than the Red Raiders. But at least Texas Tech won last week. The Sooners fell hard to Oklahoma State at home in the second Bedlam game and then were destroyed by West Virginia on the road. Oklahoma's biggest problem is it doesn't get consistent high-level offense from more than one player per night.
You can find Matthew Postins on Twitter @PostinsPostcard.