Baylor Bears
Big 12 Three Thoughts on AP Top 25 Women's Poll for Feb. 6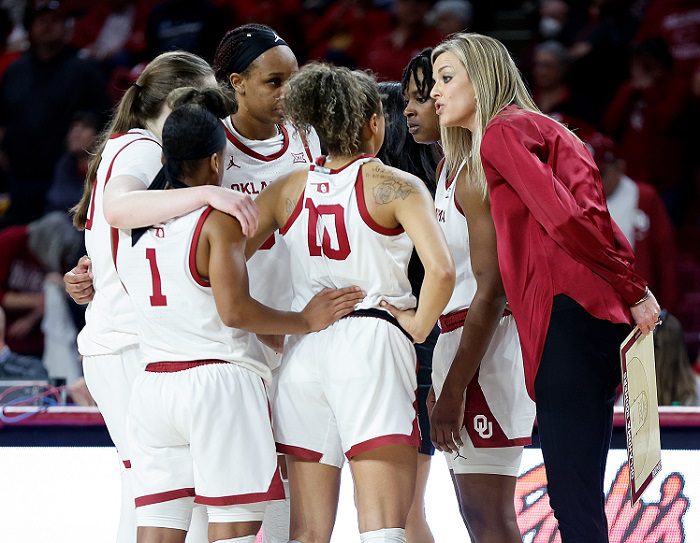 Three Big 12 teams are among the nation's best as the AP Top 25 Women's Basketball poll, released on Monday after Week 13 of the season.
Here are our three thoughts on the poll from a Big 12 perspective.
Is There a Top 10 Team?
Oklahoma is the highest-ranked team in the Big 12 this week, coming in at No. 16. With only two other ranked teams, and one other on the outside looking in, it's worth thinking about whether a Big 12 team will finish in the Top 10 at season's end. Oklahoma is a good candidate to be that team. The Sooners have a relatively smooth schedule the rest of the way, with games against Baylor and Texas being the two foremost of concern. There's a good chance the Sooners are deep enough and talented enough to make a run at the Big 12 Tournament title in Kansas City. Four programs hosted first-round and second-round games in the NCAA Tournament last year. The Big 12 may only host one this time around. Oklahoma seems like the best candidate to do it.
Cyclones and Longhorns
The Cyclones and Longhorns are moving in opposite directions. The Cyclones are coming off two losses to unranked teams last week and dropped nine spots to No. 21. The Longhorns won both games and moved up four spots to No. 20. Additionally, Texas has won eight of its last nine games and appears to be peaking at the right time. Iowa State still has Ashley Joens, Emily Ryan, and Lexi Donarski. But in trying to return to last year's chemistry in the wake of the injury to Stephanie Soares, the Cyclones are still working to figure things out. Can they figure it out before they fall out of the Top 25?
What's It Gonna Take for Baylor?
Last week Baylor received just one vote in the AP top 25. This week, after beating Iowa State over the weekend, the Bears were up to 29 votes, keeping them just outside the Top 25. So it makes sense to believe that if Baylor is able to beat Oklahoma on Tuesday night, and then win its remaining game this weekend against Oklahoma State, that the Bears would return to the AP Top 25 poll. Sarah Andrews and company are playing some good basketball right now, but they need to show they can continue to beat ranked teams within the conference. The Bears are in good position to claim one of the two top seeds in the Big 12 Tournament.
This Week's AP Top 25 Poll
No. 1 South Carolina, No. 2 Indiana, No. 3 LSU, No. 4 UConn, No. 5 Iowa, No. 6 Stanford, No. 7 Utah, No. 8 Maryland, No. 9 Duke, No. 10 Notre Dame, No. 11 Virginia Tech, No. 12 Michigan, No. 13 Ohio State, No. 14 North Carolina, No. 15 Villanova, No. 16 Oklahoma, No. 17 Arizona, No. 18 UCLA, No. 19 Florida State, No. 20 Texas, No. 21 Iowa State, No. 22 North Carolina State, No. 23 Gonzaga, No. 24 South Florida, No. 25 Colorado. Big 12 Teams Receiving Votes: Baylor, 29.
You can find Matthew Postins on Twitter @PostinsPostcard.