Baylor Bears
Texas Longhorns Top Big 12 Women's Basketball Power Rankings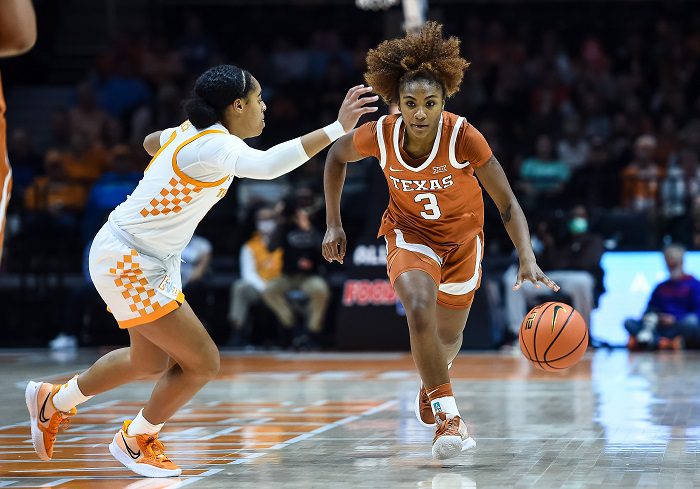 The Texas Longhorns are No. 1 in the Heartland College Sports Big 12 women's basketball power rankings after the fifth full week of Big 12 Conference action. Our Power Rankings appear every Tuesday.
Check out Heartland College Sports for men's and women's basketball coverage every day, including our thoughts on big games, the previous week's action, our weekly schedules, and daily fantasy lineups as we march toward, well, March.
1. TEXAS (18-6, 9-2: Last Week — 2)
I think we can finally say that Rori Harmon, DeYona Gaston, and the rest of the Longhorns have finally figured it out. Texas has won eight of its last nine games, with only a road loss to Texas Tech breaking the streak. Now, Texas has feasted on non-ranked in that run. And this week features games against Texas Tech and TCU, both at home. But the chemistry that we have long waited for from this experienced, talented Texas team seems to finally be coming to the surface.
2. OKLAHOMA (18-4, 8-3: Last Week — 3)
Oklahoma got back on track with back-to-back wins at home against TCU and West Virginia. Those are teams the Sooners were supposed to beat. On Tuesday, the Sooners will face a team that has already beaten them once this season when they travel to Baylor. It's a litmus test game for the Sooners, who have just one other ranked team on their schedule down the stretch and could ride that schedule to a Top 2 seed in Kansas City.
3. BAYLOR (16-6, 7-3: Last Week — 5)
Baylor has won four of its last five games and the last time it played back-to-back ranked teams the Bears won both games. Baylor beat Iowa State on the road on Saturday, and the Bears are hosting ranked Oklahoma on Tuesday. With Sarah Andrews playing the way she's playing, anything is possible for the Bears down the stretch.
4. IOWA STATE (15-6, 7-4: Last Week — 1)
The loss over the weekend to Baylor is something the Cyclones could have lived with. But the loss on the road to Kansas State? That was a game Iowa State had to win. With four weeks left the race to finish at the top of the Big 12 is slipping away. Ashley Joens and company need to score some big wins down the stretch to try and get into one of those top two seeds in Kansas City.
5. OKLAHOMA STATE (16-7, 6-5: Last Week — 6)
The Cowgirls have won three of their last four games, and they're getting darn near impossible to beat at home. Oklahoma State is 11-2 at Gallagher-Iba heading into a week in which it hosts West Virginia and Baylor. The game with the Mountaineers is actually a bit bigger than the game with Baylor. West Virginia is a team Oklahoma State, on paper, should beat. In the race to get to 20 victories before Kansas City, that's a win Oklahoma State needs.
6. WEST VIRGINIA (14-7, 5-5: Last Week — 4)
The Mountaineers followed up two straight wins with two straight losses, and Madisen Smith and company are hitting a part of the schedule that will determine whether they make the NCAA Tournament. The Mountaineers face Oklahoma State, Iowa State, Kansas, and Texas in the next four games. The Mountaineers need, at worst, to break even the next two weeks.
7. KANSAS (14-7, 4-6: Last Week — 7)
Kansas State lost both games last week, but we'll keep the Jayhawks where they are because they have an earlier victory over Texas Tech. The Jayhawks have to play the Lady Raiders again this weekend. The play of Taiyanna Jackson and Holly Kersgieter has been exemplary. But the Jayhawks have definitely taken a step back from the upper echelon of the conference.
8. TEXAS TECH (16-7, 4-6: Last Week — 8)
Texas Tech could end up being a 20-win team and not make the NCAA Tournament. The Lady Raiders have some big opportunities ahead, but they need a win or two over the upper echelon teams in the conference. Claim one or two of those games down the stretch, and the Lady Raiders can make an interesting case for March Madness.
9. KANSAS STATE (14-10, 3-8: Last Week — 9)
Going to keep Kansas State here after going 1-1 last week. The win over Iowa State was a good one and Gabby Gregory keeps playing great basketball. Right now the Wildcats are just trying to keep it above .500 so they can interest the WNIT in a bid. Get this team in a postseason tournament and I think they could go a ways.
10. TCU (6-16, 0-11: Last Week — 10)
Horned Frogs like Lucy Ibeh and Roxane Makalo are playing well right now. Tomi Taiwo has played well all season, but she didn't play in the Horned Frogs' loss to OSU on Saturday. But TCU can't string together enough offense to claim a win, and at this point TCU has lost to everyone in the league once except for Kansas, which the Horned Frogs face on Wednesday.
You can find Matthew Postins on Twitter @PostinsPostcard