Baylor Bears
Three Biggest Takeaways From Week 6 of Big 12 Basketball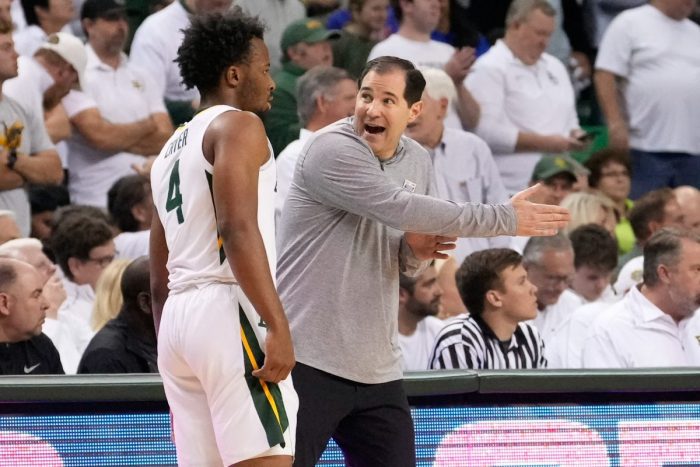 The sixth week of Big 12 men's basketball saw the Texas Longhorns take over the top spot in the league. Here are three takeaways from the sixth week of the league slate.
Don't forget about our new feature for men's basketball — Daily Fantasy Lineups. Every night a Big 12 team is part of the Draft Kings pool, I'll provide my picks for the game, along with my complete lineup. The hope is that by Big 12 play I'm able to put together a full Big 12 lineup during conference games.
The road to Kansas City and the Big 12 Tournament is here. Follow Heartland College Sports all season.
Welcome Back, Everyday John
Baylor forward Jonathan Tchamwa Tchatchoua is back. Nearly a year after he suffered a gruesome knee injury with nerve damage and multiple torn ligaments that threatened to end his career, he played 13 minutes against Texas Tech, scoring eight points and grabbing four rebounds on Saturday.
He didn't just play for the sake of playing. He contributed.
Tchamwa Tchatchoua tweeted about getting back on the floor after the game.
While it's not clear how much Tchamwa Tchatchoua will contribute from game to game, we know what he's delivered to Baylor in the past — energy. His abilities pair well with Flo Thamba, who starts the game and gives Baylor more muscle inside, is part of what has made Baylor a great team the past few years.
Tchamwa Tchatchoua gets his points and his rebounds off that energy. He doesn't require set plays. He has great ball instincts and that permeates to the rest of the team.
For Baylor to get him back in February, when teams are starting to feel the grind of month four of the season, has the potential to be a huge boost. Forward Josh Ojianwuna was the closest thing the Bears had to an 'Everyday John,' but he doesn't have the experience.
If Tchamwa Tchatchoua can play 15 minutes a game and provide that kind of production — and that doesn't include his defense — then Baylor got the equivalent of a 'deadline deal' acquisition when it needed it the most.
Oklahoma State's Red-Hot Run
The Oklahoma State Cowboys have won five of their last six games, with the latest win over TCU at home on Saturday. How are they doing it?
Kalib Boone is playing incredible right now. He's averaged 17.8 points and 4.5 rebounds in the last six games. It's the best stretch of his career.
Woody Newton's move into the starting lineup was a stroke of genius. Even though he's only averaging 7.3 points per game, everything seems to have come together with him in the starting five.
Moussa Cisse is back to himself. He's put the injury behind him after scoring 18 against Oklahoma. Now he just needs to get his basketball legs under him.
Caleb Asberry and John-Michael Wright are clicking at the right time. The pair combined for 36 points against TCU.
The Cowboys looked to be slipping off the radar a month ago. Now? They're looking like a team that should make the NCAA Tournament.
Is 18 Enough?
West Virginia guard Erik Stevenson had something to say about the Mountaineers' chances of making the NCAA Tournament.
West Virginia now has 14 wins after beating Oklahoma on Saturday. Stevenson had a career-high 34 points in that game, by the way.
So, is Stevenson right?
If you recall, back in late December I published a piece on what victory totals mean when making the NCAA Tournament. I learned this much:
Teams that win 10 or more games in non-conference (which WVU did) make it to the NCAA Tournament, as long as they've won at least 20 games by the Big 12 Tournament (WVU needs six more wins to do that), and;
Teams that win 10 or more games in non-conference, but don't have 20 or more wins by the Big 12 Tournament USUALLY go to the postseason (NCAA or NIT).
What does that mean for WVU?
Well, in that research I did there were 11 teams that won 10 or more games in non-conference but didn't win at least 20 games by the Big 12 Tournament. Six of those teams made the NCAAs, and five of them made the NIT.
So eighteen should be enough to get them to the postseason. Then, it's all about the credentials.
By the way, if you win 20, you're in. Period. So maybe WVU — which has won four of its last six — just needs to stay hot for a while?
You can find Matthew Postins on Twitter @PostinsPostcard