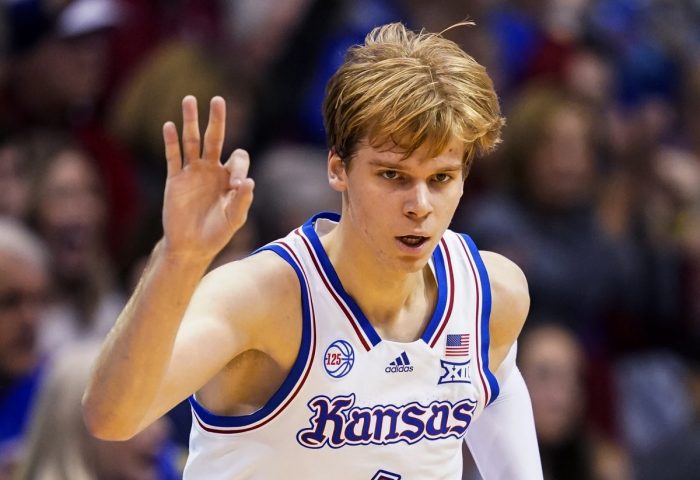 The Kansas Jayhawks beat the Texas Longhorns, 88-80, at Allen Fieldhouse in Lawrence, Kan., on Monday. Here are three thoughts on this Big 12 Conference game.
No. 9 Kansas (19-5, 7-4 in Big 12) are now 36-0 at home in Big Monday games under head coach Bill Self.
No. 5 Texas (19-5, 8-3) falls into a first-place tie with Iowa State with the loss, with the Cyclones holding the tiebreaker for the moment, thanks to its head-to-head win over the Longhorns earlier this season.
How Kansas Won
For once, it wasn't because of Jalen Wilson. This sums it up.
Wilson scored two points and battled foul trouble all night. The Longhorns did everything possible to take him out of the game and did it. It was a season-low in points for Wilson.
It didn't matter because the rest of the Jayhawks picked him up big-time.
Five Jayhawks scored in double figures in a game in which they never trailed. Gradey Dick, whose play has been inconsistent lately, started hot and stayed hot with 21 points. Kevin McCullar pumped in 16 points (10-of-13 from the free throw line). Joseph Yesufu picked up the slack with 14 points. KJ Adams had 10 points.
But it was DaJuan Harris Jr., the point guard that Self would love to see shoot the ball a little more, that really came through. He scored 17 points, grabbed six rebounds, dished out five assists and had four steals. He did all of that without making a 3-pointer. Everything Harris did was on point on Monday night.
The Jayhawks even won in the paint, outscoring Texas 50-42 despite Wilson's off night.
This is the balance and bench help Kansas needs every night. It wasn't there in the loss to Iowa State on Saturday. It showed up on Monday.
How Texas Lost
The Longhorns have a turnover problem. Texas overcame it against Kansas State on Saturday. But the Longhorns didn't quite do it against Kansas. The Longhorns had 10 turnovers in the first half and Kansas was able to turn that into 11 points. Texas slowed that down in the second half and finished with 15 turnovers, but Kansas scored 18 points off those turnovers.
Otherwise, this game was relatively even. After Kansas' hot start — the Jayhawks led by as much as 14 — Texas cut the lead to seven at the break. Then, Texas went on an 8-1 run to tie the game at 43-all.
From there, Texas could never take the lead. That despite Marcus Carr scoring 29 points, Timmy Allen scoring 18 points and Sir'Jabari Rice scoring 12 off the bench.
Texas shot nearly 50 percent, like Kansas did. Kansas' rebounding edge was negligible. The free-throw shooting was dead even.
Texas lost this game on turnovers and fast-break points, where Kansas owned a 24-8 edge.
Kansas' Path to Success in March
The Jayhawks are going to be in the NCAA Tournament without any question. The real question is how far can they go once they get there?
This Kansas team has been hard to figure out. Just look at the last three games:
Against Kansas State, a 90-78 win, all nine Kansas players scored points and three players scored in double figures, including Wilson.
Against Iowa State, a 68-53 loss, Wilson scored 26 points and the rest of the Jayhawks scored 27.
Against Texas, Wilson scored two points and five other Jayhawks scored in double figures.
I guess it's all to say that Kansas is still figuring it out. But sustained production from the bench has to be a part of the formula.
You can find Matthew Postins on Twitter @PostinsPostcard