Big 12 News
Big 12 Leads All Conferences With Seven D1Softball First-Team All-Americans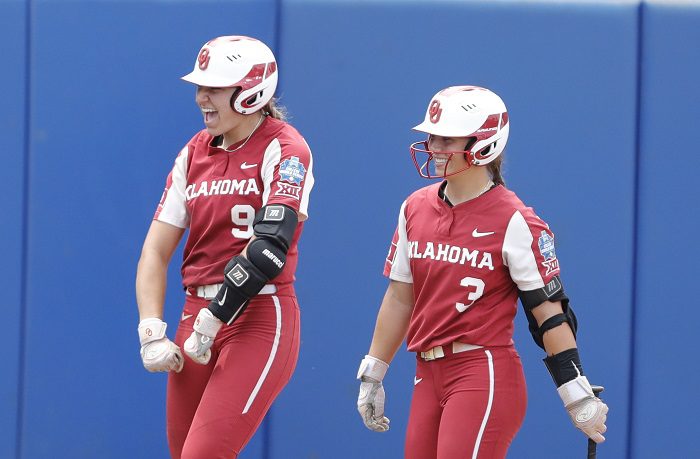 Oklahoma has reloaded through the transfer portal after winning back-to-back national championships and looks primed to win a third this season. That's why it should come as no surprise that D1Softball's First-Team All-American list is riddled with Sooners, six of them to be exact.
Kinzie Hansen (C), Cydney Sanders (1B), Tiare Jennings (2B), Grace Lyons (3B), Jayda Coleman (OF), and Jordy Bahl (UTL/P) all made the cut for First-Team honors. Oklahoma State's Kelly Maxwell (SP), widely regarded as the nation's top arm a season ago, was also selected First-Team All-American by D1Softball, bringing the Big 12's total to seven first-teamers. The SEC, Pac-12, and American are tied for the second-most first-team selections within three.
Future Big 12 member UCF has one selection on the first team, with Jada Cody (UTL). As far as second-team selections go, Oklahoma has two with Haley Lee (UTL) and Alex Storako (SP), and Oklahoma State has one with Rachel Becker (UTL).
The Big 12 leads the way with 10 All-Americans overall, followed by the SEC with eight selections, and the Pac-12 with seven selections.
Here's a look at both the first team and second team, which is just littered with players from the Panhandle State.
First Team
| Position | Player | University |
| --- | --- | --- |
| C | Kinzie Hansen | Oklahoma |
| 1B | Cydney Sanders | Oklahoma |
| 2B | Tiare Jennings | Oklahoma |
| SS | Grace Lyons | Oklahoma |
| 3B | Baylee Klingler | Washington |
| OF | Kiki Milloy | Tennessee |
| OF | Jayda Coleman | Oklahoma |
| OF | Addison Barnard | Wichita State |
| UT/P | Jordy Bahl | Oklahoma |
| UT | Jada Cody | UCF |
| UT | Skylar Wallace | Florida |
| UT | Sydney McKinney | Wichita State |
| UT | Yanni Acuña | Arizona State |
| | | |
| SP | Kelly Maxwell | Oklahoma State |
| SP | Kathryn Sandercock | Florida State |
| SP | Megan Faraimo | UCLA |
| SP | Montana Fouts | Alabama |
Second Team
| Position | Player | University |
| --- | --- | --- |
| C | Sharlize Palacios | UCLA |
| 1B | Karina Gaskins | Notre Dame |
| 2B | Allie Skaggs | Arizona |
| SS | Erin Coffel | Kentucky |
| 3B | Hannah Gammill | Arkansas |
| OF | Kendra Falby | Florida |
| OF | Maya Brady | UCLA |
| OF | Voilet Zavodnik | BYU |
| UT/P | Valerie Cagle | Clemson |
| UT | Kayla Kowalik | Kentucky |
| UT | Haley Lee | Oklahoma |
| UT | Rachel Becker | Oklahoma State |
| UT | Karli Spaid | Miami (OH) |
| | | |
| SP | Danielle Williams | Northwestern |
| SP | Alex Storako | Oklahoma |
| SP | Chenise Delce | Arkansas |
| SP | Alana Vawter | Stanford |