Baylor Bears
Biggest Takeaways from Big 12 Conference Women's Basketball in Week 6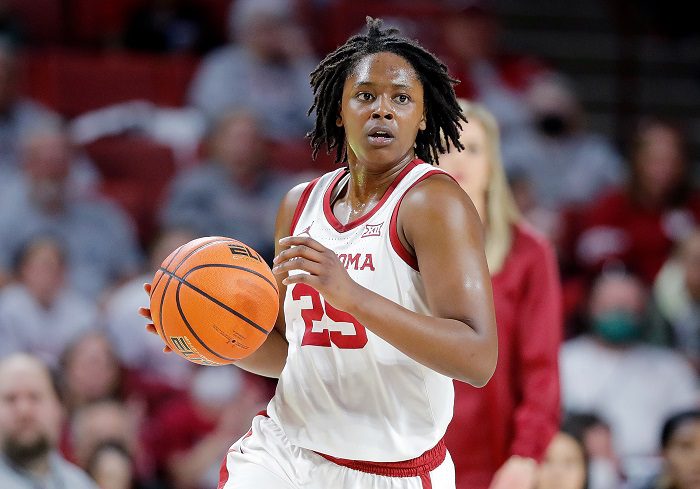 The sixth week of Big 12 women's basketball conference action is a wrap. Here are three takeaways from the latest week of the league slate.
It's an 18-game march to March in Kansas City, and Heartland College Sports has you covered all season.
Madi Williams, Player of the Year?
The Big 12 Player of the Year conversation is sure to pick up steam in the next few weeks. For most of the season, I think those who watched the conference felt the award would probably go to Ashley Joens at Iowa State. But as the season winds down, Oklahoma's Madi Williams is making a great case to earn the award.
Let's start with this little bit of information.
Williams is a 5-foot-11 forward. The fact that she's nearly averaging a double-double per 40 minutes is something. Oklahoma really doesn't have a consistent inside presence. Skylar Vann and Liz Scott both pitch into the team's overall rebound total. But Williams drives what happens underneath the basket on both ends of the floor.
There's a case to be made that Williams is Oklahoma's indispensable player. Yes, Taylor Robertson broke the NCAA career 3-point record earlier this season. Yes, Ana Llanusa has had an incredible season returning from an injury. But Williams has been Oklahoma's most consistent offensive and defensive player throughout the season and is the biggest reason why the Sooners are in the race to win the Big 12 regular-season title.
There is still four weeks of basketball to be played, and Joens could still win the award. But Williams appears to be her biggest competition.
Or is it the other way around?
Littlepage-Buggs' Big Season
Darianna Littlepage-Buggs was one of the centerpieces of Baylor's 2022 recruiting class. I'm not certain the Bears expected her to have this kind of an impact this soon. But the stars have aligned to allow it.
On Monday, the freshman won her fifth Big 12 Freshman of the Week award. Yes, that's right. She's won five this season. She's actually won four of the last five. Baylor went into this season believing they would get serious contributions from two transfers — Aijha Blackwell and Dre'Una Edwards. Blackwell was an All-SEC player at Missouri last season. So was Edwards at Kentucky.
Neither is in the lineup. Blackwell has been hurt for much of the year, while Edwards has had eligibility issues related to her transfer. That has put more weight on Littlepage-Buggs as Baylor tries to work its way into position for another Big 12 regular-season title. She has absolutely answered the bell.
For the season she is averaging 10.0 points and 9.1 rebounds per game. Dig into Big 12 play and while she's not a Top 25 scorer, she is second in rebounding at 9.4 per game. But, she's had six double-doubles since Baylor's win over Kansas State on Jan. 7 and is averaging 12.3 points and 10.8 rebounds in her last eight games.
At this point, Littlepage-Buggs is not a nice-to-have. She's a need-to-have for Baylor to be successful.
Bill Fennelly's Milestone
Bill Fennelly has already rewritten how people look at Iowa State women's basketball. Before he arrived in 1995, the Cyclones had never been to the NCAA Tournament.
Now? The Cyclones have been to some kind of postseason (NCAA or NIT) in all four of his seasons at the helm. That doesn't include the COVID-canceled postseason.
Now, the Cyclones have the mid-week off, which gives Fennelly a bit more time to contemplate the Cyclones' game on Saturday against West Virginia. With a win over the Mountaineers, Fennelly would:
Become the 27th coach in NCAA Women's Basketball history to reach 750 career wins;
The 13th to get all 750 at Division I programs, and
Would be one of nine active coaches with 750 victories.
That's rare territory for Fennelly, who shows no signs of slowing down.
You can find Matthew Postins on Twitter @PostinsPostcard