Trending Now
Pac-12 Commissioner to Visit SMU About Expansion: Report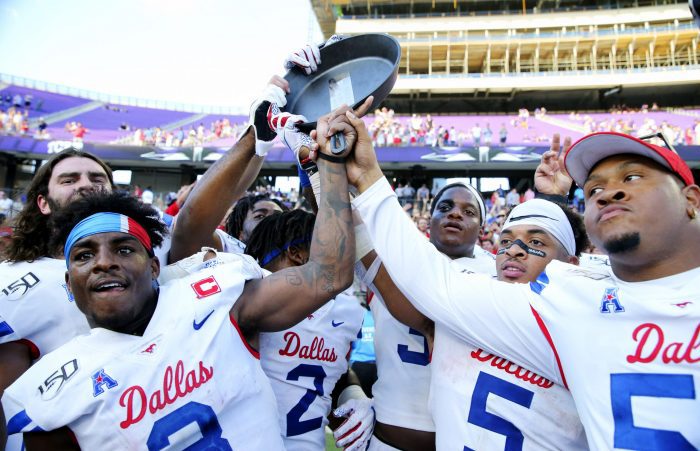 As the Pac-12 Conference continues to figure out what its next move is when it comes to a TV deal, it looks like the league has realized it may need to expand before a deal is in place.
According to Action Network's Brett McMurphy, Pac-12 commissioner George Kliavkoff is set to visit SMU this week, as they join San Diego State as the top two expansion candidates for the league.
SMU has long seemed like an obvious target for the Pac-12 Conference, as it would give them a presence in the state of Texas, and in the Dallas-Fort Worth Metroplex, which is a Top 5 media market. However, with each passing day without a TV deal, the less leverage and appeal the Pac-12 Conference has.
As we reported last week, an industry source told us Pac-12 Conference has become a "distressed brand", according to an industry source, adding, "The Pac-12 is not appointment viewing".
That doesn't bode well for the last of the major Power conferences looking for a future TV home beyond 2024, especially given the economic headwinds all of media is facing in the first quarter of 2023.
SMU football has seen a resurgence in recent years under Sonny Dykes, including a 10-win season in 2019. However, the program is sitting in the backyard of TCU, where Dykes currently resides, and just took the Horned Frogs to the National Championship Game. Also, being in a pro sports town adds another difficult element for SMU to overcome.
The Mustangs would still be outside the Top 5 of valuable college football brands in the state of Texas, behind Texas, Texas A&M, Baylor, TCU, Texas Tech and Houston. However, the move would give a lifeline to the league looking for a school in the central time zone and a footprint in the biggest high school football state in the country.
All in all, this is something the Pac-12 has to try to do. How it works, and it's effectiveness, remains to be seen.