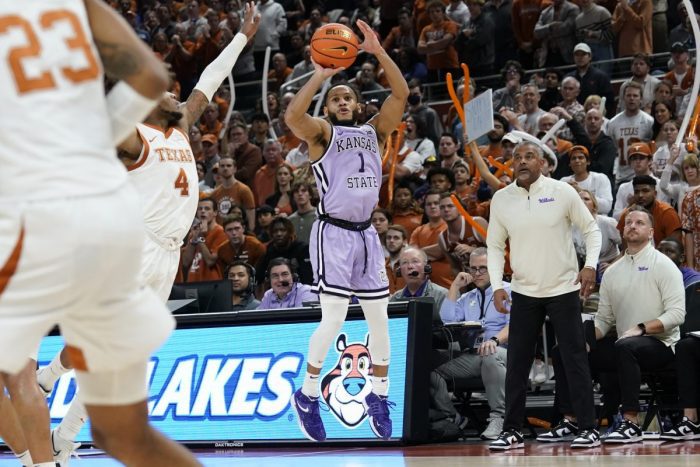 There is one Big 12 game in the Draft Kings Daily Fantasy Sports pool for men's college basketball as Big 12 play continues on Tuesday.
That game is TCU at Kansas State.
This season, when Big 12 games are part of the pool at Draft Kings, I'll provide my recommendations based on the lineup I'm playing that day. In this case, the recommendations are for a Classic game, which features eight players — three guards, three forwards, and two guards/forwards (utility). The lineup must contain players from at least two different games. The salary cap is $50,000.
The goal is to fill out a complete Big 12 lineup. With just one game, I'll take two players from TCU and two players from Kansas State. Then I will fill the lineup with four other players from the other four games in the pool. But the emphasis will be on the Big 12.
Here is Tuesday's lineup/recommendations:
Guards
Markquis Nowell, Kansas State ($9,100), Damion Baugh, TCU ($7,600), Eric Hunter Jr., Butler ($5,500)
The last time these two teams played Nowell pulled in nearly 27 fantasy points and really didn't have that good a game from a basketball standpoint (16 points, six turnovers). This time, he'll likely be defended by Shahada Wells and not Mike Miles (likely out due to a knee injury). That might be a better matchup for the quicker Nowell.
Baugh, in Miles's absence, is the starting guard you have to get for fantasy purposes. He averages nearly 30 fantasy points per game and because he'll run the point in Miles's absence, Baugh will get you assists, rebounds, and steals. He's also TCU's best perimeter defender. He'll be busy all night.
Managing the cap space was tough after the TCU and Kansas State selections. Hunter is cheap and has an enticing matchup against St. John's. On the right night, he can get you 20 fantasy points.
Forwards
Emanuel Miller, TCU ($7,000), Nae'Qwan Tomlin, Kansas State ($6,700), F Makhi Mitchell, Arkansas ($5,700)
There's a good chance that Miller and Tomlin will be defending each other on Tuesday night. That could allow both of these players to have fine fantasy games. Miller averages nearly 27 fantasy points per game, and with the unclear status of center Eddie Lampkin Jr, you can probably count on Miller to pick up some additional points and rebounds. Tomlin is a great complement to Keyontae Johnson. Because Johnson receives so much attention, that opens up extra opportunities for Tomlin.
Mitchell is a feast-or-famine kind of player from a fantasy standpoint. But I'm running out of cap space and I'm hoping he can give me several rebounds and a few blocked shots against Kentucky.
Utility
F Ernest Ross, North Carolina State ($4,600), F Jaxon Kohler, Michigan State ($3,300)
I'm banking that the 16 points and 28.75 fantasy points Ross scored against Georgia Tech can be replicated when the Wolf Pack faces Virginia.
As for Kohler, he's filling up the remaining cap space. He had 34 fantasy points five games ago against Rutgers. Give me half of that against Maryland and I'll be happy.
–
Scoring system: Point: +1 Pt; Made 3pt Shot: +0.5 Pts; Rebound: +1.25 Pts; Assist: +1.5 Pts; Steal: +2 Pts; Block: +2 Pts; Turnover: -0.5 Pts; Double-Double (Max 1 Per Player: Points, Rebounds, Assists, Blocks, Steals) +1.5 Pts; Triple-Double: Max 1 Per Player (Points, Rebounds, Assists, Blocks, Steals): +3 Pts
You can find Matthew Postins on Twitter @PostinsPostcard