Oklahoma Sooners
ESPN's Jen Schroeder: "I Don't Think They're Going to be the Oklahoma that We've Seen"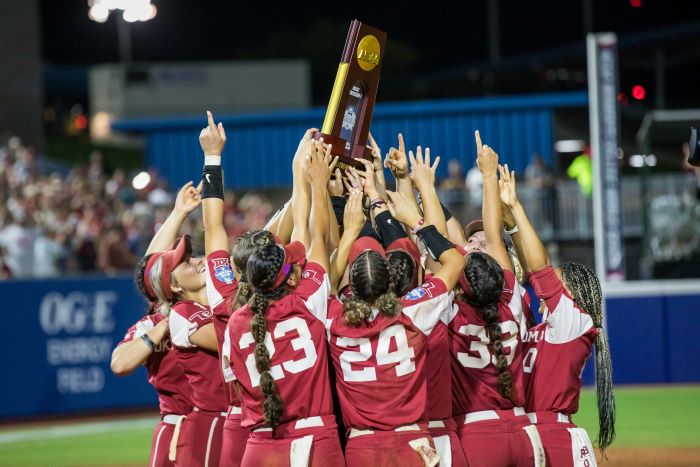 Anywhere you look around the softball world, the Oklahoma Sooners are the talk of the town. Well, most anywhere that is.
ESPN's Jen Schroeder joined the "Out of the Box Podcast" this week to help preview the 2023 softball season and had some interesting thoughts on the Sooners' forecast for the year.
"I'm going to say it. This is my big lofty call for the year. I'm excited to watch Oklahoma, but I don't think they're going to be the Oklahoma that we've seen for the last couple of years," Schroeder said. "I'm just saying it. I wish everyone listening could see your guys' faces when I just said that because your eyebrows went up and your jaws dropped a little bit. But I just don't think that Oklahoma is going to be the team that hits 80 bajillion home runs. They may hit 50 bajillion. But it's not going to be—you guys know, Oklahoma was almost invincible last year. We were talking about would they ever lose a game in the season? And I don't think we're going to see that Oklahoma.
"I think that they'll still be very good. Potentially they will compete for the national championship. They could win the national championship. But I don't think they're going to be the big, bad Oklahoma Sooners that they've been."
That is certainly an "against-the-grain" take from Schroeder, who is one of the premier names in the sport of softball. So, if not Oklahoma, then who should we watch out for in the Big 12? Schroeder has thoughts on that as well.
"So, outside of Oklahoma, and I'll even—I'll make a big prediction here that I think Oklahoma State maybe wins that conference," Schroeder said. "I mean, we've got to see how this shakes out. But I love what Kenny Gajewski is doing in Stillwater. I love it. And I mentioned something with UCLA about having all those newcomers. Right? I think what Kenny Gajewski does is he is able to create a consistent culture while always bringing in and letting go. It's a very fluid roster. Right? Fourteen newcomers, that's a lot. But he—can I say the word BS? Like, can I say bullsh*t on this podcast? He's like a no BS kind of guy. Right? Like, you come in, you come in to Oklahoma State and you play under Oklahoma State Cowgirl softball. That's it. And if you don't, bye. No hard feelings. I'll see you later.
"And I love the culture that he is creating there, even the atmosphere. You turn on the games on TV, and they've got a bajillion people there and it's exciting and people are loving following that program. But to me, I think Oklahoma State, if they're not at the World Series this year, I'll be surprised."
The Cowgirls enter the 2023 season ranked third nationally, just two spots behind their in-state rivals. The Big 12 appears to have two, or maybe three, elite programs in the hunt for a national title this season.
The good news is, we won't have to wait long to see how these teams turn out in 2023 as action is set to get underway on Thursday.