featured
Oklahoma, Texas to Leave Big 12 for SEC in 2024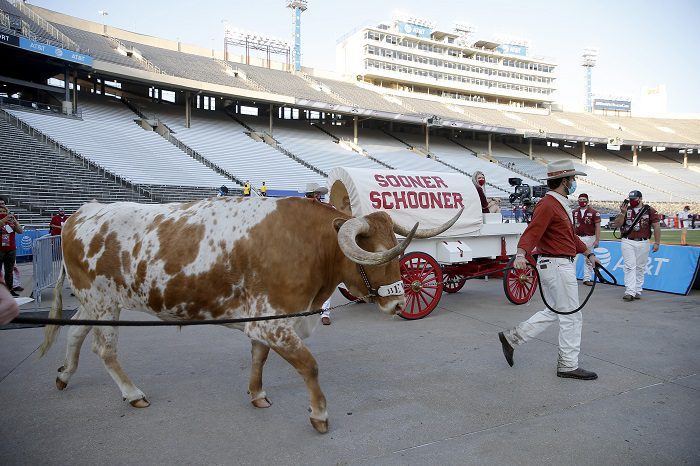 The only way to properly preface this is to quote the great Lee Corso in saying, "not so fast my friend."
Just days after reports surfaced that Oklahoma and Texas' early exit from the Big 12 was dead in the water, it has been reported that the Sooners and Longhorns will, in fact, move to the SEC in 2024.
The conference made the announcement on Thursday evening, but offered no details on the agreement.
According to reports from Sports Illustrated, the Big 12 and its departing teams have agreed to a deal that will allow the teams to make an early exit and join its new conference a year before it was supposed to under the current Big 12 Grant of Rights.
The final exit price is $100 million, per SI. Much of that will be distributed to the eight legacy Big 12 teams to offset revenue they'll lose in 2024. Fox is expected to receive additional inventory or compensation for the loss of Texas and Oklahoma in '24, which was one of the major sticking points.
Last week, CBS Sports reported that FOX was not happy with a deal that Oklahoma, Texas, and the Big 12 had come to, since it is set to lose the broadcasting rights to both schools when they leave. Now, it appears that something on the negotiating table must've changed.
Since last year, it has been reported that the schools were looking to use future games as "currency," and now there's a possibility that we could see the Sooners and Longhorns in Big 12 stadiums after the move.
With the reports, we now know that the Big 12 will have just one season as a 14-team conference, so this year will be the only time that the "New Four" will overlap with the "Big Two" in this conference.
With the ever-changing landscape that is college football, there will now be four major brands moving to new conferences with Oklahoma and Texas headed to the SEC and USC and UCLA heading to the Big Ten.
Will we finally have some peace amongst the conferences, or is there more defection to come? It's hard to say at this point, but at least the Big 12 can part ways with its former members without another year's worth of strained relationships.