Trending Now
Pac-12 Commissioner 'Overpromised' Members on TV Bidders, Revenue: Report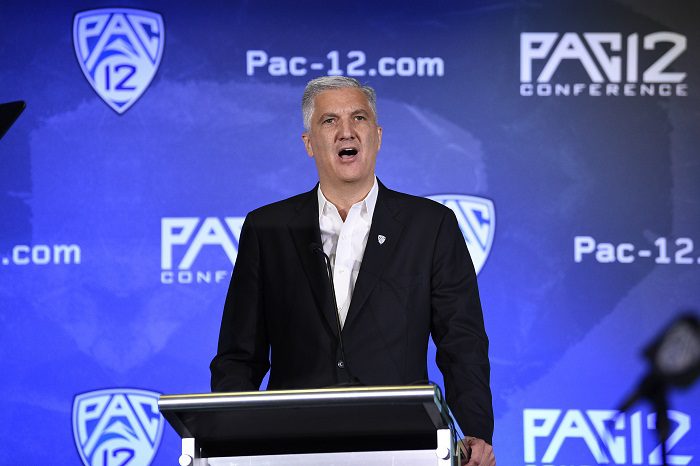 After USC and UCLA announced their defections from the Pac-12 last summer, the conference opened negotiations to try and secure its next media rights deal and "calm the storm," so to speak.
Well, it's February, and the Pac-12 doesn't seem any closer to striking a deal with anyone, leaving folks to wonder what is going on behind closed doors.
Apparently, it's a lot of overoptimism and empty promises.
According to a recent article from The Athletic, commissioner George Kliavkoff has, "overpromised his members on how many bidders there would be and what dollar amount they could command — a target north of $40 million per school, according to one league athletic director."
"(We) don't have a deal because it hasn't been good," the AD told The Athletic.
The article also stated that Kliavkoff made several miscalculations, most notably that the Big Ten's new monster media rights deal (worth $8.1B over seven years) would have a positive affect on the Pac-12's numbers when it came time to sit at the negotiating table. Since it lost the major market in its footprint (Los Angeles), fewer television companies are interested in the Pac-12 product, and as a result a lower number is being offered.
The other issue that Kliavkoff ran into was the Big 12's aggressive play at getting a media rights deal for the future secured. When Brett Yormark and the Big 12 reached an extension just a few months after opening up negotiations, it threw a wrench into the Pac-12's plans. Kliavkoff assumed that his conference was next in line to follow the Big Ten's monster deal, but had the rug swept out from under him when Yormark made things happen so quickly. Not only did that hurt the optics of the Pac-12's situation, but it also inadvertently (or strategically) set a ceiling for what the Pac-12 would make in its next deal.
Each Big 12 school is set to make an average of $31.6 million per year as part of the new six-year agreement, a number that the Pac-12 isn't certain to hit. That is concerning, especially when one league athletic director claimed the original target number was north of $40 million.
The Pac-12's only viable route seems to be going all-in on a streaming platform, as SBJ's John Ourand predicted in December:
"ESPN will be prepared to split the Pac-12's media rights with Amazon, but will not offer the conference significantly more than it pays for the Big 12. That will lead the Pac-12 to sell almost its entire media package to Amazon for a price that is slightly higher than what the Big 12 gets from ESPN and Fox. The Pac-12 will carve out a handful of prime-time football games that it then will sell to CBS."
There have been circulating reports that SMU and San Diego State are being courted by Kliavkoff and the Pac-12 to add value to the conference, but those aren't the additions needed to help keep them above water. It seems likely at this point that the Mustangs and Aztecs find their way into the Pac-12, but will it be enough to keep the rest of the conference intact?
I'm not so sure, but we will just have to wait and see.