Trending Now
UCF Wins Twitter Tournament, Claims Title of 'Best Big 12 Fanbase'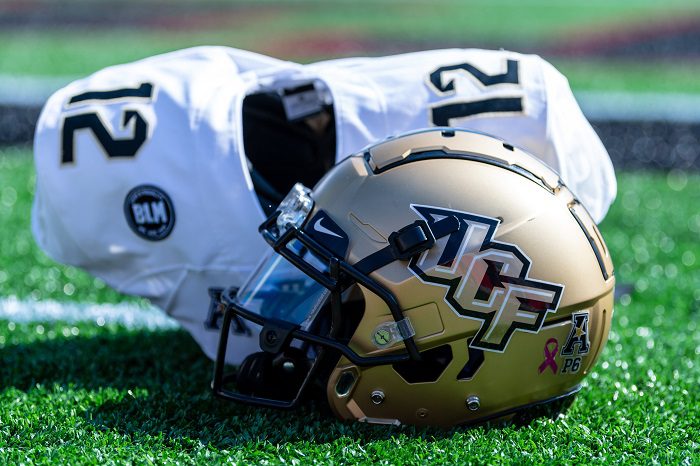 The votes are in and the UCF Knights have the best fanbase in the Big 12. In a recent poll from Sidelines Big 12 on Twitter, fans were asked to support their favorite Big 12 team in hopes of earning the title of the best fanbase in the Big 12 conference.
The tournament bracket seeding and matchups were determined based on the total follower count for each Big 12 team's sideline affiliate which resulted in UCF (one-seed) and K-State (two-seed) getting first-round byes.
The UCF fanbase was certainly fired up about its first victory as a part of its new conference.
The first round of the tournament saw the seven-seed Texas Tech take down the 10th-seed BYU cougars with 52.1% of the overall votes, followed by an upset from 12th-ranked Houston in an absolute throttling of the fifth-ranked Texas Longhorns with 73% of the vote, 13-seed Iowa State sneak past the 4th-seed in TCU with 53.2% of the vote, 14th-ranked Kansas takes down the three-seed Oklahoma in the biggest upset of the tournament with 59.7% of all votes, nine-seed West Virginia taking down the eight-seed Oklahoma State Cowboys with 53.3% of the vote, and the sixth-ranked Cincinnati Bearcats smacked down the 11-seed Baylor with 59.6%.
The second round of the Big 12 fanbase bracket was mostly a game of favorites, however, last year's champion, Texas Tech found another key victory upsetting the second-ranked Kansas State Wildcats controlling 52.6% of the vote, the top-seeded UCF Knights handled business against the ninth-ranked West Virginia Mountaineers, followed by 13-seed Iowa State destroying the 12th-ranked Houston Cougars, with 61.3% of the vote, and finally, the six-seed Cincinnati Bearcats dropped the hammer on 14th-ranked Kansas with 63.8% of votes.
With the next wave of games completed, we head to the final four. With an even slate of two new addition Big 12 teams and two of the original eight, 13th-ranked Iowa State's cinderella story had come to an end at the hands of the top-ranked UCF Knights. Taking on the Knights in the championship game was the seven-seed Texas Tech after ending six-seed Cincinnati's season with 61.7% of the total vote.
And then there were two. Texas Tech and Cincinnati are two of the most passionate, or at least vocal fanbases in the Big 12 conference, but unfortunately for the Red Raiders, UCF stood in the way of a repeat. The UCF Knights took down the Texas Tech Red Raiders with 54% of the total vote, earning themselves the honor of the best fanbase in the Big 12 conference.
The Big 12's best fanbase will get a chance to prove its new title early in 2023 as they open up Big 12 play on September 23rd, against the Kansas State Wildcats in Manhattan.