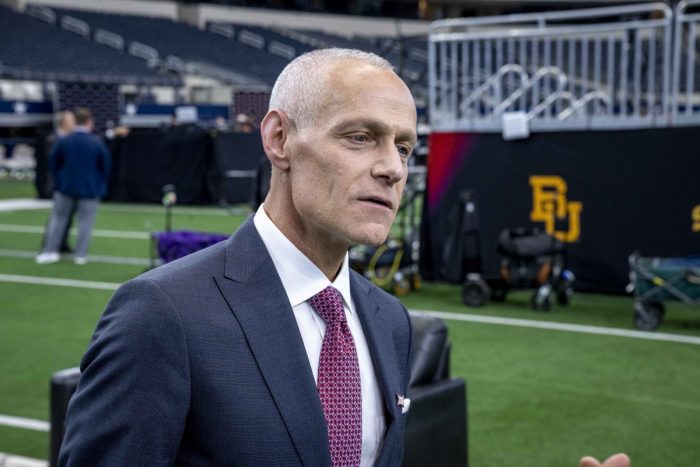 It's been over a year and a half since the news broke that Texas and Oklahoma were leaving the Big 12 Conference to join the SEC. We went through an entire summer of the national media burying the Big 12 before the conference announced the additions of the four news schools in September 2021.
After that, the next big question was: when would Texas and Oklahoma leave? Both schools were scheduled to be in the Big 12 until July of 2025, but we all knew that wasn't going to stick for very long. Well, it didn't because on Thursday evening it was announced that both schools would be joining the SEC in 2024, which is a full year ahead of schedule.
What happened exactly? Well, Texas and Oklahoma decided to open up the checkbook and paid $100 million dollars to get out early. Just a few days ago, the two schools met with FOX and the Big 12 to try and come to an agreement. That first meeting didn't go anywhere because the Big 12 and FOX basically told Texas and Oklahoma to either pay up or shut up. I guess the two schools got the memo because they finally opened up the wallet.
One could argue that this agreement favors Texas and Oklahoma, while others argue that the Big 12 won this deal. However, both can be true in this case.
Think about this for a moment: The Big 12 wanted to be compensated and they were. If they let the contract expire in 2025, they would have gotten nothing for Texas and Oklahoma leaving. Instead, Big 12 commissioner Brett Yormark got something in return. This was huge for the conference and for the schools that will get paid as well.
As for Texas and Oklahoma, they got what they wanted. They get to leave the Big 12 one year early and join the conference they want to be in. Lets face it. Neither school wanted to be in the Big 12 any longer. They have spent the last two seasons on the outside looking in as they couldn't take their eyes off that SEC logo.
The Big 12 hasn't been happy and neither has Texas or Oklahoma. So why wait?
There was no need to drag this any further as the frustration would have built by the day. Why would the Big 12 want to hold two schools hostage for another two seasons when they don't want to be a part of the conference any longer? It was best for everyone to just go their separate ways.
Will the 2023 football season be awkward?  Absolutely.
Texas and Oklahoma aren't going to get the royal treatment on their way out. They will be facing hostile road environments because the other Big 12 schools know that this is most likely their last shot at them for a long time, if ever again.  
We know when Texas and Oklahoma are leaving and we know the new look Big 12 will be complete going into 2024. However, the next focus should be expansion.
The Pac-12 is in complete shambles as schools are getting frustrated with commissioner George Kliavkoff. Now is the time for Big 12 commissioner Brett Yormark to strike. So far, he has showed that he is aggressive and I fully expect him to continue to be aggressive when it comes to expansion. The Big 12 got paid and now it's time to keep the momentum going and head west. While I am not sure which Pac-12 schools would be in favor of joining the Big 12, I am sure of one thing: That commissioner Brett Yormark will continue to make this conference better.