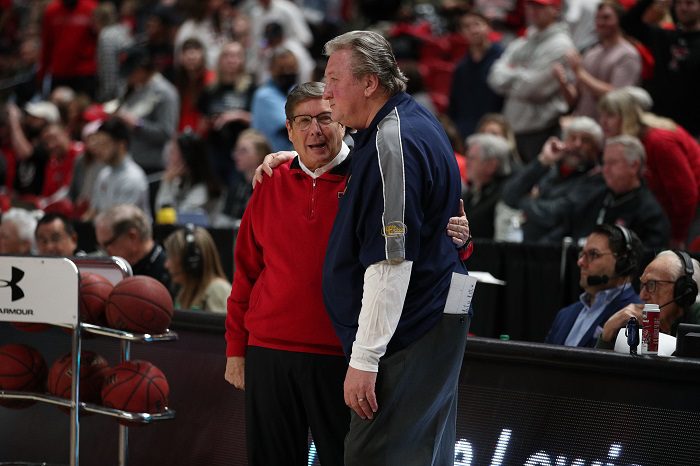 We are into February, and one thing always seems constant in this conference, there will be coaching changes come March and April. A couple years ago, Iowa State, Oklahoma, Texas and Texas Tech all got new coaches, last year was somewhat tame with Kansas State as the only team hiring a new head coach. We already know Texas will have a new permanent head coach next season, Rodney Terry certainly could be considered for the job, but it'll likely depend on what happens in March. There's certainly some coaches who are safe and some who in trouble, so here's where I see the nine remaining coaches in early February.
Safe
Bill Self, Kansas
Kansas has struggled a bit this year, by their standards, but there's Self is fresh off another National Championship and this team is certainly capable of another deep run in March Madness. No conversation here.
Scott Drew, Baylor
You can copy and paste what I wrote about Self, and boy have the Bears righted the ship in recent weeks.
T.J. Otzelberger, Iowa State
What he's done to turn around Iowa State has been miraculous, and he very well could be on his way to another Sweet Sixteen. His late-game decisions have frustrated Iowa State fans this season, but there's no one in Ames calling for his head. There could be some schools that come calling, and force Iowa State to give him a nice raise, but I can't see him leaving.
Jamie Dixon, TCU
This one I struggle with, because his resume isn't great with the Frogs, but he has turned around a previously woeful TCU program. Add into that he's an alum and they're having a good season, I'd be shocked if he leaves. Another bonus is the strong majority of their minutes are coming from players who can return next season.
At Risk, Next Year, Maybe
Mike Boynton, Oklahoma State
Okay this one really cooled off the last two weeks, as he's got his team red hot and they look every bit of an NCAA Tournament team, and one that will scare anyone they play with that defense. But, he's been a guy I just can't figure out. he's a terrific recruiter but has only been to one NCAA Tournament in five seasons.
I still believe they got robbed in 2018 by missing out, and I was super high on their 2021 team, but they disappointed in the tournament by losing to Oregon State. Last year was brutal, they had a bad non-conference, were banned from the tournament, but he turned them around late to finish 8-10. If they hadn't gotten hot I'd put him on the hot seat this year, but Boynton teams tend to get better late, plus, the Pokes have a Top 10 recruiting class coming in 2023, according to 247Sports.
Porter Moser, Oklahoma
There's three second-year head coaches on this list, one's safe, one's in hot water and then there's Porter Moser. He's not going to get fired after just two years, after all he does have a Final Four and Sweet 16 on his resume from Loyola-Chicago. This is where it gets tricky though, the two years between those runs he failed to make the tournament with Loyola. Now a tournament appearance this year could save him from being on the hot seat, but it's not going great. They did have an impressive win over top-ranked Alabama, but they're 2-10 in the Big 12, and got swept by Oklahoma State. If he can't turn it around this season, then next year could be make or break, though with the SEC move being bumped up, it's also reasonable to think OU could try him for at least another year in a weaker conference.
Could be Poached
Jerome Tang, Kansas State
Now this is unfair to Kansas State fans, I seriously doubt he'd leave after this season, as he's perfect for the Kansas State job. Tang's also showed insane levels of loyalty in the past by staying at Baylor so long. While his team is still good, there's a chance they end up like Iowa State last year, by fading a bit then having a good tournament. If they fade down the stretch that could move him down on some schools lists, but overall I'd be shocked if he leaves after just one year. That said Kansas State will likely need to give him a much-deserved raise.
Porter Moser, Oklahoma
Again- Yes Moser's on this list twice, if he stays he could be on the hot seat next year, but he could also leave this year and it makes some sense. Reports are that Moser is interested in the Notre Dame job. Now losing both their football and basketball coaches in 18 months would be brutal for OU fans, but this move makes sense. Moser was pretty successful when he was recruiting in the Chicago area, and at Notre Dame he could do that. This is certainly one to watch this offseason.
Do They Still Want Him?
Bob Huggins, West Virginia
Okay, so the seat has cooled on Huggins, and West Virginia could certainly make the NCAA Tournament, which would make this all moot. But they haven't factored into the Big 12 title race in a while, recruiting isn't going great, and they're at risk of being left behind. Yes, Bob Huggins is a legend and Hall of Fame coach, but is West Virginia looking at what Kansas State did with Weber, and wondering if a different direction is needed? You can acknowledge he's a legend and Hall of Famer, while also admitting it may be time for a new voice soon. Again if they make the tournament, which after the win over Iowa State this past week looks likely, then there's no question that he'll be back.
In Hot Water
Mark Adams, Texas Tech
The defending National Coach of the Year could be in trouble in little over one month, and at this point it wouldn't shock me. Texas Tech sits 1-9 in Big 12 play, but that's not why he's on this list. More concerning are some off-court issues. Kevin McCullar and Terrence Shannon both transferred out at the end of last season, then assistant coach Barret Peery went UNLV, which was a tough blow considering he was a great recruiter. Adams has lost a lot of goodwill with the fanbase very quickly, and there's concern Tech could be in for a long offseason. AD Kirby Hocutt is going to need to make a big decision soon, either ride it out or bite the bullet and make the change. Adams signed an extension just last year, and his buyout would be over $7 million. It's a tough decision, but it's one Kirby Hocutt must get right.