Big 12 News
Texas AD Chris Del Conte Compares Texas' SEC Move to Fraternity Pledges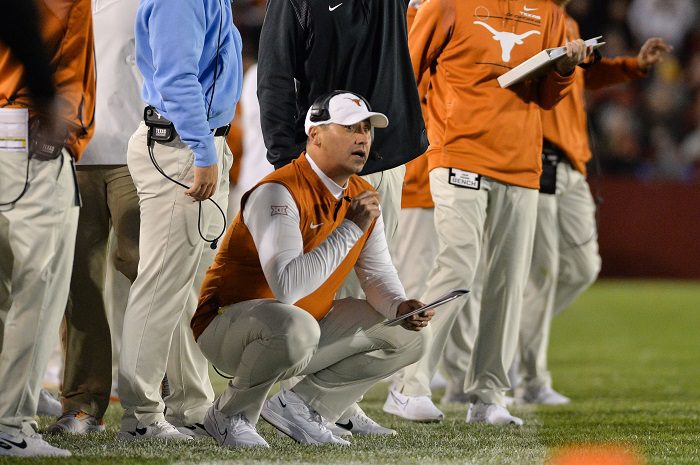 It's official. Texas and Oklahoma will be leaving the Big 12 conference prior to the start of the 2024 season.
While this development had been discussed for a while, the official announcement brings forth a transition period between conferences. Texas Longhorns athletic director Chris Del Conte spoke on the Paul Finebaum Show to talk about that process and detail what all goes into the transition.
"I think when you're looking at it, it's like the first day of school. We're pledges right now. We're just looking, listening, and learning. For us to go to the meetings, we're just kind of listening to Commissioner Sankey, what he does, and how we're going about it. There's so much work to be done. It's no different than Tom Brady saying he's going to go work with FOX in '24, he's going to take the year to look, listen and learn. We're in the same boat. We have a lot of things to do. But at this point in time, we're just in the beginning stages," Sankey said.
Texas and Oklahoma both will be utilizing this season to watch the SEC conference handle their business and which teams thrive throughout the season. While the Sooners and Longhorns are both affiliated with the Big 12 conference through the 2023 season, the switch will come one year sooner than originally planned.
"We've been really focused on our time in the Big 12 and we'll continue to do so. But as we continue to get invited to meetings, we'll get more and more involved in what the roll-out will look like. That will be at the hands of Commissioner Sankey. We'll just be a participant until we're a full member."
The Texas Longhorns kick their final Big 12 season off in conference play against the Baylor Bears on September 23rd, which both Big 12 fans and SEC fans should be keyed in on.