Oklahoma Sooners
Postscripts: Goodbye Texas and Oklahoma, Big 12 Strategic Expansion, Pac-12 Pain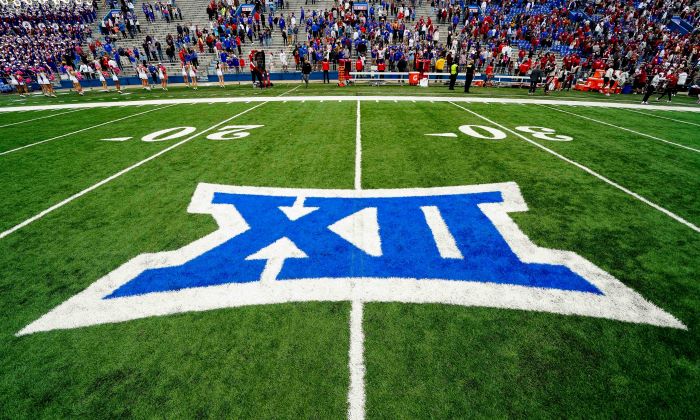 What's going on in the Big 12 and beyond? I expand and explain every Sunday in Postscripts at Heartland College Sports, your home for independent Big 12 coverage.
This week, with Texas and Oklahoma finally headed out the door, the Big 12's identity is secure. Meanwhile, the Pac-12 is in a weird place (what else is new) and my Pat Mahomes story headed into Super Bowl Sunday.
Texas, Oklahoma Headed Out the Door
So it's finally done. No more Texas and Oklahoma in the Big 12 after next season. Our long national nightmare is over.
As someone who has spent nearly his entire life in Texas and actually grew up a Longhorns fan, the whole idea of Texas migrating to the SEC is still kind of weird to me. Texas and Oklahoma have always been schools that, to me, have led. And moving to the SEC, even with the obvious financial advantages, feels like a follower move.
But, they've made their beds and now they have to lie in them. That mattress will be filled with SEC cash soon enough.
As for the Big 12, I think it's carved out a identity for itself outside of the OU-Texas construct. I think the league is going to be that scrappy, upstart, aggressive group of schools that is going to be a thorn in the side for the rest of the country. One advantage of this two-year saga is that each of the remaining schools has not only been able to not only carve out an identity as a group but also carve out identities as individual schools.
By the way, the four schools coming in fit that description, too.
For too long the 'Hateful Eight' allowed Texas and Oklahoma, and before that Nebraska, to set the tone for the conference. Not anymore.
Will this league make as much money as the SEC or Big Ten? No. Will it get more attention than either conference? Probably not. But the league will earn everything it gets, and I don't think it minds it.
Now, the league is looking for more, and commissioner Brett Yormark is reportedly seeking "aggressive" expansion. That's not earth-shattering news. He's been talking about expansion and getting into the Pacific time zone almost since he arrived. But with the OU-Texas issue settled, he can move on to that step.
I don't expect contracts to start dropping tomorrow, but I do expect the membership to get bigger in this conference in the next two to four years. I don't think it will be all football schools. That means the league must be strategic and avoid the pitfalls that ultimately broke up the Big East.
Here's why I believe there is less of a chance of that happening. The Big East expanded to solve a problem, which was a handful of schools that played football. The Big 12 would expand to maximize revenue and build what Yormark believes could be a national brand. If the Big 12 approaches it from that perspective, it lessens the chance of the league becoming too bloated.
But that's the long-term problem. In the short term?
The league is on solid ground, something it couldn't have said two years ago when all of this started.
This Week in 'As The Pac-12 Turns'
So is the Pac-12 just hopelessly screwed? That's what my mind has been dancing around the past couple of days.
I think the answer is not hopelessly, but the conference is definitely in a bit of a corner. We reported on a piece The Athletic wrote about the Pac-12 television and expansion situation, and it didn't sound great. Commissioner George Kliavkoff reportedly promised member schools a television contract that would get them more than $40 million which, to this point, has proven elusive.
He is, however, getting religion when it comes to expansion, so that's good news right? It was staring us right in the face on Wednesday night as he sat in a suite at an SMU basketball game, one of at least two schools the league is reportedly considering. The other is San Diego State, and if you follow our site you know the Aztecs' athletic director is a tad bit frustrated by all of this.
I don't know if this is hard work or desperation, but I do believe this. You can't get a better television contract without more value, and you can't get more value if you don't expand. The Big 12 showed that with its new TV deal. It's not a huge increase, but it's an increase.
The longer this goes on, the harder I think it becomes for Kliavkoff to hang onto his job. Yormark wants aggressive expansion and I suspect we'll hear a lot of rumors the next few months. For now, Yormark would be wise to exercise patient aggression and see if some of the Pac-12 members get impatient with the process. That could yield the results he's looking for.
Or, Kliavkoff could have a deal in two weeks and everyone is happy. That's how all over the place this situation appears to be.
My Pat Mahomes Story
Earlier this week I wrote about the rare company that Patrick Mahomes could join if he and the Kansas City Chiefs win the Super Bowl on Sunday. And I saw Patrick play a few times in college. But I've never met the guy.
But his dad, Pat? I've run into him before.
Back in early 1990 I was a senior at Spring Hill High School in Longview, Texas. I played basketball (well, to be fair, I watched a lot and played a little. Turns out there is such a thing as a 10th man in basketball).
We were playing Lindale one night in Lindale. Their gym had bleachers that came right down to the floor, so fans were right on top of you.
I played a few minutes that night. At one point I chased a loose ball into the bleachers on the home side. A full-on dive right into several people.
It didn't dawn on me until after I got up and walked back on the floor that one of the people I ran into was dressed head to toe in Minnesota Twins gear.
That was Pat Mahomes. He was headed to Spring Training the next week.
You can find Matthew Postins on Twitter @PostinsPostcard