Oklahoma Sooners
SEC Commissioner Excited to Bring Back Rivalries with Oklahoma, Texas Additions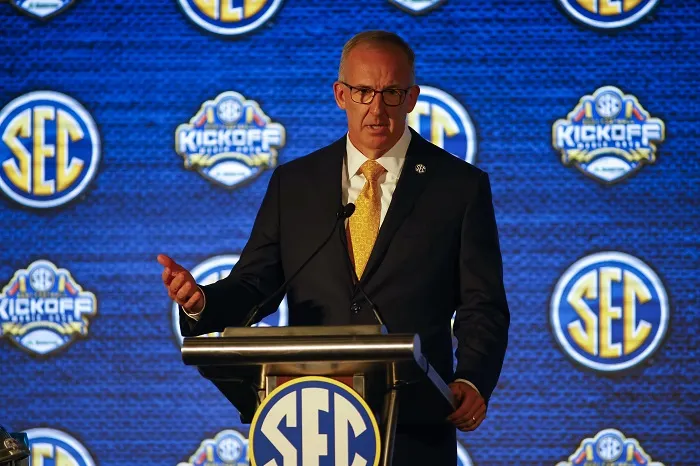 With Oklahoma and Texas on the move, the SEC is going to take another big step forward in viewership. With the two teams departing the Big 12 Conference following the conclusion of the 2023 CFB season, SEC fans will get to see some old rivalries renewed.
SEC commissioner Greg Sankey told Sirius XM's SEC Radio that he is thrilled about the move because it restores some original Southwest Conference and Big 12 rivalries, "This may be about the only conference expansion that restores rivalries."
Sankey continued by saying, "When you think about obviously Texas A&M and Texas, but the Texas and Arkansas game, which has just a wonderful history. All of them and Missouri were part of the Big Eight together, and an opportunity to restore that tradition, you know the relationship between Georgia and Oklahoma and board regents versus the NCAA."
The idea of reliving some of college football's original rivalries will be an awesome thing for fans to see, however with the move, new rivalries in both the SEC and the Big 12 will likely form.
Sankey spoke on the overall fan experiences that the move offers by saying, "It's kind of a fascinating twist to have in the same league and we've all smiled about that. But then there's just additional, big brand names Oklahoma and Texas being added. You go deeper, we will have the two greatest music cities in America in the SEC between Nashville and Austin, Texas. That'll be pretty cool."
While the hype train for the SEC conference is building for fans of Oklahoma and Texas, they will still have to play in the Big 12 for one final season. Oklahoma kicks off Big 12 play against the Cincinnati Bearcats on Saturday, September 23rd, while the Texas Longhorns take on the Baylor Bears on the same day.