Trending Now
Pac-12 Releases Statement on Being 'Unified in Their Commitment to One Another'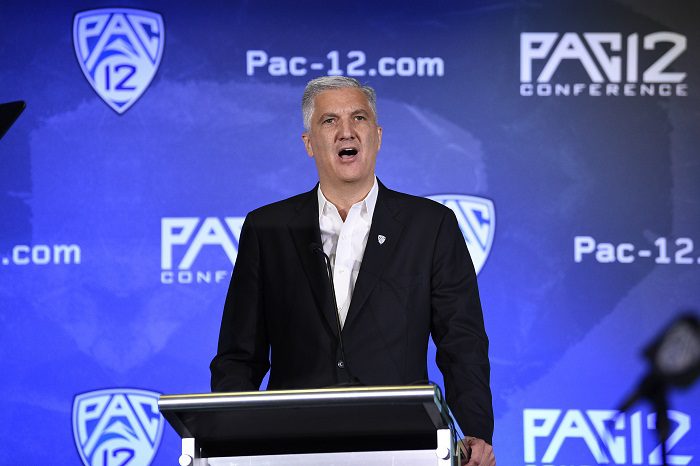 As the Pac-12 Conference continues to try and figure out its next move regarding its media deal, the league is doing its best to keep a unified front. They're looking to keep that perception going to the point that the conference put out a statement on Monday afternoon.
The statement read, "The 10 Pac-12 universities look forward to consummating successful media rights deal(s) in the very near future. Based upon positive conversations with multiple potential media rights partners over the past weeks, we remain highly confident in our future growth and success as as conference and united in our commitment to one another."
The Pac-12 Conference's statement reads like a social media post from your least favorite couple in your friend group who you know is weeks away from actually breaking up.
Maybe the Pac-12 does keep it together, but the fact that the league felt compelled to release a statement at this time is telling. This comes on the heels of reports that commissioner George Kliavkoff "overpromised" on what the Pac-12 could actually get in a media rights deal.
According to a recent article from The Athletic, commissioner George Kliavkoff has, "overpromised his members on how many bidders there would be and what dollar amount they could command — a target north of $40 million per school, according to one league athletic director."
"(We) don't have a deal because it hasn't been good," the AD told The Athletic.
The article also stated that Kliavkoff made several miscalculations, most notably that the Big Ten's new monster media rights deal (worth $8.1B over seven years) would have a positive affect on the Pac-12's numbers when it came time to sit at the negotiating table. Since it lost the major market in its footprint (Los Angeles), fewer television companies are interested in the Pac-12 product, and as a result a lower number is being offered.
On top of this, the Big 12 Conference has not been shy since Brett Yormark took over about the possibility of future expansion, and there's no doubt that there should be Pac-12 teams at the top of his list.
There have been circulating reports that SMU and San Diego State are being courted by Kliavkoff and the Pac-12 to add value to the conference, but those aren't the additions needed to help keep them above water. It seems likely at this point that the Mustangs and Aztecs find their way into the Pac-12, but will it be enough to keep the rest of the conference intact?
These next few weeks will play a huge role in determining what the future of the Pac-12 will look like.