Baylor Bears
Texas Remains No. 1 in Big 12 Men's Basketball Power Rankings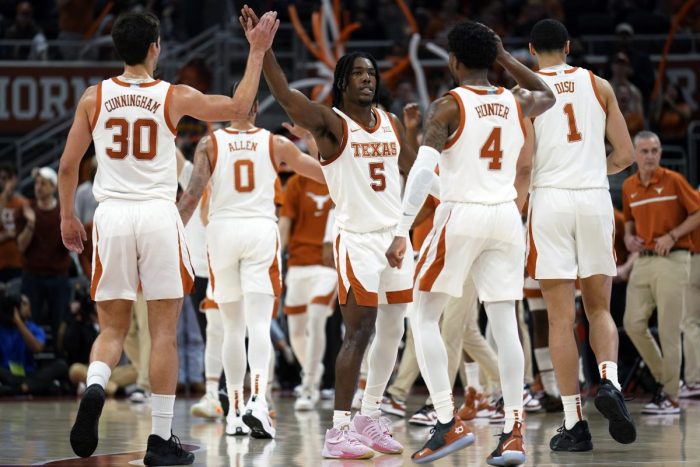 The Texas Longhorns remain No. 1 in the Heartland College Sports Big 12 men's basketball power rankings after the sixth full week of Big 12 Conference action. Our Power Rankings appear every Monday.
Check out Heartland College Sports for men's and women's basketball coverage every day, including our thoughts on big games, the previous week's action, our weekly schedules, and daily fantasy lineups as we march toward, well, March.
1. TEXAS (20-5, 9-3: Last Week — 1)
I'm not prepared to drop Texas just yet. Yes, they lost at Kansas last week but the Longhorns only lost by eight and were in it until the end. Marcus Carr had a fantastic game, scoring 29 points. At home, they blasted West Virginia. Baylor and Kansas are putting the heat on the Longhorns. Let's see if they can handle the pressure. I still think Texas is playing like the best team in the conference. But there isn't much daylight between the top three teams.
2. BAYLOR (19-6, 8-4: Last Week — 3)
If you think that I'd put Kansas ahead of Texas if the Longhorns weren't No. 1, well, nope. It would be Baylor, which has won nine of its last 10 games (with its only loss on the road at Texas). The Bears are playing great basketball, playing through their guards. If Adam Flagler doesn't have it, then Keyonte George and LJ Cryer pick it up until he can find it. The Bears are playing like themselves again after an 0-3 start.
3. KANSAS (20-5, 8-4: Last Week — 4)
Kansas has now won four of its last five since its three-game losing streak. The win over Texas was notable in that the Jayhawks won the game without a supreme effort from Jalen Wilson. The bench is starting to produce more. Kansas doesn't need much there — just efficient production when players like Zuby Ejiofor, Ernest Udeh Jr., and MJ Rice are on the floor. They've delivered the last two games.
4. OKLAHOMA STATE (16-9, 7-5: Last Week — 6)
The Cowboys are the hottest team in the Big 12. They've won five straight games and seven of their last eight going into Tuesday's game against Kansas. The fact that OSU has continued to win games without Avery Anderson III speaks to the team's depth, balance, and players understanding they need to step up. This means players like Bryce Thompson, Caleb Asberry, and Kalib Boone. This is not a team I would want to play in the NCAA Tournament.
5. IOWA STATE (16-8, 7-5: Last Week — 2)
It was a rough week for Iowa State. First, the Cyclones lost at West Virginia. Then ISU came home on Saturday and fell to red-hot Oklahoma State. The Cyclones are still a good team that can do some damage in the NCAA Tournament. But this is that point in the season where good teams can go through valleys. So here it is for ISU. Will the Cyclones bounce back this week? Watch for Jaren Holmes to have a big week.
6. KANSAS STATE (19-6, 7-5: Last Week — 5)
Look I'm seeing some Jerome Tang displeasure on Twitter. This would be a good time to remind everyone where this program was last year (not good). That this turnaround job is one of the best in the country. Yes, Kansas State has things it needs to correct, most notably it's turnover problem. But this is a team that will win 20 games and plays a couple of games in the NCAA tournament. Right now, the Wildcats are in a valley, having lost three of their last four. But Kansas State can play its way out of it.
7. WEST VIRGINIA (15-10, 4-8: Last Week — 8)
WVU fell hard to Texas on Saturday. Bob Huggins seemed to want to blame it on travel but the Longhorns are clearly better. But, the Mountaineers beat Iowa State at home last week and that, combined with TCU's losing streak, is why Erik Stevenson and Mountaineers move up a spot. If WVU can hold serve at home (Texas Tech, Oklahoma State, Kansas State), I think that will be enough to get them into the NCAA Tournament, regardless of what happens in Kansas City.
8. TCU (17-8, 6-6: Last Week — 7)
TCU is in a rough place. The Horned Frogs have now lost three straight games and they let a potential win slip away at home on Saturday against Baylor. They're playing well, but not having Mike Miles on the floor is a clear difference-maker for TCU. With their national ranking potentially slipping away this week, Damion Baugh and the Horned Frogs have to find a way to snap the streak, without or without Miles and Eddie Lampkin.
9. TEXAS TECH (13-12, 2-10: Last Week — 9)
Everyone chill on Mark Adams. Not every season goes the way you want. Tech has won three of its last five and Fardaws Aimaq played a bit in the Kansas State win on Saturday. The goal for Texas Tech is to be at least one game over .500 by the end of the Big 12 Tournament so the NIT might invite them. Trust me — every player on that team wants to keep playing until they can't anymore.
10. OKLAHOMA (12-13, 2-10: Last Week — 10)
The Sooners became the first team in the Big 12 to slip under .500 for the season since … well, I'm not entirely sure if any Big 12 team has been under-.500 at any point this season. Oh, wait — OU lost its opener to Sam Houston. Yikes. The Sooners have now lost seven of their last eight. And five of OU's final six opponents are ranked. Porter Moser may be watching all postseason action on his TV.
You can find Matthew Postins on Twitter @PostinsPostcard.