Baylor Bears
Three Thoughts on the AP Men's Top 25 Poll for Feb. 13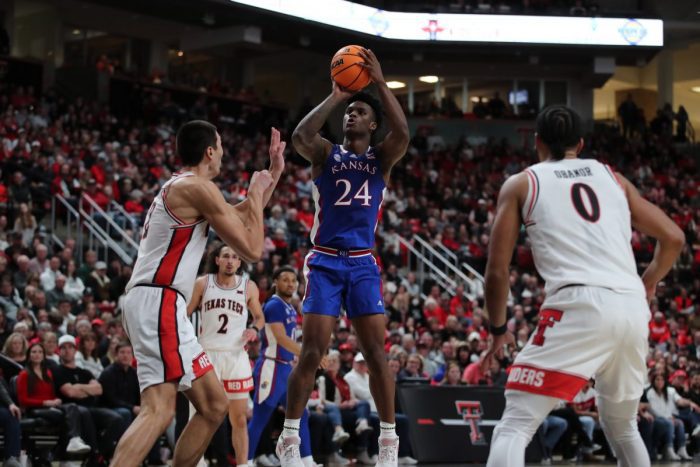 Six Big 12 teams are among the nation's best as the Associated Press Men's Basketball Top 25 was released after the season's 14th week of games.
Here are our three thoughts on the poll from a Big 12 perspective.
The Top 10
With last week's events, the Big 12 has three teams in the Top 10. Kansas is at No. 5, followed by Texas at No. 6, and then Baylor at No. 9. It wouldn't be far-fetched to say these are the three best teams in the conference. I'm not convinced there's a lot of daylight between them, either.
If you're looking ahead to the next six games these rankings will most certainly change. Kansas must play both Texas and Baylor again. Texas has a brutal stretch of games. Four of Baylor's last six games will be against ranked teams. This isn't going to get any easier for any of these teams, and their head-to-head matchups will be the differentiator between who is seated first, second, and third — or perhaps lower — in Kansas City next month.
TCU Falls Out
I expected TCU to fall out of the Top 25 this week, but the Horned Frogs hung in there and dropped to just No. 22 after losing both games last week. and that was bound to happen after an 0-2 week and a three-game losing streak. The Horned Frogs' losses were to quality teams. Pollsters don't always look kindly on three-game losing streaks, and they are certainly cognizant that Mike Miles is out and that Eddie Lampkin is not 100 percent. I think this is where the Big 12 helped the Horned Frogs stay in the poll.
The last time TCU dropped out of the Top 25 was in November after that horrible home loss to Northwestern State. The Horned Frogs worked their way back in, and get at least one more week to prove they still belong.
Being ranked won't matter to TCU's NCAA Tournament hopes. But the Horned Frogs need wins or they're going to surrender more seeds lines in the bracket.
Oklahoma State Gets Some Votes (Finally)
With a five-game winning streak and seven wins in their last eight games, I was wondering if that might be worth a Top 25 ranking for the Oklahoma State Cowboys. The Cowboys were not receiving votes in last week's poll. This week? The Cowboys received 23 votes.
Now I'm not certain if that's fair or unfair, but this late in the year you have to make a lot of noise to impress voters. Was beating Iowa State twice, now ranked No. 19, not enough?
To me, Oklahoma State is now a locked-in NCAA Tournament team. But, if you're interested in getting into the Top 25, the Cowboys have a great opportunity this week. They host Kansas on Tuesday and then go to TCU on Saturday. When both of those games, I don't see how the pollsters could possibly ignore the Cowboys any longer.
This Week's AP Top 25 Poll
No. 1 Alabama, No. 2 Houston, No. 3 Purdue, No. 4 UCLA, No. 5 Kansas, No. 6 Texas, No. 7 Virginia, No. 8 Arizona, No. 9 Baylor, No. 10 Tennessee, No. 11 Marquette, No. 12 Kansas State, No. 13 Gonzaga, No. 14 Indiana, No. 15 Miami (FL), No. 16 Xavier, No. 17 Saint Mary's, No. 18 Creighton, No. 19 Iowa State, No. 20 UConn, No. 21 San Diego State, No. 22 TCU, No. 23 North Carolina State, No. 24 Providence, No. 25 Florida Atlantic. Big 12 teams receiving votes: Oklahoma State, 23.
You can find Matthew Postins on Twitter @PostinsPostcard.