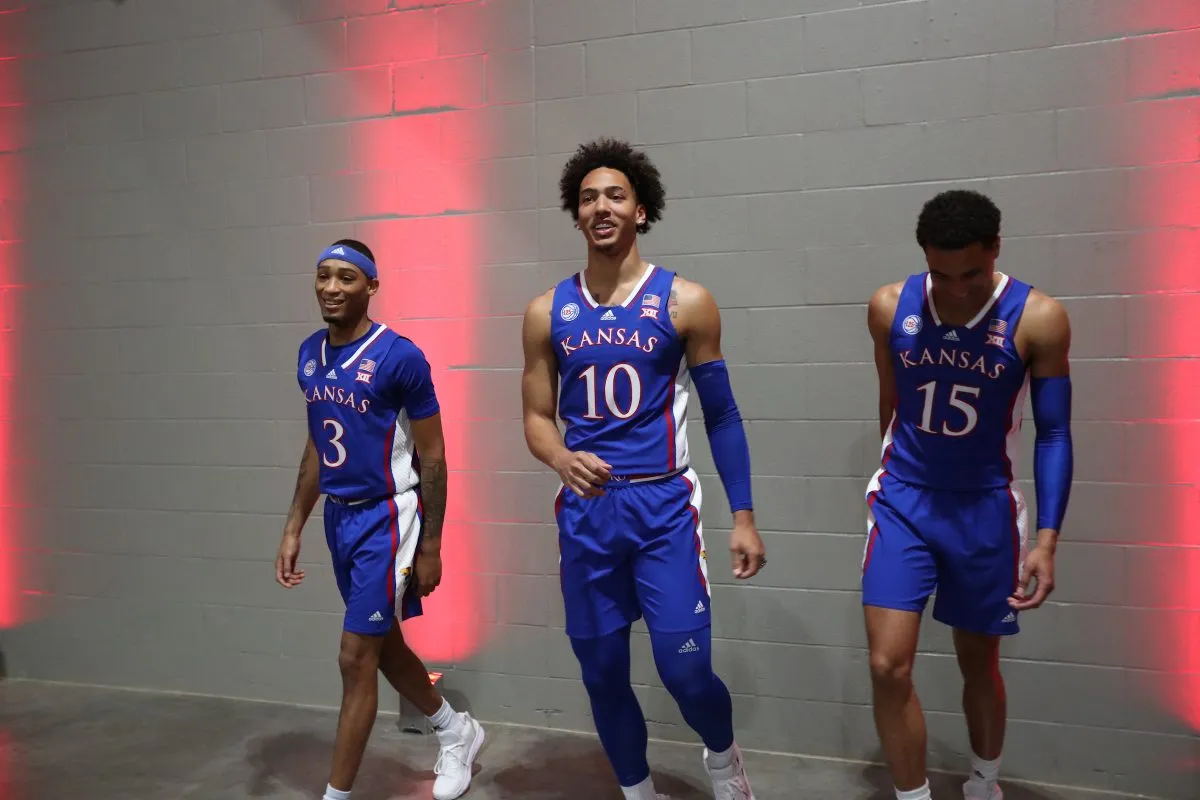 There are two Big 12 games in the Draft Kings Daily Fantasy Sports pool for men's college basketball as Big 12 play continues on Tuesday.
Those games are Kansas State at Oklahoma and Kansas at Oklahoma State.
This season, when Big 12 games are part of the pool at Draft Kings, I'll provide my recommendations based on the lineup I'm playing that day. In this case, the recommendations are for a Classic game, which features eight players — three guards, three forwards, and two guards/forwards (utility). The lineup must contain players from at least two different games. The salary cap is $50,000.
The goal is to fill out a complete Big 12 lineup. With two games and four teams, I'll take two players from each team.
Here is Tuesday's lineup/recommendations:
Guards
Grant Sherfield, Oklahoma ($7,000), DaJuan Harris Jr., Kansas ($6,200), Caleb Asberry, Oklahoma State ($5,300).
I'm going to pay the premium to have Sherfield in this game because Kansas State isn't the best defensive team and I have to maximize whatever scoring I can get out of Oklahoma. Sherfield is the one player who seems to consistently get points.
From there, I'm adding Asberry on the cheap because I think he'll be one of those players that will find a way to score with Avery Anderson III out of the lineup. It's a bit of a gamble because it could be any of number of players on any given night. But I like the matchup for him.
As for Harris, he can get you fantasy points in a lot of different ways. I'm not counting on a lot of scoring on Tuesday night. But he can set up players to score, get a lot of assists and end up with a few steals.
Forwards
Keyontae Johnson, Kansas State ($8,200), Jalen Hill, Oklahoma ($6,000), David N'Guessan, Kansas State ($4,500)
I'll pay the premium for Johnson, who has the potential to have a big game on Tuesday against an Oklahoma lineup that I don't believe has a good matchup with him defensively.
After that, I have to find cheap points. I'm taking Hill because I think he poses matchup issues for Kansas State. N'Guessan is really cheap, but he can be really explosive, especially if he's cutting the lane and creating some chaos inside.
Utility
F Jalen Wilson, Kansas ($9,700), G Quion Williams, Oklahoma State ($3,100)
Against Oklahoma State's exceptional defense, I had to find a way to get Wilson in this lineup. That means that meant paying the premium for the highest-paid player on the board. But he's remarkably consistent no matter how good the defense is.
With what I had left I grabbed Williams, a freshman who hasn't played much this season. Since the injury to Anderson, he's been getting a little more run and he had a double-digit scoring performance. When you only have a few thousand in cap space, time to roll the dice and hope for the best.
–
Scoring system: Point: +1 Pt; Made 3pt Shot: +0.5 Pts; Rebound: +1.25 Pts; Assist: +1.5 Pts; Steal: +2 Pts; Block: +2 Pts; Turnover: -0.5 Pts; Double-Double (Max 1 Per Player: Points, Rebounds, Assists, Blocks, Steals) +1.5 Pts; Triple-Double: Max 1 Per Player (Points, Rebounds, Assists, Blocks, Steals): +3 Pts
You can find Matthew Postins on Twitter @PostinsPostcard