Baylor Bears
Big 12 Softball Power Rankings: Sooners Hang Onto Top Spot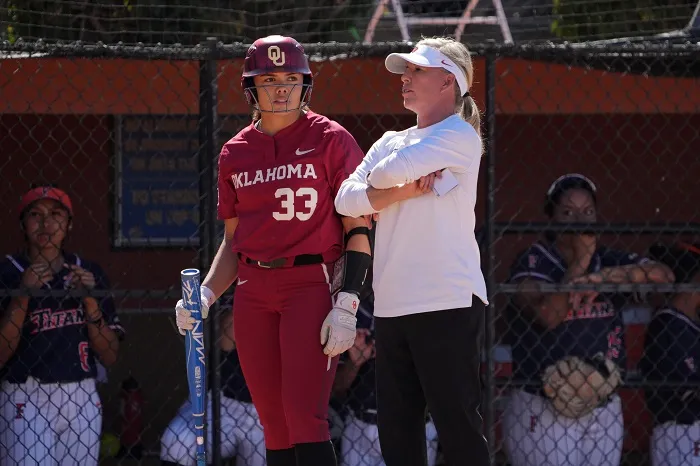 The first weekend of college softball has come and gone and there's only one team left with an unblemished record.
The Oklahoma Sooners are 5-0, but they were in tight games with Liberty and Washington this weekend before eventually eeking out one-score wins.
Behind the Sooners, there's quite a bit of moment as several teams had tough opening weekends, while others had better-than-expected outcomes on the weekend.
Let's take a look at the Big 12 Softball Power Rankings after Week 1.
Oklahoma's opening weekend was challenging, but Patty Gasso had to be happy with the events of the weekend as the Sooners fought their way out of tough spots against Liberty and Washington. Every opponent that OU faced this weekend outside of San Jose State is either ranked or receiving votes, so to come out of that kind of opening weekend unscathed is impressive. The Sooners' pitching staff looks deep, and its batting rotation looked to be warming up towards the end of the weekend. OU is still the team to beat in the Big 12.
Oklahoma State opened up its 2023 season in Puerto Vallarta, Mexico, and learned a few things about themselves this weekend. The bats aren't quite warmed up yet, but the pitching staff could be tremendous yet again. Kelly Maxwell has a 0.00 ERA and 23 strikeouts to begin the year, and outside of a barnburner loss against Maryland, it felt like Oklahoma State's pitching and defense controlled most innings.
Here is the first big move in our Power Rankings for this week, and it's really quite exciting for folks in Waco. The Bears took care of business against the teams they needed to beat, and in the final game of the weekend, Baylor showed what it might be capable of in 2023. Against No. 7 Arkansas, the Bears fell into an 8-0 hole, but exploded for seven runs in the bottom of the fourth inning. The 8-7 score would hold until the top of the seventh when Arkansas would add three insurance runs to make it 11-7. Baylor fought and proved it can hang with one of the nation's best. It's a positive sign for Glenn Moore's group.
The record says 2-1-1, but Texas is 2-2. A hard-fought loss to Northwestern was the first blemish, but the "tie" with Kentucky was just some slick gamesmanship from Mike White. The 11-1 win over Missouri was impressive, and there were stretches where the Longhorns flashed, but inconsistency was an issue in the opening weekend of action, as it was for most of the regular season in 2022.
Look at Kansas! The Jayhawks had a pretty tough opening weekend in Tucson, Arizona, but came out with a winning record. The 15-2 loss to a good Arizona team was ugly, but convincing wins over NC State and a 9-8 win over Long Beach State were good showings for KU in the opening weekend of action.
It probably wasn't what Craig Snider had in mind for his first weekend as Texas Tech's head coach, but a 3-2 record to start with isn't all bad. After starting his career 1-0, Snider's squad lost two straight heading into the night game on Saturday against UT Arlington. Over the last two games, the Red Raiders outscored its opponents 16-1 and dominated on both sides. This is a small victory for TTU and something they can build on.
Woof. It was a rough week for the Iowa State Cyclones as they opened up their season with 5-1 loss to Omaha and back-to-back losses to Drake by scores of 5-1 and 4-3. The Cyclones did turn things around by beating UNI twice to end the weekend, but at 2-3 after a more-than-manageable weekend, Iowa State is locked in as the bottom team in out Power Rankings this week.