Baylor Bears
Biggest Takeaways from Big 12 Conference Women's Basketball Week 7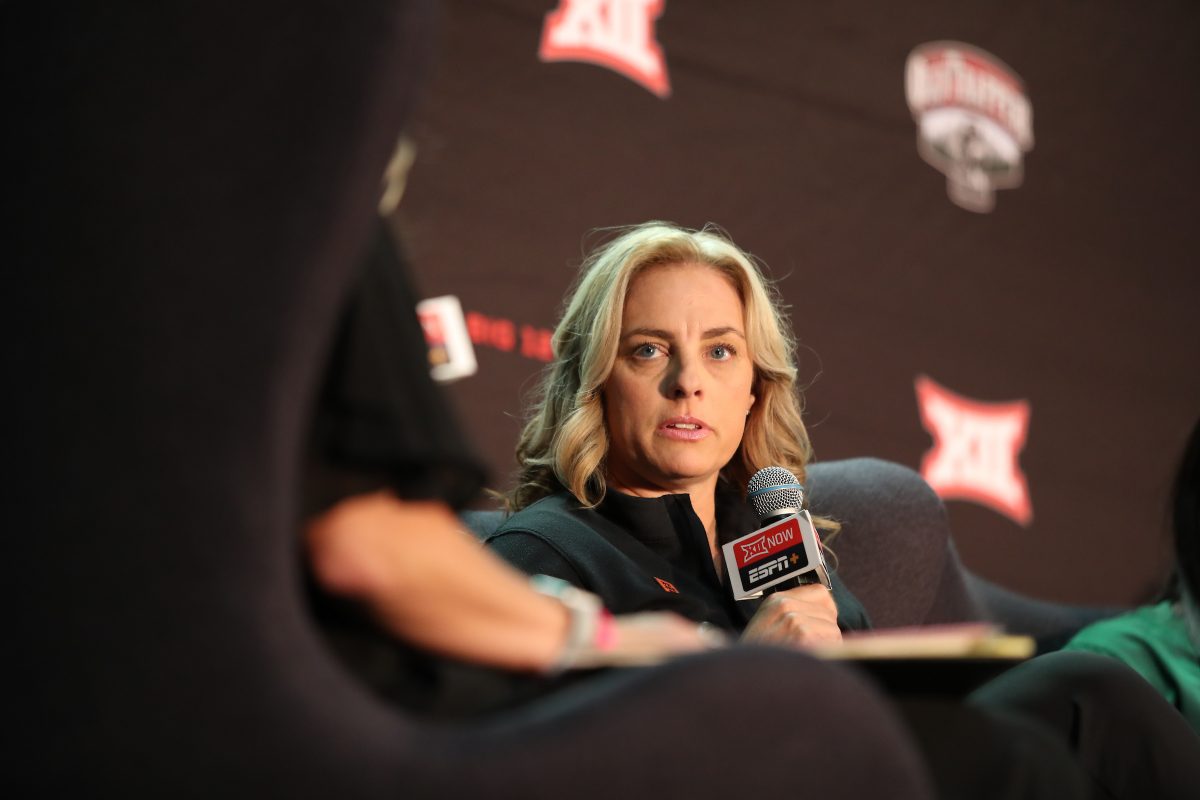 The seventh week of Big 12 women's basketball conference action is a wrap. Here are three takeaways from the latest week of the league slate.
It's an 18-game march to March in Kansas City, and Heartland College Sports has you covered all season.
Baylor in Transition
There was a moment late in the third quarter on Saturday when I watched Baylor head coach Nicki Collen scribble on her whiteboard. Then she wiped it off. She scribbled on it again, and then wiped it off again. Then she scribbled something else.
She looked like a coach who was searching for answers against Oklahoma State, which turned out to be one of Baylor's worst losses in recent memory, 77-56.
Baylor's streak of 12 straight Big 12 regular-season titles is in serious jeopardy. The Bears are two games back after Iowa State beat Texas on Monday.
The Bears have the runway to make up some of the distance, with another game against Iowa State and Texas coming up. But, against Oklahoma and Oklahoma State — the other two teams ahead of them in the standings — the Bears are 1-3 against them. Those aren't inviting tie-breakers.
It's a tricky proposition to take over a program that has won three national championships. It's even trickier to pivot the program toward another style of basketball, as Collen prefers a more pro-style offense to Kim Mulkey's approach.
Growing pains are inevitable. I think most expected it last year. But Collen still had Big 12 Player of the Year NaLyssa Smith and center Queen Egbo, along with prized transfer Jordan Lewis. All three departed after last season.
Baylor is still talented, but the gap with the rest of the league has closed. Guards Sarah Andrews and Ja'Mee Asberry can still fill it up nightly. Caitlin Bickle is a bruising forward who can stretch defenses. Freshmen Darianna Littlepage-Buggs and Bella Fontleroy are the future of this program, and it's bright.
If you're looking for the problem, it's what Baylor DOESN'T have. Two prized transfers aren't on the floor. Aijha Blackwell has missed most of the season due to an injury. Dre'Una Edwards has been off the floor all season due to issues related to her transfer.
Those two players averaged a combined 32 points and 22 rebounds last season. That's a huge hole, not just in the starting lineup but in the team's depth.
Baylor and its supporters should be patient when it comes to the future. Collen has already proven to be a great recruiter. She has another Top 100 recruit coming in for 2023. The games of Andrews and Asberry have quietly developed under Collen's coaching. From a program standpoint, the Bears look bought in.
But, this season? The Bears will fight for everything they get and will likely start on the road when it comes to the NCAA Tournament, something they're not used to.
I'm banking Collen can take this step back and turn it into a step forward in the future.
More Records for Ashley Joens
One of the more interesting things about Iowa State game notes is that it has a section called (Ashley) Joens Climbing Up the Record Boards. All of the ones underneath the header are records she owns, some of which she claimed this season.
One she doesn't own is Big 12 all-time scoring. She probably won't catch Baylor's Brittney Griner, who had 3,283 points at Baylor. But, Oklahoma State's Andrea Riley, the Big 12's No. 2 all-time scorer, is well within her sights. Riley scored 2,835 points in her career.
After Monday's game against Texas, Joens now has 2,833 points. She passed Ohio State's Jantel Lavender (2,818 points) for No. 25 in NCAA history. Riley is No. 24 all-time and she's next.
By the way, if you missed it, our Pete Mundo did a Q&A with Joens last week. It's worth a read.
West Virginia Stays At It
West Virginia beat Iowa State on Saturday, giving the Mountaineers a second win over a ranked team (Baylor was the other). Could these Mountaineers give the Big 12 a seventh NCAA Tournament team? I think they're the best shot.
New head coach Dawn Plitzuweit has done a great job blending the holdovers (Madisen Smith, JJ Quinerly, Jayla Hemingway) with the new players (Kyah Watson and Danni Nichols). The Mountaineers are in the thick of the second tier of this Big 12 race and have the potential to stay out of the first two games of the Big 12 Tournament, reserved for the teams with the four worst league records.
This week is a big step toward the Mountaineers staying out of that first evening of the tournament. WVU hosts Kansas on Wednesday and both are tied for sixth place. The winner gets a leg up, the loser will need help.
Win on Wednesday and the Mountaineers have a manageable schedule. After traveling to Texas on Sunday, the Mountaineers get Texas Tech, Kansas State, and Oklahoma State before ending the season at Baylor. Three more wins down the stretch would give the Mountaineers 18 victories and an intriguing set of credentials for the committee to consider — and that's before WVU does anything in Kansas City.  
You can find Matthew Postins on Twitter @PostinsPostcard