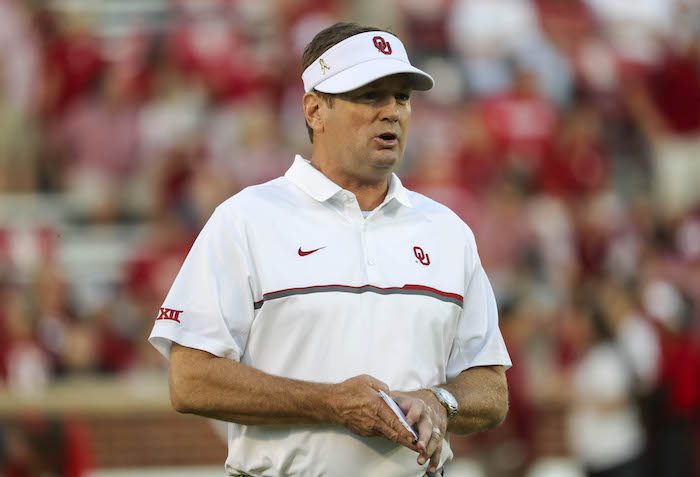 College Football is not what it was when Bob Stoops was the head coach at Oklahoma before retiring on June 7, 2017.
No, things have changed quite a bit in the sport over the last six years, and to old-school guys like Stoops, it's got to be quite peculiar to see what things look like now with the Transfer Portal and NIL running unchecked.
There are changes that coaches, programs, and players face now that they didn't have to back in Bob's time, and he is fully aware that the game he loves so dearly is quite a bit more challenging now because of those changes.
"I don't think there is any question (it is harder with NIL). Other teams recruit your players. There are no rules," Stoops said on 105.3 The Fan in Dallas-Fort Worth. "Everybody can — it's like the NFL without any salary cap or particular guidelines. Sure, it has made it more challenging. I still think there is a place for players who want the overall college experience. … If you are only concerned with money, then some places are not for you. And that is okay. There are plenty of good players out there. Find the right ones that fit your program. That is the important thing. But NIL certainly has made it more transferring.
"Same thing (with the transfer portal)," Stoops added. "It is two-fold. Your roster can turn upside down within three weeks. Also, if you get the right players coming in, you can improve your program in 3-4 weeks … As much as anything, be careful for what you wish for. Some of these players enter the portal and find out the grass is not greener over there, or they get left out and nobody wants to pick them up. That happened more than people realize. That's not great for them. But I know as a coach, you don't have to wait recruiting years to get the right guys in. You can turn it over pretty quickly by getting the right guys in."
The Sooners were hit hard by the transfer portal before Brent Venables' first season, most notably losing Caleb Williams, who won the Heisman Trophy in 2022.
Oklahoma was a major player in the transfer portal this season though and brought in the No. 8 transfer class according to 247Sports, headlined by the No. 2 edge rusher in the class Dasan McCullough.
If the Sooners hope to get back to the consistent level of success that Bob Stoops reintroduced in the 2000s, it will need to hit big in the portal, and folks in Norman like what it coming into the program ahead of the 2023 season.