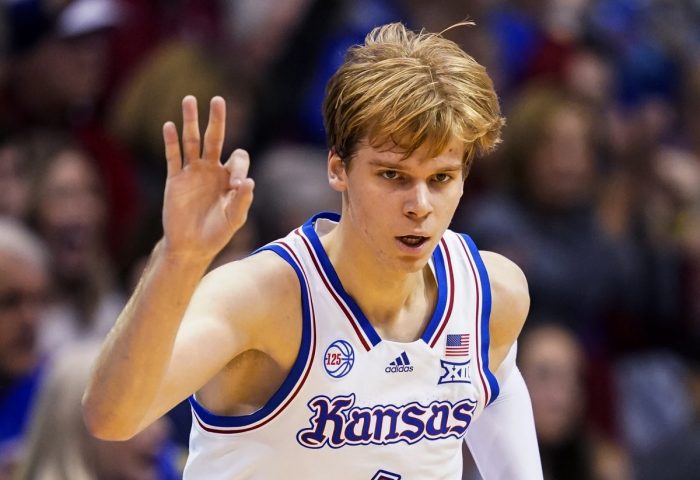 Kansas freshman superstar Gradey Dick has heard it all at this point from opposing fan bases and student sections. In fact, if you listen closely to the broadcast when Kansas is on the road, home team student sections use his last name in unrelenting chants all the time.
It comes with the territory of being such a polarizing player. But, instead of letting it bother him, Dick has learned to embrace the hate, and let it act as a fuel for him.
"I love it," Dick said. "I love it. I kind of like being the hated one. It definitely fuels the fire for sure."
During Tuesday night's 87-76 victory over Oklahoma State in Gallagher-Iba Arena, the chants were out on full display, but Kansas head coach Bill Self says that kind of thing doesn't bother his freshman phenom.
"He's got a unique last name and he's heard that since he was probably in third, fourth, fifth grade," Self said of the chants that the OSU crowd and five or six others have used heavily in their games against Kansas earlier this season. "I don't think it bothers him at all. I think he likes it. I think it fuels him."
"The chants, you know, I'm there and I don't hear the chants," Self added. "So, if you're focused on the game, I think a lot of that stuff is just water off your back."
Despite the opposing fan base's best efforts, Dick had a career game against Oklahoma State, scoring a career-high 26 points on 10-of-17 shooting over 37 minutes.
That wasn't necessarily surprising to Self though, who recognizes something special when he sees it.
"As far as having a freshman year, I would put his freshman year with just about any freshman that we've had here when you just talk about the year," Self said Tuesday.
"He's the best freshman shooter I've ever had, hands down," Self said of Dick, who is shooting 42.7% from behind the arc. "We've just got to get him more shots."
Self will get a chance to get Gradey Dick more shots against Baylor on Saturday in a game that features two of the three teams that share a spot for first place in the Big 12 standing. Baylor (20-6, 9-4) and Kansas (21-5, 9-4) will tip off at 3:00 p.m. CT from Allen Fieldhouse, with College Gameday in town for the biggest matchup of the weekend.