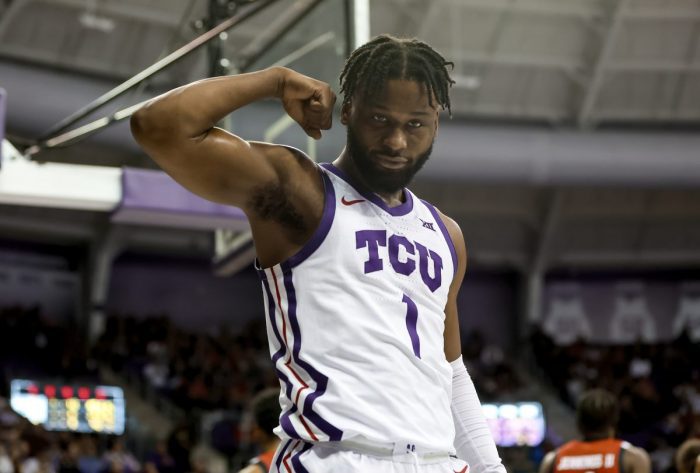 TCU guard Mike Miles Jr. told ESPN game announcers on Wednesday that he could to be able to play on Saturday for the Horned Frogs.
ESPN's Rick Hollenbeck referenced a conversation that he and his game analyst had with Miles at shootaround on Wednesday as the No. 22 Horned Frogs were preparing to face the No. 19 Iowa State Cyclones at Hilton Coliseum.
Miles did participate in the shootaround, and during that conversation Hollenbeck said that Miles told him he felt good and expected to play when TCU faces Oklahoma State at home.
It should be noted that TCU has not released any official information related to Miles' condition or progress for the weekend. TCU has released information on Miles' availability on a game-by-game basis since he hyperextended his knee against Mississippi State in late January.
In fact, on Wednesday, Miles went to Twitter to refute a report that he would play in Wednesday's game against the Cyclones.
Miles, the Big 12 Preseason Player of the Year, remains on several award watch lists despite the injury. In his third season at TCU, Miles is averaging 18.1 points, 2.8 rebounds, 3.0 assists and 1.4 steals per game.
If you include the Mississippi State game, during which Miles played just four minutes before the injury, the Horned Frogs had lost four of five entering the Iowa State game.
Since losing Miles, the Horned Frogs have fallen to .500 in Big 12 play and fallen out of the Top 16 seeds in ESPN's Bracketology. Entering Wednesday's game the Horned Frogs were considered a No. 5 seed by ESPN.
You can find Matthew Postins on Twitter @PostinsPostcard