Baylor Bears
Three Thoughts on Big 12 Women's Bracketology for Feb. 14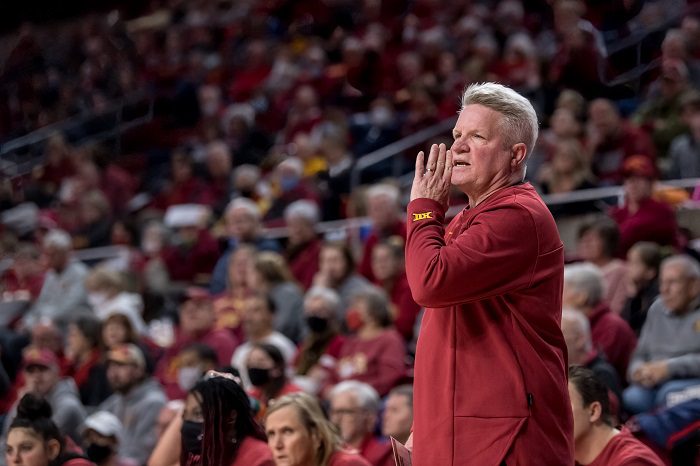 The Big 12 has six teams in ESPN's most recent Bracketology for the Women's NCAA Tournament next March.
The Big 12 also had six teams last week. Plus, the league has two teams on the bubble. Here are three thoughts on ESPN's latest Women's Bracketology from a Big 12 perspective.
The Iowa State Influence
I was curious to see if Iowa State's victory over Texas on Monday would have any influence on where those two teams ended up on Tuesday. It didn't seem to have much effect.
Texas remained a No. 4 seed and remained the only Big 12 team hosting a sub-regional. Iowa State remained a No. 5 seed.
But Iowa State still has a path toward hosting a sub-regional, and it starts with back-to-back road games against Baylor and Oklahoma State in the next 10 days.
There is still enough time and enough runway for the Cyclones to claim that home sub-regional. ISU probably wouldn't be any better than a No. 4 seed, but that's enough.
Iowa State with their performance against Texas that they still have the ability and the drive to try and make it happen.
Baylor, Oklahoma Flip
Last week Baylor was a No. 5 seed in Oklahoma was a No. 7 seed. Last week, the pair played one of the best games of the week. Oklahoma beat Baylor in overtime and a week later the Sooners are a No. 5 seed and the Bears are a No. 7 seed.
I fully expected Oklahoma to move up in seeding, but I was interested to see how far Baylor would fall after two straight losses (Baylor fell to Oklahoma State on Saturday).
Losing two seed lines at this stage of the season makes it highly unlikely Baylor will find a way to host a sub-regional. The Bears are going to have to go on the road and figure out a way to win two games to get to the Sweet 16.
Baylor is in a bit of a valley right now but I think there's enough talent and ability for it to make it happen. But for the first time in a while, Baylor will have to do it the hard way.
More Bubble Talk
With Oklahoma State appearing to be firmly in the field, we turn our attention to the two teams that could make it seven Big 12 teams in the NCAA Tournament.
Texas Tech and West Virginia were both among the Next Four Out, or among the first eight teams that were considered for this edition but didn't make the field.
Texas Tech missed a golden opportunity to burnish its credentials just a bit more when it lost to Kansas last weekend. The Jayhawks are firmly in the field and that was a win the Lady Raiders really could have used.
Now it's West Virginia's turn. The Mountaineers host Kansas this week and West Virginia has been good at home lately. Both of its Top 25 wins have been in Morgantown. A win over the Jayhawks would allow the Mountaineers a bit of a leg up on Texas Tech.
Both still have a ways to go, but there's a path to win 20 games before they get to Kansas City, and that would help considerably.
Big 12 Teams in Projected Women's Field
The Big 12 has six teams in the field. The seeds include:
Texas, No. 4 seed (Seattle Region), vs. Northern Iowa, at Austin, Texas.
Oklahoma, No. 5 seed (Seattle Region), vs. Nebraska/Mississippi State winner, at Chapel Hill, N.C.
Iowa State, No. 5 seed (Greenville Region), vs. South Dakota State, at Boulder, Colo.
Baylor, No. 7 seed (Greensville Region), vs. Middle Tennessee, at Iowa City, Iowa
Kansas, No. 8 seed (Greenville Region) vs. Miami (FL), at Columbia, S.C.
Oklahoma State, No. 9 seed (Seattle Region) vs. Alabama, Storrs, Conn.
You can find Matthew Postins on Twitter @PostinsPostcard.