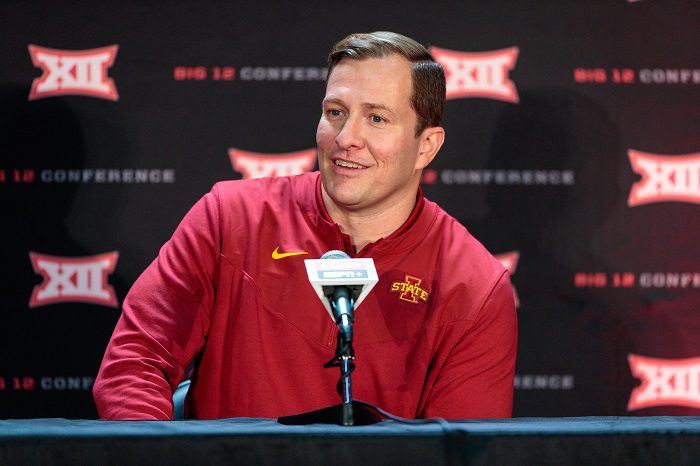 The Iowa State Cyclones beat the TCU Horned Frogs, 70-59, at Hilton Coliseum in Ames, Iowa, on Wednesday. Here are three thoughts on this Big 12 Conference game.
No. 19 Iowa State (17-8, 8-5) put an end to its two-game losing streak and improved to 13-1 at Hilton Coliseum. It was also Iowa State's seventh win over an AP Top 25 team.
No. 17 TCU (17-9, 6-7 in Big 12) lost its fourth straight game and fell to 4-5 against teams ranked in the AP Top 25.
How Iowa State Won
Aljaz Kunc. Career-high 22 points. Need we say more?
Truth is, if you watched the Cyclones fall on Saturday to Oklahoma State, you could see this coming. He was starting to get his basketball legs under him. But on Wednesday he went off. Five 3-pointers, five rebounds and quality defense throughout.
He helped Iowa State get off to a hot start, an 11-point halftime lead and the Cyclones sustained it the rest of the contest. ISU shot 50 percent or better for most of the game. Every time TCU tried to make a run, ISU met it.
Remember when head coach T.J. Otzelberger said the Cyclones didn't play to their "identity" on Saturday? Well, what you saw on Wednesday was the Cyclones' identity.
Jaren Holmes added 16 points while Tre King scored nine points off the bench. All of this on a night when Caleb Grill didn't score and played 13 minutes. The Cyclones are starting to get things back on the right track.
How TCU Lost
The Horned Frogs shot well enough, nearly 47 percent from the floor. But nearly everything else went kind of haywire. Start with the fast break, where TCU leads the country with 20 fast break points per game. The Horned Frogs had 11. But, for most of the first half it was two points.
TCU made as many 3-pointers (five) as Kunc did on Wednesday night. But the most glaring thing was TCU's free-throw shooting. It was awful. TCU was just 6-for-18 from the line. In a game that TCU lost by 11 points, those free throws could have made it much closer and put some pressure on the Cyclones.
Shahada Wells had 15 points for the Horned Frogs. He's done some good work in replacing the injured Mike Miles Jr., but he's also had some uneven games.
Micah Peavy continued his upturn in play, scoring 13 points and grabbing five rebounds. His emergence is vital. The Horned Frogs don't count on him for points when they're fully healthy. But, without Miles and center Eddie Lampkin, Peavy's scoring, along with his defense, rebounding and energy, are welcome.
This stretch has exposed the Horned Frogs as Miles-dependent. They need him back.
Five Games Left Until Kansas City
Iowa State is now fourth by itself in the Big 12 with five games left. The Cyclones are a game back of Kansas, Texas and Baylor for first place.
ISU split with Kansas, but still has games with Texas (win) and Baylor (win). So the opportunity exists for ISU to play its way back into a tie for first, and the opportunity exists to own at least two head-to-head tiebreakers. Both games are on the road, though.
TCU is now under .500 in the Big 12 and in seventh place, one game behind Oklahoma State. If the Big 12 Tournament started today, TCU would have to play Texas Tech in the first round (basing this on Texas Tech's loss to Oklahoma, though the pair must play again). I don't think TCU's NCAA Tournament bid is in danger. But the Horned Frogs have to get right, and if Mike Miles really is back on Saturday, you'll see a desperate TCU team against Oklahoma State in Fort Worth.
You can find Matthew Postins on Twitter @PostinsPostcard