Baylor Bears
Three Thoughts on Wednesday's Big 12 Women's Basketball Games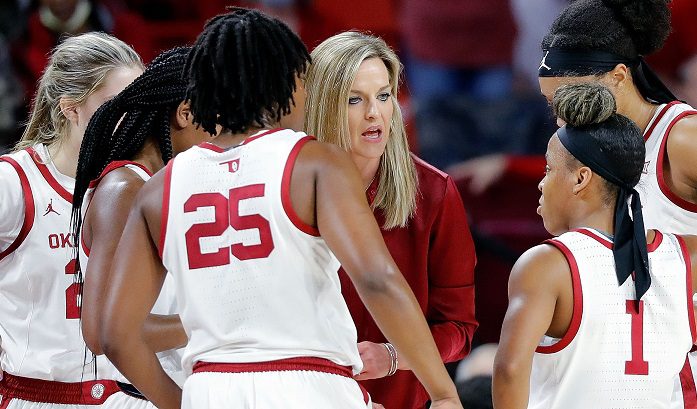 There were three Big 12 women's basketball matchups across the conference on Wednesday. Here are three thoughts on those games.
OU Stays in Title Race
The No. 15 Oklahoma Sooners (21-4, 11-3 in Big 12) cruised past Texas Tech (16-10, 4-9), 84-57. OU was up 26-13 at the end of the first quarter and the Sooners never looked back. When the offense is clicking — 49 percent shooting and 42 percent from 3-point land — Oklahoma is hard to slow down.
Because OU got such a big lead, coach Jennie Baranczyk was able to play everyone, and that allowed Aubrey Joens — Iowa State guard Ashley Joens' younger sister — to go off for 23 points, including five 3-pointers. OU owned the glass, 46-36 (Joens had 11 and Skylar Vann had 10) and it had a 14-point edge in the paint.
OU will face Texas in a week. The Sooners want that game to be for the Big 12 regular-season lead. If OU and Texas keep winning, it will be.
Texas Tech wasn't in this one, and it's shooting was why. Tech shot 33 percent. Bailey Maupin had 15 points, Bre'Amber Scott had 12 points and Bryn Gerlich had 10 points.
Even though Tech went into the game on the Bracketology bubble, I don't think the Lady Raiders have a shot. The good news is there is enough runway for them to get into the WNIT, and any postseason play would be welcome for a program that hasn't had any for more than a decade.
Big Win for West Virginia
Madisen Smith 17 points, Kyah Watson had 14 points and Isis Beh had 13 points as West Virginia (16-8, 7-6) outlasted Kansas (16-8, 6-7), 62-60. The Mountaineers missed six of their last seven shots but the Jayhawks couldn't tie it.
Kansas got 20 points out of Taiyanna Jackson, 13 from Wyvette Mayberry and 16 from Zakaiyah Franklin.
WVU won it while shooting 38 percent and without Jayla Hemingway, who wasn't in the lineup. But WVU owned a 22-0 edge in bench points and that was a huge factor in the win.
Even with the presence of Jackson, the Jayhawks only outrebounded WVU by four (31-27) and were outshot 11-5 at the 3-point line, an area where Kansas usually does well.
This game has ramifications. WVU is now in a fifth-place tie with Baylor (more on that in a second). Kansas is now in seventh place, which would mean the Jayhawks would have to play on the first night of the Big 12 Tournament.
K-State Blasts Baylor
Baylor (16-9, 7-6) is now in a full-blown tailspin, as it lost its third straight game, falling to Kansas State (15-11, 4-9), 87-68. That's why West Virginia and Baylor are in a fifth-place tie.
Baylor only got four points out of forward Caitlin Bickle and eight points out of Sarah Andrews, normally reliable offense for Baylor. Ja'Mee Asberry came up with 21 points, while Darianna Littlepage-Buggs had 16 points and eight rebounds off the bench.
Offensively, K-State was just on it, shooting 60.4 percent overall and 45 percent from the 3-point line. No one's catching that. Gabby Gregory had 26 points and 10 rebounds. Serena Sundell had 20 points and six assists. Brylee Glenn had 14 points and Jaelyn Glenn added 11.
The win was important for Kansas State. While they're not a NCAA Tournament team, a WNIT bid would allow the Wildcats to keep playing and accumulate more experience for next year, when they get center Ayoka Lee back. It seems like a near-certainty that Kansas State and Texas Tech will play each other in the 8-9 game at the Big 12 Tournament, unless one of them makes a run at Kansas, which is two games ahead.
You can find Matthew Postins on Twitter @PostinsPostcard