Oklahoma Sooners
Barry Switzer Doesn't Blame Lincoln Riley for Taking USC's Money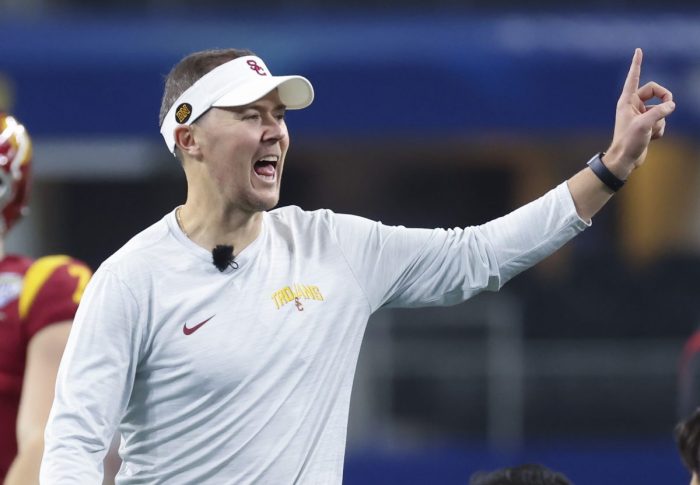 Barry Switzer has never been one to mince word and didn't start in a recent appearance on the "Paul Finebaum Show" on Wednesday.
One topic of conversation during the show was why Lincoln Riley left Oklahoma for USC, and Switzer certainly had some thoughts on the matter. In Switzer's mind, there were two reasons why Riley left for the Pac-12: money and a lack of desire to coach in the SEC.
"You know, people got upset with Lincoln Riley about how he left," Switzer said. "I said how do you leave? Do you call your team in before a game and say 'Hey guys, I'm quitting, this is my last game to coach you guys.' You aren't saying that. You gotta go through the season and finish. And people said he only moved for the money, he just got a $10 million contract out there. Bought him a — I forgot how many square foot house, 18,000, 20,000 square foot house out in Malibu. Coaches move for money, hell football teams, schools move for money. That's what we're doing. We're going to the SEC for the money, Paul. So what the hell is wrong with football coaches doing the same thing?"
Oklahoma is leaving the Big 12 for a bigger slice of the pie and couldn't wait an extra year to do so, so why can't Lincoln Riley do the same? It's a fair point, and one that makes a lot of sense. However, contractual agreements kept Oklahoma and Texas from leaving overnight but instead kept them around for another three years. In contrast, Riley left quite literally hours after coaching his last game for the Sooners.
Just like anyone else with a pulse, Switzer knows that the move wasn't some spur-of-the-moment decision like Riley would have you believe. No, this was a precisely planned out and executed move that Riley had thought about weeks, or even months, before he hopped on the plane to Los Angeles in the early morning hours after a Bedlam loss to Oklahoma State.
"It was a surprise to everyone. Bob Stoops told me that Lincoln hadn't told him that he was leaving. I think his agent had been working on this for some time," Switzer said.
There's no doubt that Riley's success at USC in 2022 made Sooner Nation's stomach turn, as their previous head coach led USC to an 11-3 record and its quarterback, Caleb Williams, to a Heisman Trophy.
However, there was some humor for Sooner fans as well, watching USC squander a huge lead against Tulane in the Cotton Bowl and the Trojans' defense give up play after play in big moments, just like Oklahoma had under Riley.
While Oklahoma had a tough season in 2022, going 6-7 under Brent Venables, most feel better about Venables leading the program into the SEC than they did Riley. Now, Riley gets one more year of California winters before playing a Big Ten schedule with road games at Michigan, Rutgers, Minnesota, and Penn State in the winter. I'm not sure that's what he signed up for, but everyone has the rug swept out from under them at some point, isn't that right Sooner Nation?