Baylor Bears
Big 12 Baseball Preview: Opening Weekend is Upon Us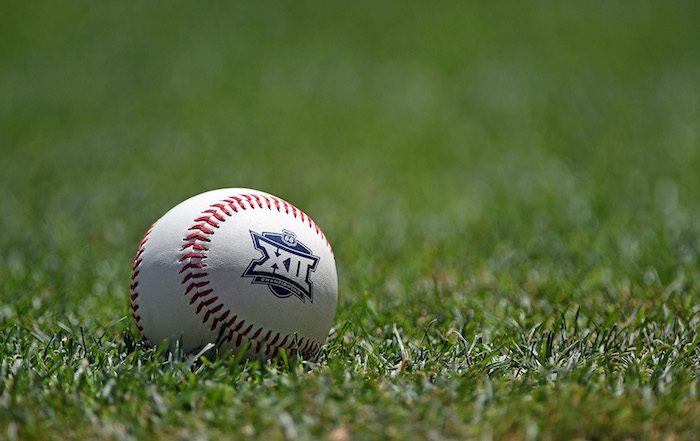 It has been a long offseason but the road to Omaha officially starts on Friday. That's right folks, college baseball is back! If you need a baseball fix, don't worry because there is plenty of action on the diamond around the Big 12.
For years, the Big 12 Conference has been one of the best conferences for college baseball, and 2023 looks to be like another promising year.
This year, the season is starting off with a bang as three teams are playing ranked opponents right off the bat. Between showdowns with the SEC and others, let's take a peek at this upcoming opening weekend of Big 12 baseball.
Notable Games
State Farm College Baseball Showdown Tournament
If you have time to sit around and watch college baseball all day, then this is the tournament for you. It features three Big 12 teams in Oklahoma State, TCU, and Texas facing off against Missouri, Vanderbilt, and Arkansas. These all should be great games so let's talk a look at the field, shall we?
The Competition
There are two obvious heavy hitters from the SEC with Arkansas and Vanderbilt who are both ranked inside D1Baseball's top 15. Both teams are absolutely loaded with great pitching which could give some of these Big 12 teams some problems over the weekend. Despite Missouri taking a backseat to these two, the Tigers bring back a solid core on offense but unlike Arkansas and Vanderbilt, they don't have the pitching to back it up.
Tournament Schedule
Friday 2/17
#9 Oklahoma State vs Missouri
#15 TCU vs #10 Vanderbilt
Texas vs #8 Arkansas
Saturday 2/18
#9 Oklahoma State vs #10 Vanderbilt
Texas vs Missouri
#15 TCU vs #8 Arkansas
Sunday 2/19
Texas vs #10 Vanderbilt
#9 Oklahoma State vs #8 Arkansas
#15 TCU vs Missouri
Gonzaga at #24 Texas Tech
Despite not playing in the tournament in Arlington, the Red Raiders will be tested with a four-game series against Gonzaga. The Bulldogs are picked to finish second in the West Coast Conference and bring back almost their entire team from last year. This should provide a great challenge for Texas Tech as they will have some new faces in the field. However, they do return Dillon Carter, Ty Coleman, Owen Washburn, and Drew Woodcox. I will also be curious to watch the starters on the mound this weekend as well.
West Virginia at Georgia Southern
Outside of the tournament in Arlington, this is the biggest matchup of the weekend. Georgia Southern hosted a regional last season and they are poised to have another big year in 2023. They are one of if not the best team in the Sun Belt in my opinion. Meanwhile, I am waiting for West Virginia to finally take that next step. They almost made the postseason last year but fell short. I feel like the pieces are in place in Morgantown but it's time for them to take another step forward this season. This series should be fun to follow and could be a huge launching pad for West Virginia if they can take two out of three in Statesboro.
Other Games
Kansas vs Valparaiso
The Jayhawks start their season down in Corpus Christi, Texas at the lovely Whataburger Field against Valparaiso in a three-game set starting Friday. Valparaiso is the type of team Kansas should easily handle or at the very least win the series. New head coach Dan Fitzgerald has brought in a ton of fresh faces to Lawrence since his arrival which will be interesting to watch unfold. This weekend for the Jayhawks should be all about moving in the right direction and that starts with taking care of business on Friday.
California Baptist at Oklahoma
No disrespect to California Baptist but this series is all about Oklahoma. They are fresh off a national championship appearance but have to replace several key players from last season. But they do bring back a nice core with John Spikerman, Kendall Pettis, Jackson Nicklaus, and Wallace Clark. While those four will be the main focus of the team, the big question for the Sooners will be the pitching rotation. They lost their top three pitchers from last year which means three more guys will have to step up. That's what needs to happen this weekend.
Central Michigan at Baylor
Much like Kansas, Baylor will have plenty of new faces along with a new head coach in Mitch Thompson. Kobe Andrade, Blake Helton, and Cam Caley make up a nice pitching staff, but the real question is with the bats. The Bears were last in most major offensive categories a year ago and will need to be better this season. They will have a tough test against a good Central Michigan team that has some quality arms.
Kansas State at Stephen F. Austin
The good news is that Kansas State has some bats that can hit however, they need a lot of help on the mound after losing Connor McCullough and Blake Adams. In fact, the Wildcats are losing a whopping 227 innings from last year's club. That scares me but hopefully, the bats of Nick Goodwin and Kaelen Culpepper can carry the team early on. We should get a good feel for this team after a weekend in Texas.