Oklahoma Sooners
SEC Football Scheduling Format Changes Coming Soon With Addition of Oklahoma, Texas in 2024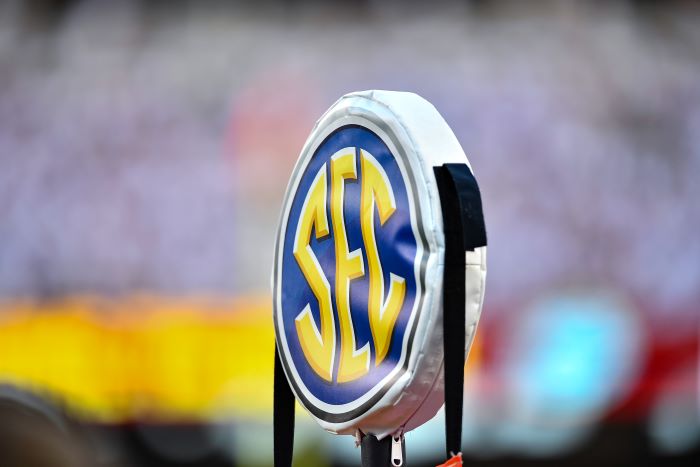 Since it was announced in 2021 that Oklahoma and Texas were headed to the SEC, there have been changes coming to the SEC schedule format.
In fact, there were changes being discussed for the SEC's format as far back as 2019, according to a recent OutKick interview with SEC commissioner Greg Sankey.
Changes were indeed on the horizon before COVID-19 brought progress to a grinding halt.
"We were actually planning in 2020 to present an initial level research to our presidents and chancellors at our meeting at the SEC basketball tournament," Greg Sankey told OutKick. "That turned to whether to play or not to play, then that research project went on hold, really for a year. And at the end of that year is when expansion took place, so we had laid a lot of groundwork on what the future could look like."
Now, with Oklahoma and Texas bringing the SEC to a total of 16 teams in 2024, there is really no choice but to make major changes to the scheduling format, and Greg Sankey has given a timeline for the plans to be finished.
According to OutKick, Sankey would like to reveal the new scheduling format at the SEC's spring meetings in Destin, Florida which is about three months away.
Before the announcement is made there are several issues that must be worked through.
"What are the continuing annual opponents? What are those that rotate? Is it eight or nine [schools]? Then how often do we see everyone rotate through the schedule?" Sankey asked rhetorically to OutKick. "I think we have from today about 90 days to figure that out. I welcome the chance to make decisions before we go to Destin. …
"[Last year] we ultimately said if we wait we can learn a lot about CFP, other conference media deals, look more deeply at tiebreakers, if we're in a single division," Sankey continued. "We've learned an immense amount. … We've seen some conference membership movement, the CFP format change and that's going to help us make a better decision."
The most popular idea for the future SEC scheduling format is centered around three main points: no divisions, nine conference games, and a 3-6 scheduling model with three annual opponents. If the SEC lands with that, it will ensure that teams play everyone in the conference every four years, which would eliminate the issue of the Alabama's and Georgia's never seeing each other during the regular season.
There's a long way to go, but it appears that progress is on the way.