Big 12 Basketball
A Blend of Holdovers, Newcomers Has Oklahoma State Women Winning Again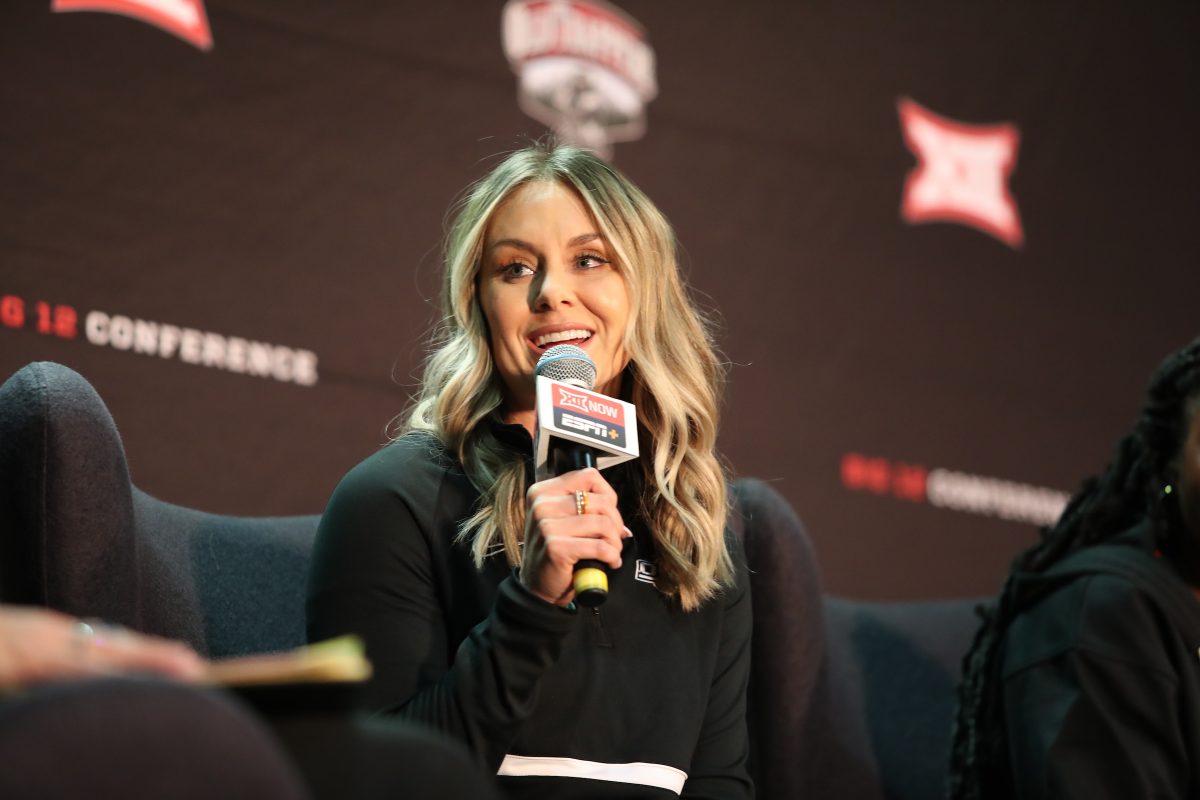 STILLWATER, Okla. — Jacie Hoyt knew it was a big deal.
A win over Baylor in Gallagher-Iba Arena hadn't happened since 2015. The Cowgirls had just swept the 12-time defending Big 12 regular-season champion Bears for the first time since 1999 and put the Cowgirls in third place in the Big 12 (a place they now share with Iowa State).
She didn't want to minimize it, but she didn't want to make it the focus either, not on a day when nearly 4,000 poured into GIA and her players spent nearly an hour after the game signing autographs for fans.
But she artfully tied the future to the present, the Cowgirls' chase for an NCAA Tournament berth this year and its goal of becoming one of the league's top teams in the future.
"It means that we're all doing what we said we wanted to do and that is to build a foundation and raise the standard for Cowgirl basketball and that's happening right now," Hoyt said. "You can see it in a lot of ways, this being one of them."
Picked to finish ninth in the Big 12 to start the season, the Cowgirls (18-7, 8-5) are nearly a lock to go to the NCAA Tournament after a one-season absence. In 2021 the Cowgirls last went to the NCAA Tournament under Jim Littell. That team went 19-9 and finished third in the Big 12.
A win over Texas Tech on Saturday would match that year's win total. If Oklahoma State wins a 20th game, it will be the program's first 20-win season since 2017-18. That was the last of a streak of six 20-win seasons out of seven under Littell, who was let go after last season's 9-20 campaign.
Hoyt's quick turnaround hasn't gone unnoticed.
"They came into the season with nothing to lose and have proven that they're way better than the team that has nothing to lose," Baylor coach Nicki Collen said. "They're really good. And they've proven that by beating us twice and beating Texas."
Hoyt has done it with a blend of Littell's holdovers and a roster of new players.
The holdovers include center Kassidy De Lapp, forward Taylen Collins and guard Lexy Keys. Keys was the only one of the three to average double figures last year (10.1 ppg) while the team's leading scorer, Lauren Fields, transferred away.
Hoyt appeared to win the trio over from the start. De Lapp, in particular, talked at Big 12 Media Days about the subtle changes Hoyt made to strength, conditioning, and training over the summer that benefited everyone.
De Lapp has capably filled the same role as last year as a backup center behind Collins, who is averaging 9.8 points and 9.0 rebounds per game. Keys' scoring (9.3 ppg) has taken only a slight step back from a season ago. But, according to teammates like Naomie Alnatas, she's emerged as one of the team's best defenders.
The rest of this year's serious contributors are new, starting with Alnatas, the guard that makes the offense go and is averaging 13.8 points per game. She's one of two players Hoyt imported from her former job at Kansas City (Landry Williams is the other).
Alnatas is a coach's dream, especially in Hoyt's offense, which is designed to create points off the bounce and averages 77.8 points per game. The fifth-year senior has proven to be Hoyt's bridge, the player that knows her offense, knows what she wants, and can impart that to the rest of the team.
But she has company. Guard Terryn Milton, a UT Arlington transfer, averages 4.1 assists per game (a bit more than Alnatas' 3.9) and scores 10.4 points per game. She's even the team's second-leading rebounder at 5.1 per game.
Guard Claire Chastain, also from UT Arlington, averages 10.5 points per game. Then there's forward Lior Garzon (Villanova) and guard Anna Gret Asi (Arizona). Both come off the bench and both are among the best 3-point shooters in the Big 12, with Garzon averaging 11.4 points and Asi averaging 7.3 points.
The pair drove Oklahoma State's win over Baylor on Saturday, with each making four 3-pointers.
Hoyt may be new to Oklahoma State, but she has a team with a significant amount of experience. Three — Alnatas, Chastain, and Milton — have more than 1,000 career points.
"I think some of this goes to the fact that those are sixth-year, fifth-year, guards out there (for OSU)," Collen said. "They're patient, they're really patient. And with the first action, if they don't get what they want, they swing (it around) and get to the second."
Their patience is paying off with a team that looks poised to make noise in Kansas City in a few weeks, and beyond in the NCAA Tournament.
Hoyt said it's fun to win, no matter the opponent. But the buy-in she's gotten from her team, holdovers and newcomers alike, is what is driving their rise up the Big 12 standings.
"I'll tell you the fun part about it, though, is that's not we're focused on (sweeping teams)," Hoyt said. "We're not focused on doing things like that. I mean, it truly is us versus us. We've had that mantra since the beginning."
You can find Matthew Postins on Twitter @PostinsPostcard