Trending Now
Another Sign the Pac-12 Conference Has Been Its Own Worst Enemy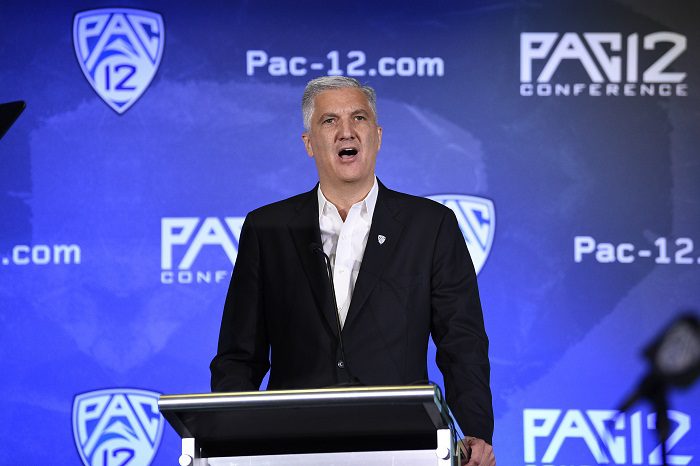 It's February of 2023 and the Pac-12 Conference is still working as a remote organization.
You read that right. According to an industry source, the Pac-12 is the only major conference who is still operating in this manner.
Given the chaos that the conference has been in for at least the last few weeks, trying to operate a major organization remotely is a losing proposition.
As we've highlighted in this article from a couple of weeks ago, the Big 12 Conference has surpassed the Pac-12 for conference hierarchy, and while there are a multitude of reasons for this, the way the Pac-12 is currently operating certainly hasn't helped them keep pace in the fast-paced world of college athletics.
The league's inability to get a TV deal done in recent weeks, combined with the confusion around expansion, along with the recent debacle with Comcast, in which the conference owes the TV giant $50 million due to its own incompetence, the news continues to be nothing but bad for the Pac-12 Conference.
In 2017, the network reportedly conducted an audit of its television revenue payments, which revealed the Pac-12 was getting overpaid by Comcast for its TV deal. According to the Mercury News, two executives then failed to disclose to the Pac-12 Board of Directors and external auditors the financial risk involved in the overpayments. The overpayments continued through last year and due to the length it had continued for, the total bill has reached $50 million.
Combine that with the recent reports that CBS and Turner Sports have turned down the Pac-12 and are no longer interested in a TV package with the league, and things are looking more grim by the day.
Is the Pac-12 Conference working remotely the reason for its downfall? No. But clearly, it's another sign that the league has fallen behind when it comes to the college sports landscape and basic business operations.