featured
Big 12 Basketball: Two Games This Weekend With Bubble Implications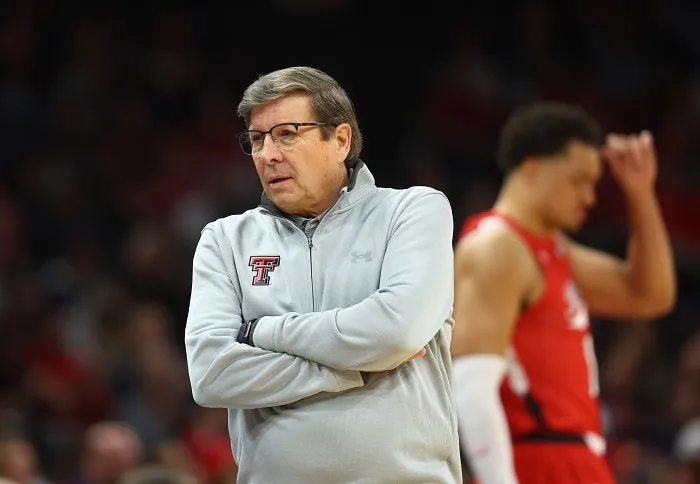 There are just five games left for all ten teams in Big 12 play, and it's been probably the deepest and closest Big 12 we've ever seen. While Texas, Baylor, Kansas, and Iowa State fight it out for the Big 12 title, there are six teams still fighting for a spot in the tournament and it's looking like the Big 12 will get eight bids. A little over 50% of the time 8-10 has been good enough for Big 12 teams to get in, and twice 7-11 has been, including last season with Iowa State. With how great the Big 12 is this year, 8-10 without a disastrous non-conference should guarantee you a tournament berth, and 7-11 should give you a shot.
While Kansas State looks like they're in good shape to make the tournament right now, they aren't a lock just yet. Oklahoma State has gotten hot, but still has work to do, TCU is a team that may shockingly be in trouble after dropping four straight. West Virginia is currently right on the bubble, and both Texas Tech and Oklahoma look to pull out a miracle to make the Tournament. The great thing about the Big 12 is they all have huge games this week, and four of them play each other.
Texas Tech at West Virginia
West Virginia
Let's start with what's at stake for West Virginia here, a key distinction between needing 7, 8, and 9 wins is what you do in the non-conference. For West Virginia, I'd have to give them a thumbs up. They went 11-2 in the non-conference with both losses coming against teams expected to be top-four seeds in Purdue and Xavier. They added a massive win at Pitt in their second game, who's in the field as of now. The win over Florida was nice, though they've fallen out of the field, but a home win over Auburn in a similar position as them, likely made it that 7-11 in the Big 12 is enough.
This game's going to be especially important for West Virginia when you consider what they have coming up. They get back-to-back home games with last-place Texas Tech, and by middle-of-the-pack Oklahoma State. After that it gets tight though, road trips to Lawrence and Ames follow before they get to a struggling Kansas State in Morgantown to finish the season. Unless they can pull a road upset it looks like the Mountaineers need to win those three home games to make the tournament. 6-12 and a couple of wins in Kansas City could get them in, but they'd likely have to face a top-two seed in the Quarterfinals to get the second one. This is a massive game if West Virginia wants to go dancing, a loss and they actually leave the weekend tied with Texas Tech.
Texas Tech
If having to go 3-0 at home seems daunting for West Virginia, then what Texas Tech has to do seems impossible. Sitting at 0-8 and then 1-10, it seemed impossible for Texas Tech, and after the Baylor loss, there was an uproar around the program. But after beating two top 15 teams in a row, including Texas, they proved winning really is the best deodorant. A massive problem for Texas Tech is their absolutely abysmal non-conference schedule, which was half their fault and half bad luck. Between Maui, the SEC and Big East challenges they should've had at least five difficult non-conference games, and to be fair they did go 3-2 against those five opponents. Unfortunately for Texas Tech, the three teams they beat turned out to be woeful as Louisville, LSU, and Georgetown are a combined 3-41 in conference play, and all sit in last. Even one of their losses, Ohio State is 3-12 in Big Ten play and in 13th. With that non-conference, it's pretty clear that Texas Tech needs to go 8-10 in conference play to get in, although 7-11 with a couple of wins in Kansas City could also do the job.
While no games are easy in the Big 12 this is the easier part of Tech's schedule. An early tip in Morgantown looks like the most difficult matchup over the next week, Tech will certainly be underdogs, but with Fardaws and possibly even Pop Isaacs returning you can't count them out. Should they win this they'll head to Norman on Tuesday, then host a reeling TCU next. After that, they'd face a nearly impossible task of beating Kansas in Lawrence, something they've done just once in the past two decades before they finish at home against Oklahoma State. One notable thing about their last five opponents is that they lost to all five the first time. Oklahoma, Kansas, and Oklahoma State were by one possession, and they blew a big halftime lead against TCU. In fact, their first meeting against West Virginia was one of their most lopsided losses this season. A win over West Virginia and they're tied for 8th, win 3 of the next four then get two wins in Kansas City, and it may be enough.
Oklahoma State at TCU
Oklahoma State
It's been a wild ride for Oklahoma State this season, as they were absolutely dreadful in the non-conference. Their best win was over Wichita State, and losses to Southern Illinois, UCF, UConn, and Virginia Tech had them staring another disappointing season straight in the eyes. While they did demolish Ole Miss in the Big 12-SEC Challenge, it was at home over a team nowhere near the bubble conversation. Even conference play started poorly for the Pokes as they started 1-4, but boy have things changed. Oklahoma State is now 7-6 in conference play and is projected to not even need to play in the First Four.
The only downside for them is that while 8-10 should see them in the field, because of their non-conference losses there is a shot that Oklahoma State needs to hit 9-9 to get in. After all, last season they had a bad non-conference, then went 8-10, while they were ineligible, they wouldn't have been near the field anyways. This is a huge game for them, as after them they have @West Virginia, Kansas State, Baylor, and finish @ Texas Tech. One win in their final five should get them in, and two wins will. A win here and they look like a lock, a loss and they're back on the bubble.
TCU
While Oklahoma State is flaming hot, TCU is anything but. Injuries to Miles, and Lampkin have been massively damaging to not only TCU's Big 12 Title bid but to possibly their tournament hopes. Don't get me wrong, TCU is looking safe right now, and if healthy they can make a deep run, but they could be on the verge of collapsing if they lose this game. They have a decent non-conference, but also a bad loss to Northwestern State, so they may need to hit 8-10 to get in. At 6-7, they need to finish 2-3 to feel good about getting in, and 1-4 to have a chance. After they host the Pokes, TCU has two home games left, but both against title contenders in Texas and Kansas. Then two road games against desperate teams in Oklahoma and Texas Tech. One thing that shows how valuable this game is, if they lose this and can't beat Kansas there's a real chance that a loss in Lubbock could mean they end up tied with a Texas Tech team that started 1-10. Much like Oklahoma State a win and they're a game away from being a lock, but a loss and they head toward the bubble.