featured
Brett Yormark on Targeting Pac-12 Schools: 'We'd Like That Fourth Time Zone'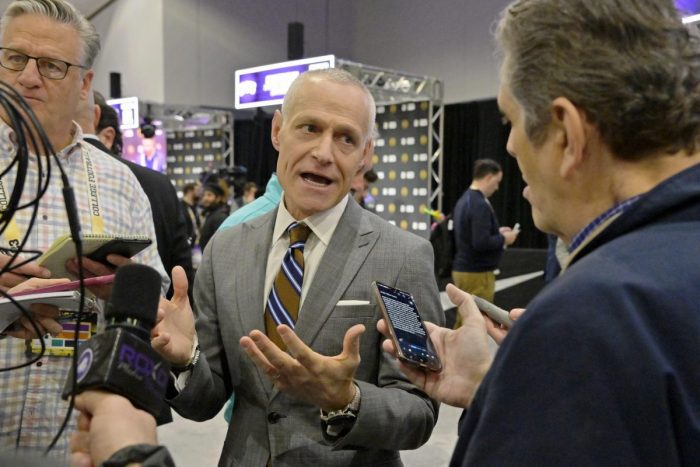 Under Brett Yormark's direction, the Big 12 Conference has been quite proactive in expansion and remaining competitive on a national scale. However, when speaking with John Canzano and Jon Wilner on Canzano & Wilner: The Podcast, the commissioner said that the league isn't necessarily seeking out Pac-12 teams for expansion.
Still, Yormark mentioned that a West Coast addition is not totally out of play.
"I'm not targeting anyone specifically," Yormark said. "I've been saying it. I've been pretty transparent and intentional that we'd like that fourth time zone to create more value for our media partners. Would I like to be a national conference in all the different time zones and from a geography standpoint have our Big 12 flag all over the country? One-hundred percent…we'll see where we end up."
The discussion and a bit of hostility between the Big 12 and Pac-12 has been in the news since last summer. That's when Pac-12 Commissioner George Kliavkoff commented publicly that he'd been 'spending four weeks trying to defend grenades from every corner of the Big 12' in light of the exits of UCLA and USC to the Big Ten and the Big 12's reported interest in the remaining members.
Yormark, though, pushed back on the narrative that there was any beef between the two leagues.
"I just want to kind of go on the record—no one is fighting," Yormark said. "I have a great relationship with George. We have a collegial relationship. I've known George for years. I believe in this industry that you can partner with all your colleagues for all the right reasons but at the same time know that from time to time you're going to compete. And that's the world we live in. That's the world I came from.
"I look to partner with all of my colleagues in the Power Five as often as I can and when the opportunity exists but there is going to be those moments when we compete. That's just life. We're not going after the Pac-12. The Pac-12's not going after us. George and I have a good relationship. The media has turned it into something different."
All of this surfaces, of course, with The Athletic's Stewart Mandel reporting in recent days that there's growing uncertainty about the possibility of the Pac-12 securing an adequate new TV deal for its members. The Big 12, meanwhile, is set to welcome its four new members of BYU, Cincinnati, Houston and UCF for the upcoming academic year, while Oklahoma and Texas recently struck a deal to exit a year early for the SEC.